To strengthen its position in the U.S. wireless market, Sprint (S) is gearing up to bid for T-Mobile (TMUS), with many banks working on the proposal to finance the bid. SoftBank (OTCPK:SFTBF), the majority stakeholder in Sprint, will have to shell out more than $19 billion to attain a majority stake in T-Mobile and merge it with Sprint. T-Mobile expects more consolidation in the U.S wireless market and sees Sprint as an ideal company for merger.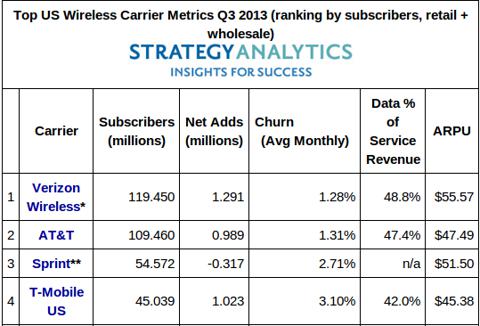 (Source: fiercewireless)
Sprint is the third largest mobile carrier in the U.S. with around 55 million subscribers, and T-Mobile is the fourth largest with 45 million. AT&T (T) and Verizon (VZ) dominate the market; each claims twice as many subscribers as Sprint and T-Mobile individually. The merger of Sprint and T-Mobile would bring them at par with Verizon and AT&T and could create a more competitive environment in the U.S. wireless service market.
The challenge with the Sprint-T-Mobile deal is not with the financing but with the regulatory hurdle, as the FCC, needs four national operators in the market to remain competitive. In 2011, the FCC blocked the proposed sale of T-Mobile to AT&T for $39 billion. In addition, both Sprint and T-Mobile have different networks, and when Sprint last merged two networks -- Nextel's iDen with its own network -- it faced integration and technological problems. A merger of these companies is therefore likely to create problems, causing its services to suffer; Sprint cannot afford any disruption, as it is on track to build its wireless reputation. If the deal between Sprint and T-Mobile goes through, Sprint will have a larger user base, which will help overcome the high cost of building and maintaining networks in the capital-intensive wireless industry. The merged entity is estimated to save $5 billion in annual costs.
Sprint is not the only one eyeing T-Mobile. DISH Network (DISH) is also in the race to bid against Sprint for a possible takeover of T-Mobile. DISH is in talks with Deutsche Telekom (OTCQX:DTEGF), parent company of T-Mobile, for a potential deal. DISH, meanwhile, will face less of a regulatory hurdle, as it will not disturb FCC's goal of four national carriers, but it will have fewer synergies than Sprint as it does not have any operating network or infrastructure. DISH has a lot of spectrum, including desirable 700 MHz meant for satellite phones, and is searching for a network to offer its services. DISH has offered a bid for 40 MHz of wireless spectrum held by LightSquared and is further bidding for PCS H Block wireless frequencies, to be held in January. This will boost its wireless portfolio and is a good diversification strategy for DISH.
IT finally came together
"IT'S ALL COMING TOGETHER." This was the proposal that DISH prepared before bidding for Sprint (then Sprint-Nextel) in April. Despite the bitter rivalry between Sprint and DISH, both are coming together to test fixed wireless broadband service in Corpus Christi, Texas. The broadband service is expected to begin in the middle of next year and will expand in other markets later. DISH will handle the installation leveraging on the Sprint's 2.5 GHz wireless spectrum. The download speed of the combined service will range from 10 Mbps to 15 Mbps.
Both companies are investing in this region due to DISH's strong user base and Sprint's network infrastructure. There are millions of people who still don't have access to wireless and providing broadband Internet could bring huge untapped potential to these two companies. Around 20% of the U.S. adult population still doesn't have Internet access, and more than 15 million homes have inadequate access to broadband services. Most of the 20% of the adult population without Internet access are in the rural areas, where a huge disparity exists between broadband services. Only 65.4% is covered by three or more broadband providers compared to 97.7% in non-rural areas. For this reason, investment in these regions will be more meaningful for both companies.
Through bundling wireless service with its satellite TV service, Sprint will effectively compete with the cable providers, which offer combined services of Internet access, television, and telephone and earn additional source of revenue through this partnership. On the other hand, DISH has spent $3 billion on wireless spectrum and could better leverage it using Sprint's network rather than starting its own network. This will provide answers to those investors that were curious about DISH's wireless plan, as it has wireless spectrum holdings and has been looking for a partner to enter the wireless market.
Bottom-line
Sprint's initiatives to match its two big competitors in the market will take time, as both AT&T and Verizon are stronger in brand, scale, and LTE coverage. But with Softbank backing and Clearwire spectrum, Sprint is gaining grounds. If Sprint can acquire T-Mobile while also working on a fixed wireless system with DISH, it can further enhance its network and credibility, which is currently lacking. I am optimistic about Sprint and see it as a long-term buy.
Disclosure: I have no positions in any stocks mentioned, and no plans to initiate any positions within the next 72 hours.
Business relationship disclosure: Fusion Research is a team of equity analysts. This article was written by Rohit Gupta, one of our research analysts. We did not receive compensation for this article (other than from Seeking Alpha), and we have no business relationship with any company whose stock is mentioned in this article