Two days ago, I wrote an editorial on "dividend aristocrats." I can't remember the exact reason that I chose to write the column on dividend ETFs on that particular day. However, I did want to discuss exerting greater control over your portfolio's performance.
"Aristocrats" represent companies that have increased payouts for 25 consecutive years. Yet there's no ETF that tracks the S&P Dividend Aristocrats Index. Instead, State Street decided to go with a sub-set known as the S&P High-Yield Dividend Index, using its SPDR S&P Dividend Fund (NYSEARCA:SDY).
On Thursday, 3/4/10, WSJ.com reported that the SPDR S&P Dividend Fund (SDY) topped the list for all securities that had been "Selling on Strength." These are securities that rose in price but had the largest outflow of money.
More specifically, about $50 million dollars left the $1.4 billion dollar fund (approx 3.5% of assets) on nearly 7x the normal trading volume. The share volume was an undisputed record for SDY!
Granted, SDY gained a bit of percentage ground, up 0.13% for the session. Moreover, the approximate payout of 3.65% is comparable to a 10-year treasury note.
Nevertheless, the volume spike remains a mystery. (See the "share volume" in the chart below.)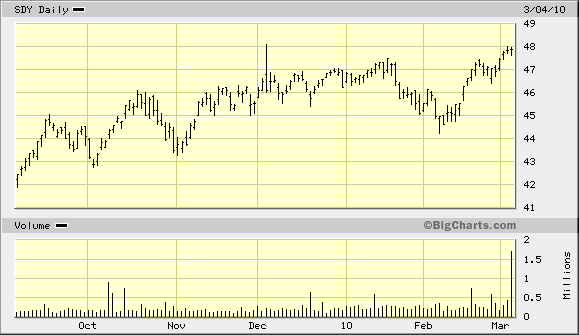 Perhaps an institutional shareholder felt that the fund lacked the liquidity required to sell during volatile trading sessions. Or perhaps the institutional shareholder wished to unload some equity exposure prior to the jobs report. Whatever it was… it certainly didn't go unnoticed.
Disclosure Statement: Gary Gordon, MS, CFP is the president of Pacific Park Financial, Inc., a Registered Investment Adviser with the SEC. The company and/or its clients may hold positions in the ETFs, mutual funds and/or index funds mentioned above. The company does not receive compensation from any of the fund providers covered in this feature. Moreover, the commentary does not constitute individualized investment advice. The opinions offered herein are not personalized recommendations to buy, sell or hold securities.