Nobody "feels" like things are getting better. Bearishness pops up in discussions of euro devaluation, gold appreciation, China inflation, Japan deflation and U.S. stagnation.
Unfortunately, it's our feelings as human beings that derails us; in fact, when analysts pass off their emotionality as unbiased assessment, it often prompts investors to sell lower and buy higher.
Of course there are problems out there! Yet there are always challenges (economic, political, social, financial, regulatory, business/industry, etc.) and those challenges do not necessarily mean that stock prices will falter. In truth, mixed news is often Wall Street's best price catalyst.
Ironically, the bias begins with the mainstream media players, as they chiefly focus on the Dow Industrials 30, the S&P 500 and the Nasdaq. None of these large-cap indexes have recovered their 52-week highs from 1/19/2010. It follows that more "air time" is provided to the doubting "Toms," "Dicks" and "Haileys."
Keep in mind, that's how many folks have neglected to notice the smaller capitalization picture; that is, iShares Russell 2000 (NYSEARCA:IWM) and SPDR MidCap Trust (NYSEARCA:MDY) both notched brand new 52-week highs and both set 17-month peaks.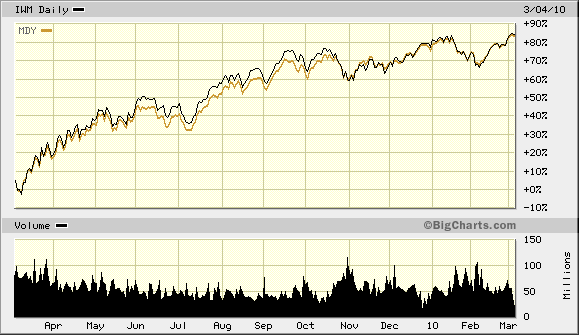 Although many may find periods when the rule didn't apply, one generally recognizes that the prices on small-mid sized company stock are more volatile than the prices on large company stock. Put another way, smaller capitalization is riskier than "larger cap." In fact, many believe that investment in smaller companies shows conviction about economic recovery.
Indeed, the bear market performance and the bull market performance for S&P 500 SPDR Trust (NYSEARCA:SPY), SPDR MidCap (MDY) and iShares Russell 2000 (IWM) paints a vivid picture of a continuation in overall market confidence; that is, small- and mid-sized companies are garnering better returns off the bear bottom.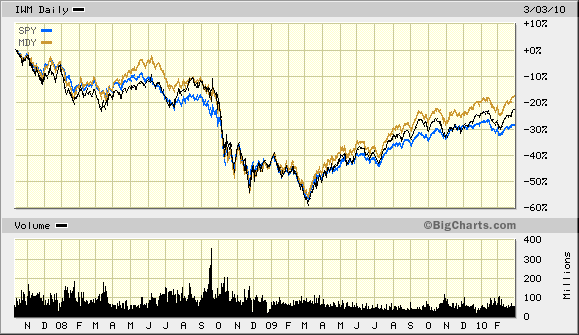 This confidence in local economies, or at least the smaller companies in those economies, extends to emerging markets like Brazil and China. Regardless of how well the world is or is not functioning economically, investors are continuing to show greater faith in the little guys.
iShares MSCI Brazil (NYSEARCA:EWZ) and Market Vectors Small Cap Brazil (NYSEARCA:BRF)- 6 months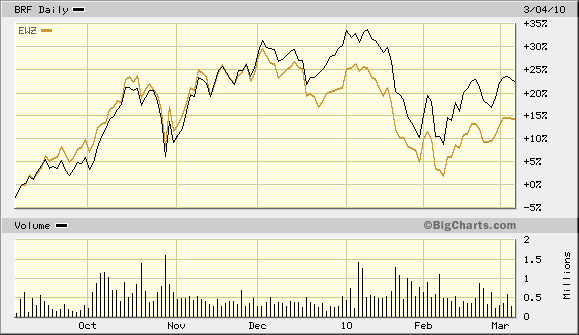 PowerShares Golden Dragon Halter China (NASDAQ:PGJ) and Claymore China Small Cap (NYSEARCA:HAO)- 6 months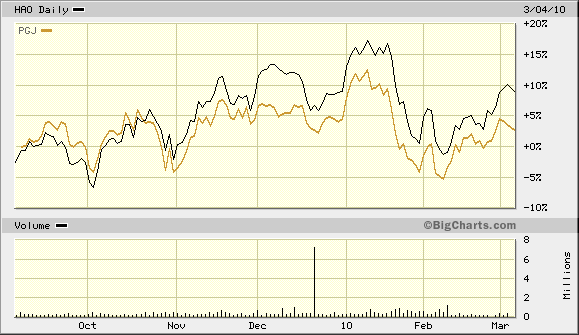 Disclosure Statement: Gary Gordon, MS, CFP is the president of Pacific Park Financial, Inc., a Registered Investment Adviser with the SEC. The company and/or its clients may hold positions in the ETFs, mutual funds and/or index funds mentioned above. The company does not receive compensation from any of the fund providers covered in this feature. Moreover, the commentary does not constitute individualized investment advice. The opinions offered herein are not personalized recommendations to buy, sell or hold securities.