It's been a wild year for The Finish Line (NASDAQ:FINL), which began with a new e-commerce website gone wrong, a massive capex plan being questioned, and investors wondering if this management team could properly execute. But as I noted in my original article, The Finish Line: A Stock That Could Run Up In The Near Future, if you believed in the strategy you could make good returns in the name. Last week, the company capped off this wild year with a very impressive earnings report. Overall, it seems like the initiatives that investors have questioned over the past 24 months are finally working.
As I noted in my recent article, The Top Retail Ideas for 2014, I am a big fan of the sporting goods and apparel industry for the New Year, but after the recent run, I think there are better ways to play the trend. Don't get me wrong, I think FINL is a good name that can, and probably will, go higher. But, this will be due to the industry trends as the company-specific catalysts have played out. Let's get into the details of the recent earnings call…
Updates From the Call
The company was able to beat estimates on the top and bottom line with $364.5MM in revenue and positive EBIT of $2.7MM. The comps were very impressive at 7.1%. Part of this was due to strong e-commerce comps, which shows the decision to transition back to the old site worked in bringing back customers. Comps in the women's business were also strong (we will talk more about this in a bit).
The capex spent on omni-channel seems to be working. On Black Friday alone, the company processed approximately 70,000 transactions through handheld devices, dramatically speeding up the checkout process during peak selling periods. At the same time, associates were fulfilling web orders from the back of the store, a capability the company put in place to better maximize inventory productivity and enhance customer satisfaction. This capex spend was once questioned, but now it seems like the management team has been vindicated.
The company has dramatically increased consumer loyalty, which now drives 62% of transactions compared to 33% just 3 years ago.
Most importantly, the company raised full year guidance:
"For the fiscal year ending March 1, 2014, Finish Line now expects comparable store sales to increase approximately 3%-4% compared to its previous expectation for a low single digit increase. The Company now expects Non-GAAP earnings per share to increase 9% to 12% to $1.60-$1.65 from fiscal year 2013 Non-GAAP diluted earnings per share of$1.47. This compares to its previous expectation for a mid-single digit increase."
Overall, I'm pretty impressed.
5. At the Running Specialty Group division, the company closed on the acquisition of Running Spot, a 4-store chain with doors in Ohio and Kentucky. Like the other acquisitions, the company retained the founders of this chain.
6. The company saw a strong Black Friday weekend, as comp sales increased in the low 20% range over the same Thursday-to-Sunday period 1 year ago.
7. December comps to-date are up mid-single digits.
Overall, I'm very impressed. This call signals that the worries over capex spending were overblown and that the initiates are working. Simply great results in the current retail environment.
Updates on Macy's
On the call, the company was very bullish on the progress at Macy's (NYSE:M):
"First, Macy's. We currently have Finish Line branded shops in 181 Macy's locations. We are pleased with the overall results we are seeing through our Macy's partnership and continue to refine our marketing initiatives, product assortment and service levels to reflect what we are learning. We have and will continue to make adjustments in all of these areas as we aspire to deliver all that the Macy's customers are seeking from the Finish Line experience." Glenn Lyon - CEO
But, I'm still questioning the results. When asked on the call, management noted that they are still tracking towards the low-end of the $130-$150MM revenue range. It's somewhat questionable that the company keeps seeing the low-end of results, but at least there is progress. This is part of the reason I don't have a buy on FINL right now.
The biggest positive from the Macy's deal has been the women's business, which comped mid-singles digits in the quarter. This is pretty impressive in the current retail environment which has seen weak women's results, so I do believe FINL is seeing some big benefits from their push into Macy's. Overall, I'm happy, but not totally happy so far on the Macy's deal.
Valuation
In the long-run, my opinion on valuation has not changed:
Overall revenue and earnings per share should grow about 12% annually over the next 4 years:
The Finish Line - Management is guiding to $1.75B in revenue. A 9% normalized operating margin that gives us $155MM in EBIT and about $2.10 in EPS.
Macy's - Management guided for $250MM in revenue, which would equate to about $20MM in EBIT and $.30 EPS.
The Running Company - Management guidance to $200MM in revenue, which should get us about $10MM in EBIT and $.10 in EPS
Overall, the company is looking at approximately $2.2B in sales, $225MM in EBITDA, $2.50 EPS, and $120MM in Free Cash Flow. The following charts show the valuation ranges I am using:
| | | | |
| --- | --- | --- | --- |
|   | Current Valuation | Valuation Used | Equity Value |
| EBITDA | 6x | 6x | $31 |
| EPS | 13.5x | 12x | $30 |
| EV/Sales | .65x | .65x | $30 |
| Free Cash | 10% | 10% | $28 |
|   |   |   |   |
| Average Valuation |   |   | $30 |
This chart above shows the bottom end of my "base-case" range. The company will grow revenues by 12% annually over a 4-year period and will get almost no expansion on an EV/Sales, EV/EBITDA, and Free Cash Flow basis.
| | | | |
| --- | --- | --- | --- |
|   | Current Valuation | Valuation Used | Equity Value |
| EBITDA | 6x | 7x | $36 |
| EPS | 13.5x | 14x | $35 |
| EV/Sales | .65x | .75x | $35 |
| Free Cash | 10% | 8% | $35 |
| Average Valuation |   |   | $35 |
This chart shows the top end on the "base-case" range using the assumption that if management were to come in line with the new long-term, there would be some multiple expansion because of a reduction in the risk to investors associated with management execution. I basically think that after two straight positive calls, most due to positives results out of the initiatives in question, this is the most likely scenario. I now have an 18-month price target of $35.
Playing the Trend
As I noted in my recent article, The Top Retail Ideas for 2014, I am a big fan of the sporting goods and apparel industry for the New Year, but after the recent run in FINL, I think there are better way to play the trend. I mostly think this due to a fact that came up on the recent call:
Sam Poser - Sterne Agee & Leach Inc., Research Division
I've got a bunch. One, what is Nike right now as a percent of your total? I know you give it once a year, but could can you give us an update? That will be great.
Edward W. Wilhelm - Chief Financial Officer, Principal Accounting Officer and Executive Vice President
Yes. It's high 60%.
As you can see, about two-thirds on FINL's sales come from Nike (NYSE:NKE). Though some of the goods are specific to FINL, you are now basically playing the Nike/sporting goods trend with an investment in FINL. The company-specific catalysts have all now played out, so even though I don't think FINL is a bad investment, I believe there are better names in the industry. Even after its own big run, Foot Locker (NYSE:FL) trades at a lower multiple than FINL and has more exposure to basketball (which is preferred right now).
Short Interest Helped This Move
One thing to note is that the short interest ratio on FINL was almost 10% going into the earnings call. Though the beat and raise helped the move, I think a good portion of it was due to short covering. The short interest is still at 7% currently, so we could see a higher move. Overall, I'm actually surprised we didn't get a bigger move out of the stock due to this earnings call, which leads me to believe that a lot of the company-specific investment catalysts have played out in the eyes of investors.
The Technical View
As I noted in my last article, we were close to breaking through the long-term resistance of $25. We did break through that price level, and ended up finding resistance at the $25 level before the recent earnings call.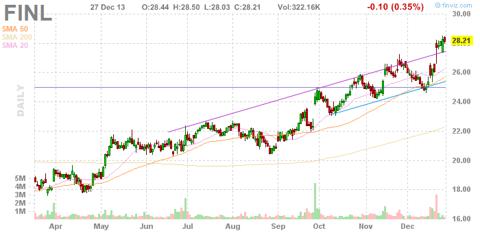 Source: http://finviz.com/quote.ashx?t=finl&ty=c&ta=1&p=d
So from a technical view, it looks pretty good. Again, it's not a bad investment, and there's not a lot of downside, I just prefer to play the sporting good trend with names like Big Five Sporting Goods (NASDAQ:BGFV).
Conclusion
It's been a wild past 24 months for FINL, but after taking some initial pain, I'm happy to see that my faith in management's vision has finally played out. To be able to go from the company's worst earnings call I have ever heard in February, to the best call I have ever heard last week, is quite impressive. Will FINL become the omni-channel leader in sporting apparel and shoes? Only time will tell.
Disclosure: I am long BGFV, M. I wrote this article myself, and it expresses my own opinions. I am not receiving compensation for it (other than from Seeking Alpha). I have no business relationship with any company whose stock is mentioned in this article.