One of the key benefits of using The Applied Finance Group's (AFG's) Economic Margin Framework is that it provides a systematic approach to converting as-reported accounting data into a performance metric that is comparable across time, peers, industries and even countries while eliminating many of the accounting distortions inherent in GAAP. The ability to understand the true economic profitability and the underlying intrinsic value of a company using one consistent method is why AFG expanded its framework internationally. Now investors all over the globe can take advantage of the same institutional quality research and investment tools that AFG's U.S. clients have been using since 1996 to better understand the expectations embedded in security prices and take advantage of mispriced securities in the market.
AFG uses proven proprietary criteria to identify firms that are more likely to outperform their benchmarks, and filter out those that are least attractive. These criteria include variables such as management quality score, earnings quality, firm valuation and economic performance metrics.
In this exercise we filtered through the Hang Seng Index, the main indicator of the overall market performance in Hong Kong. The index contains 45 companies, which represents about 67% of capitalization of the Hong Kong Stock Exchange. Of these 45 companies we identified those with the most attractive valuations.
Then, we screened these companies based on their earnings quality score, eliminating the highest accrual companies, as they have proven to encounter negative earnings surprises more frequently than companies with low accruals.
The 8 stocks listed below rank highly based on AFG's measure of valuation attractiveness, are most likely to outperform relative to their sector peers, and seem least vulnerable to run into a negative earnings surprise based on their current level of accruals.
click to enlarge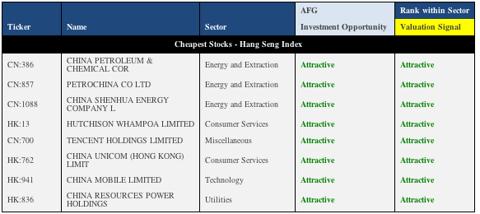 To stay updated on companies AFG believes are attractive investment opportunities register here.
Disclosure: None