The news release:
TransCanada Corporation (NYSE:TRP) today announced that it will issue 12 million cumulative redeemable first preferred shares, series 3 (the "Series 3 Preferred Shares") at a price of $25.00 per share, for aggregate gross proceeds of $300 million on a bought deal basis to a syndicate of underwriters in Canada led by Scotia Capital Inc., and RBC Capital Markets.

The holders of Series 3 Preferred Shares will be entitled to receive fixed cumulative dividends at an annual rate of $1.00 per share, payable quarterly, as and when declared by the board of directors of TransCanada, yielding 4.00 per cent per annum, for the initial five-year period ending June 30, 2015 with the first dividend payment date scheduled for June 30, 2010. The dividend rate will reset on June 30, 2015 and every five years thereafter at a rate equal to the sum of the then five-year Government of Canada bond yield plus 1.28 per cent.

The Series 3 Preferred Shares will be offered to the public in Canada pursuant to a prospectus supplement that will be filed with securities regulatory authorities in Canada under TransCanada's short form base shelf prospectus dated September 21, 2009. The securities referred to herein have not been and will not be registered under the United States Securities Act of 1933, as amended, and may not be offered or sold in the United States absent registration or an applicable exemption from registration requirements.
A couple thoughts on this. Here are two select shots on TRP senior debt:

TRP 39's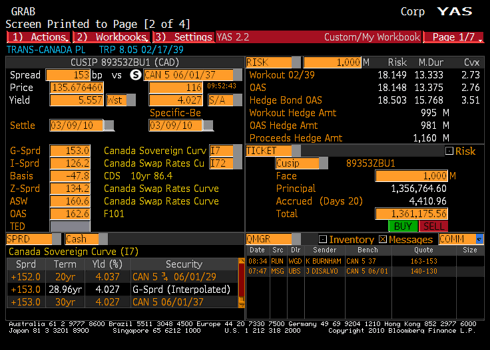 Click to enlarge

then some senior 2017's: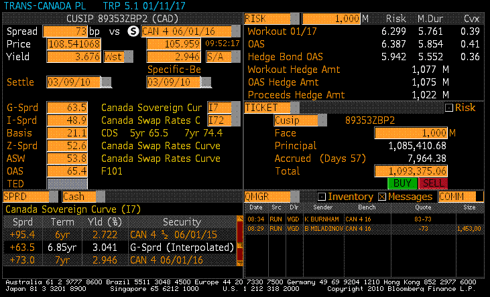 Click to enlarge

Is a pick of 32bps enough to go down the capital structure (vs 17's)? Admittedly, should rates rise (they can't go much lower), the float aspect of these might be attractive, but are you being paid for the cap structure risk?

In my humble opinion, TRP is one of the best in breed and have proven themselves as strong operators and (importantly for TRP) strong integrators historically. The company is in good shape (Debt/Cap: 54%, Debt/EBITDA: 4.9x, $4B on their line, $1B in cash and $4+B of EBITDA) and should continue to be. If this is the case, I can hear folks saying - no risk of insolvency, buy the yield. Ummm, rates rise and what will happen to these? Markets get illiquid (I know, that could never happen) and what happens to these?
These are not all that attractive, but they will sell.

Disclosure: No position