Amazon (NASDAQ:AMZN) seems to be closing out the year leaving investors with high hopes. Granted, I'm not one to criticize high momentum names, because I'm a huge momentum guy. That being the case, I decided to examine three key developments that are leaving Amazon shareholders giddy for the New Year.
Development number one
Amazon Prime has been able to garner significant growth. This was primarily driven by strong holiday sales and organic growth. Michael Pachter an analyst at Wedbush, currently estimates that Amazon Prime has over 20 million members.
Most of the growth was driven by purchases on smartphones. In fact, mobile devices contributed to more than half of online sales in the past quarter, according to Amazon. Consumers go into brick-and-mortar stores to try/feel the product, and purchase it from Amazon.com using their smartphone device.
Consumers still enjoy the showroom experience, but with the benefits of low prices and free 2-day shipping using Amazon Prime. Amazon Prime added to the shopping frenzy this past holiday season by giving consumers unlimited 2-day shipping on select items. Shipment delays from USPS, FedEx (NYSE:FDX), and UPS (NYSE:UPS) indicate that current infrastructure is insufficient to meet demand. According to IBM digital analytics, online retail sales grew by 37%.
Rising demand for e-commerce in general has been a positive catalyst for Amazon. However what makes this retail season different is mobile smartphone consumption.
Development number two
Amazon prime comes bundled with Prime Instant Video. With the number of members increasing, Amazon is starting to threaten Netflix (NASDAQ:NFLX) with its own impressive array of movies and television shows; Amazon is even developing shows in-house. I think the funniest aspect of it all, is that Amazon's response to Netflix's in-house-production, House of Cards, was to produce Alpha House (which is a political comedy).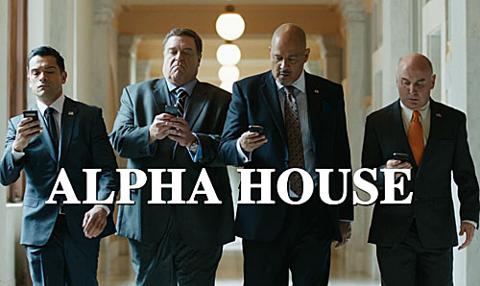 In the universe of Alpha House, Reed Hasting's look-a-like acts like a moron. In fact, all the politicians on Alpha House act like morons. House of Cards over glorifies the intelligence of politicians while Alpha House totally downplays the intelligence of any politician you'll ever run into. Talk about a total contrast between Netflix' and Amazon's in-house film studios, as both have significant scale and both have different stories to tell.
Going forward, Amazon's content collection is expected to become bigger as it has been able to lock down significant deals over the course of 2013. These deals include NBC Universal, A24, Miramax, and A&E.
Consumers may decide to have both an Amazon Prime and Netflix subscription. Both companies have exclusive contracts with different movie studios, and develop content in-house; there might be enough room for multiple video streaming subscriptions in the marketplace.
Development number three
Amazon Web Services grew by 55% and surpassed the industry average compound annual growth of 46%. Recently, there was a major rumor of AWS expanding into China's cloud market in Q1 2014. Initially bloggers assumed that it was a guaranteed development, but a representative of Amazon downplayed the rumor. Despite the lack of Chinese growth as a tailwind for future earnings growth, Amazon cloud continues to displace traditional server hardware players like IBM (NYSE:IBM), Oracle (NASDAQ:ORCL), and Cisco (NASDAQ:CSCO).
According to IDC Worldwide Quarterly Server Tracker, factory revenue in the worldwide server market decreased 4.0% year over year to $12.2 billion in the third quarter of 2012 (Q3 '12). The decline in revenue was driven by further migration to the cloud, which will continue to encroach upon data center sales.

Source: Cisco Analysis
However, Cisco also offers some hope for traditional data center sales using its unique methodology (which I won't go into much detail on). However, I'm also a little skeptical of the outward looking assumption as Cisco's earnings are still dependent on server hardware sales (putting Cisco at a conflict of interest).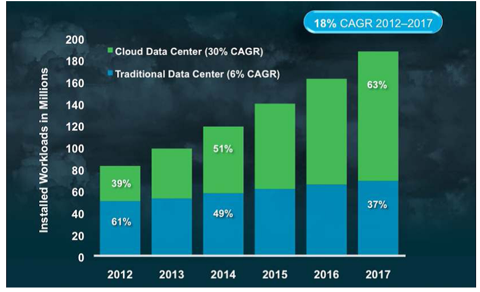 Source: Cisco Analysis
Cloud data centers are expected to experience 30% CAGR in workload (2012-2017), when compared to traditional data center workload growth at a 6% CAGR (2012-2017). This implies that there may be demand for server hardware rather than server services. This is because certain industries (banks, brokerages, stock exchanges, and specialty retail) need more control over servers making a virtual environment inappropriate.
The organic growth of the cloud is heavily favorable to Amazon shareholders. While there may be demand for more traditional server hardware, I'm a skeptic and will believe it when I see it.
Conclusion
Amazon looks more and more like a conglomerate by the day. Online retail, online video, and cloud are the primary drivers of growth going forward. I'm hoping that Amazon eventually generates actual profit from its retail activities. Amazon primarily emphasizes its success to shareholders with cash flow (high cash generation with cash invested heavily into CAPEX neutralizing any net income growth because of depreciation). Without positive net income, Amazon will not be able to return cash in the form of dividends or share buybacks keeping it purely a momentum play.
On the upside, Amazon has increased the price of Amazon Prime by raising the threshold for free shipping by $10. The loyalty program boosts shopping activity, but it also needs to generate profitability as a stand-alone service. Thankfully Amazon's management team is working on that aspect of the business.
Ignoring retail, the cloud is likely to boost profitability for Amazon, as the cloud is a high margin business. However, with Amazon's commitment to data center investment, the company has experienced accelerated depreciation, which has resulted in abysmal net profit margins (depreciation is an expense).
I think there's clearly a lot of momentum behind Amazon. Therefore, investors who believe in the Amazon story should stick around.
Disclosure: I have no positions in any stocks mentioned, and no plans to initiate any positions within the next 72 hours. I wrote this article myself, and it expresses my own opinions. I am not receiving compensation for it (other than from Seeking Alpha). I have no business relationship with any company whose stock is mentioned in this article.