Income investors are facing a more challenging environment as we head into the New Year. The Federal Reserve has announced that it will start its long awaited "Taper" starting in January. The impact to the market of the Fed starting to withdraw from its $85B monthly liquidity injections are widely speculated on but cannot be known with confidence until this operation takes place.
In addition, the yield on 10 Year Treasury debt has already risen from ~1.6% in May to the current 3%. So how much of the 'Taper' is already baked into the markets and investors' expectations?
I believe 2014 will have more volatility than seen in 2013's steady year long rise. I also expect returns to be much more subdued in the coming twelve months. Interest rates should continue to rise but at a lesser pace. 10 Year Treasury yields probably should move up to 3.5% to 4% by the end of the year provided economic & job growth are not impacted too much by higher rates.
2014 should also be a decent year for yield investors provided investors allocate their income portfolios properly. Here is my take on where to invest for yield in 2014 in the stock market.
Avoid Utilities & Underweight Telecom:
Telecom and especially Utilities underperformed the market in 2014. I see little value in Utilities right now as they will be impacted by rising interest rates, suffer from slow growth and an increasingly stringent regulatory environment. In addition, valuations are still not compelling. The sector is yielding under 4% on average and selling at just over 17x earnings, slightly above the overall market multiple.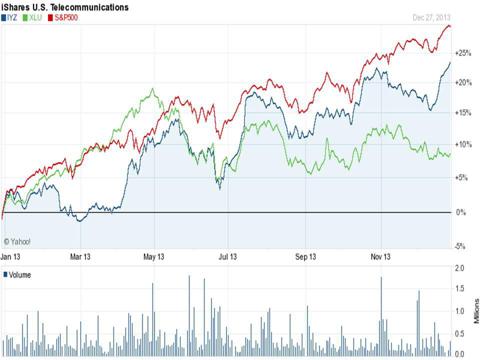 Click to enlarge
Telecom is slightly more attractive but I remain underweight the sector mainly due to slow growth and valuations that seem stretched. I do own some China Mobile (NYSE:CHL). China's largest telecom should benefit from the recent distribution deal with Apple (NASDAQ:AAPL) to carry the iPhone in China. The shares yield 3.7%, have a low payout ratio (~40%) for a telecom and sell at just over 10x earnings.
Little Value in Consumer Staples:
Like Telecom & Utilities, Consumer Staples are seeing little revenue growth even as the sector sells at about 20% above the overall market multiple. Coca-Cola (NYSE:KO) is a typical stock in this sector that got a favorable write up in Barron's this weekend.
The stock yields under 3% and will post a slight revenue decrease this fiscal year before accelerating to 3% gains in FY2014. Earnings are growing ~5% a year but the stock is priced at over 18x forward earnings. In addition, the company does not have a significant snack business like Pepsi (NYSE:PEP) that offers higher growth.
Finally, the war on sugary snacks via higher taxes is gaining ground in major cities like NYC and also in Latin America. I find no compelling reason to own Coke at these levels and this applies to the Consumer Staples sector in general.
Overweight Energy Partnerships:
I do see quite a bit of value in limited and master limited partnerships within the energy sector. Thanks to 'fracking', the U.S. is on the way to quietly becoming the biggest oil & gas producer in the world. We are still in the early innings of this development and I see this space continue to pay healthy & growing distribution yields in the years ahead.
I have this sector very overweight and own numerous names in my income portfolio. Typical of these types of investments is Memorial Production Partners (NASDAQ:MEMP). This upstream limited partnership has myriad attractive features.
First of all it yields almost ten percent (9.9%) and has made several incremental payout hikes since it came public in late 2011. Revenue growth should clock in at over 90% this fiscal year and the company should post a ~50% increase in FY2014. MEMP is an attractive value at a little over 10x forward earnings.
Real Estate Investment Trusts are becoming more attractive:
Real Estate Investment Trusts (REITs) have underperformed the market significantly since May as interest rates have risen. As interest rates stabilized, they should perform better. I have added additional allocation recently to this sector as I believe we are close to interest rates stabilizing.
One of my larger holdings I have added to recently is American Realty Capital Properties (ARCP). This REIT owns & operates mainly single tenant properties. It has a presence in almost all 50 states and is digesting a major acquisition that should provide economies of scale once completed.
American Realty yields over seven percent (7.4%). The REIT is also selling at a significant valuation discount to single tenant brethren like Realty Income Corp. (NYSE:O) and National Retail Properties (NYSE:NNN). I look for that discount to narrow throughout 2014 as it fully integrates its recent acquisition.
2014 should provide more subdued returns after 2013's huge rally. The consensus forecast is calling for a 5% to 10% rise in the markets in the New Year. Given this moderate growth, I expect high yield sectors to perform better than they have over the past six months as interest rates start to plateau. Income investors will face some challenges in the face of the Federal Reserve tapering process but it should be a prosperous year for those who position their portfolios properly.
Disclosure: I am long ARCP, CHL, MEMP. I wrote this article myself, and it expresses my own opinions. I am not receiving compensation for it (other than from Seeking Alpha). I have no business relationship with any company whose stock is mentioned in this article.