When looking for exposure to the beverage sector, investors tend to look at the two giants -- Coca-Cola (NYSE:KO) and PepsiCo (NYSE:PEP) -- first. However, despite its much smaller size both in sales and in market cap, Dr Pepper Snapple Group Inc. (NYSE:DPS) might be more interesting. In this article, I will be looking at Dr Pepper's growth in recent years, its balance sheet and its current valuation. The Coca-Cola Company and PepsiCo will be used for comparison.
Performance this year:
In the first three quarters of the current fiscal year, Dr Pepper's net income was $468 million, which is an increase of 1.96% to the $459 million in net income the company achieved in the same period last year. However, large share repurchases have led Dr Pepper's earnings per share to go up by 6.0%. Coca-Cola's earnings per share were down by 2% compared to last year, while PepsiCo reported earnings per share that were 11.9% higher than in the first three quarters last year.
Dividends:
At the current price per share of $48.80, Dr Pepper yields 3.11%, which is a bit higher than PepsiCo's 2.74% and Coca-Cola's 2.75%. Even though the yield is higher, Dr Pepper has a payout ratio that is slightly lower than its competitors. Dr Pepper Snapple Group has paid out 50.0% of its earnings per share in the form of dividends so far this year, while Coca-Cola's payout ratio stands at 55.2%. PepsiCo has paid out 52.2% of its earnings per share to its shareholders.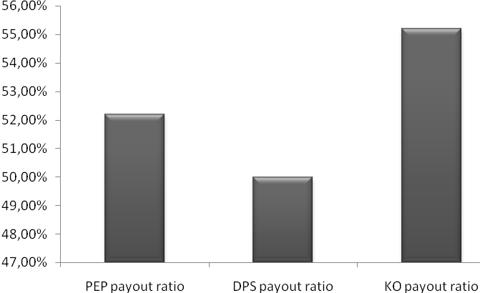 Click to enlarge
Balance Sheet:
At the end of Q3, Dr Pepper Snapple Group had current assets of $1.335 billion, and current liabilities of $1.232 billion, giving the company a current ratio of 1.11. This is not as good as PepsiCo, which had a current ratio of 1.24, but a lot better than Coca-Cola's current ratio of 0.96.
Dr Pepper has spent $243 million since the beginning of the current fiscal year repurchasing its own shares. The graph below compares the total number of shares for the three companies, and clearly shows Dr Pepper's dominance when it comes to returning capital to shareholder through stock buybacks.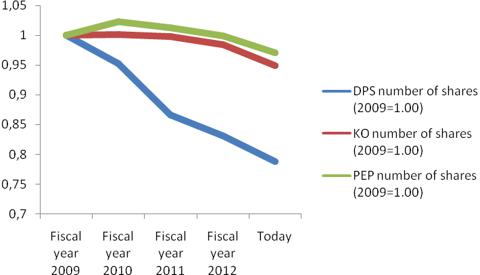 Click to enlarge
Valuation:
Currently trading at 15.1 times last year's earnings, Dr Pepper is a lot cheaper than its competitors -- Coca-Cola has a p/e ratio of 20.6 and PepsiCo has a p/e of 21.1.
Dr Pepper had total revenues of $5.995 billion last year, which means its current price to sales ratio stands at 1.63. Compared to Coca-Cola's p/s ratio of 3.74 and PepsiCo's p/s ratio of 1.94, Dr Pepper seems to be very cheap.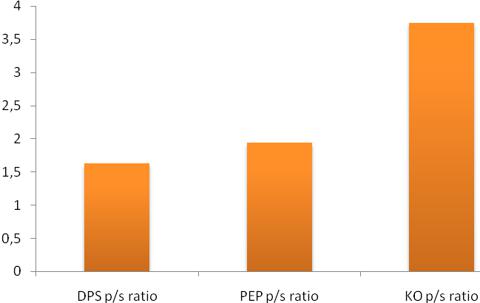 Click to enlarge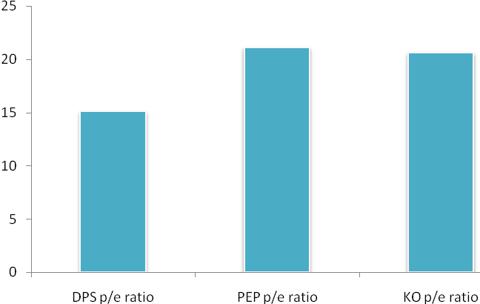 Click to enlarge
Conclusion:
Dr Pepper Snapple Group is trading at a decent discount to its two mega-cap competitors. The dividend yield is quite a bit higher, while the payout ratio is somewhat lower than that of PepsiCo and Coca-Cola. Furthermore, Dr Pepper buys back massive amounts of its own stock, which helps boost earnings per share and shows a dedication to returning capital to shareholders. Finally, Dr Peppers balance sheet look very decent, with a current ratio of 1.11 indicating good short-term financial health.
Disclaimer: I am not a registered investment advisor and do not provide specific investment advice. The information contained herein is for informational purposes only. Nothing in this article should be taken as a solicitation to purchase or sell securities. Before buying or selling any stock you should do your own research and reach your own conclusion. It is up to investors to make the correct decision after necessary research. Investing includes risks, including loss of principal.
Disclosure: I have no positions in any stocks mentioned, and no plans to initiate any positions within the next 72 hours. I wrote this article myself, and it expresses my own opinions. I am not receiving compensation for it (other than from Seeking Alpha). I have no business relationship with any company whose stock is mentioned in this article.