It is safe to say that Philip Morris International (NYSE:PM) has had a rough 2013, mainly due to macro economic factors. The stock opened 2013 at $84.70 and closed 12/27/2013 at $86.74, a measly 2.4% gain.
How will 2014 be for Philip Morris investors? This article presents a few things to look forward to in 2014 and also our verdict on whether those points are expected to be bullish or bearish for investors. Let us get into the details.
Annual Dividend Increase: Out of all the points in the article, this is the one we are the most confident about. Since the spin off from Altria (NYSE:MO) in 2008, Philip Morris has increased its dividend per share 6 times. Like clockwork, the dividends have been increased every September and investors can be very confident about one more increase coming their way in 2014 September.
The most recent dividend increase was for about 10% and the details can be seen here. The table below shows the dividend increases since the 2008 spin off.

(Source: Table compiled with data from Finance.Yahoo.Com)
Verdict: Bullish
Strategic Move In Russia: The Russian tobacco market is worth $20 billion. Recently, Philip Morris and Japan Tobacco both acquired a 20% stake in Russian tobacco distributor Megapolis. This is significant because Megapolis has about 70% market share when it comes to tobacco distribution in Russia. Philip Morris expects this acquisition to have a positive impact on its earnings per share in the early part of Fiscal 2014.
The following points have been taken from Megapolis' website. Megapolis,
has 3000 plus sales representatives for Tobacco products
has 172 Regional offices
has been delivering Philip Morris products in Russia since 2007
gets 90% of its business from Tobacco products
While Philip Morris has only 27% market share in Russia according to Megapolis' website, this strategic acquisition means Philip Morris gets a pie out of every dollar of profit that Megapolis makes (whether it is from selling a competitor's tobacco products or grocery products or alcoholic products). This link lists the different clients/products of Megapolis.
(2012 Tobacco Market in Russia: click to enlarge)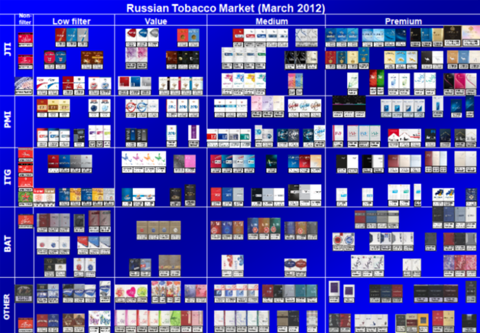 (Source: Megapolis.Com)
Verdict: Bullish
E-Cigarettes: In November, Philip Morris announced in that it plans to introduce "Reduced-Risk" products in the second half of 2014. The news was not met with much enthusiasm as investors were focusing more on Philip Morris guiding light on 2014 revenues. In December, it became clearer how Philip Morris planned on succeeding in the "Reduced-Risk" products. Philip Morris has entered into a collaborative distribution agreement with its parent Altria Group. In this agreement:
Altria will sell two of Philip Morris' heated tobacco products.
Philip Morris will sell Altria's E-Cigarettes internationally.
Both companies will achieve economies of scale as they do not have to construct new distribution channels to sell these products in the agreement.
Both companies will share the regulatory risks and expenses related to the products in the agreement.
As covered in detail here, the E-Cigarette market is growing by leaps and bounds in the U.S as well as internationally. Since 2003, the E-cigarette market (as a portion of the overall tobacco market) has doubled its share ever year.
Verdict: Neutral leaning towards Bullish in the long term.
E-Cigarettes Ban?: The only thing that might be growing faster than the E-Cigarette market is perhaps the movement to ban then. New York city has once again taken the lead in banning another questionable (health wise) product. As Seeking Alpha has speculated here, if other cities, states, and countries follow "Big Apple" in banning E-Cigarettes, this new category might die in its infancy.
Verdict: Bearish, but tobacco companies have had some social barrier or the other for a long time.
Unfavorable Currency?: It is no secret that the strong U.S dollar adversely affected Philip Morris in 2013. As Barrons reports here, 2014 is likely to be another strong year for the U.S dollar with the Federal Reserve making its intentions clear about bonds. This will adversely affect Philip Morris' earnings as the overseas earnings will be converted to U.S dollar when earnings are reported. Euro and Yen are reaching highs (or lows depending on how you see it) versus the Dollar as of this writing.
Verdict: Neutral leaning towards Bearish in the short term.
Conclusion: With these points covered here, Philip Morris seems to be doing the right things where it has full control; paying the shareholders, striving for growth through strategic acquisitions, leveraging the parent-child relationship with Altria to name a few. However, we do expect the currency fluctuations and Europe weakness to affect the stock in 2014 as well.
2014 Nutshell: In a nutshell, if you are looking for quick profits or for the stock to return to its usual premium valuation in 2014, you will probably be disappointed. However, if you are in Philip Morris for the long haul (like we are), you should buy and reinvest the dividends. As a reminder, dividends reinvested when the stock is unappreciated will accelerate the future returns when Macro economic conditions improve, if you believe the company is fundamentally doing the right things as we've pointed out Philip Morris is doing.
The table below is a very simple illustration of how many shares investors will acquire (per quarter) through dividend reinvestment when a stock is at its lows versus when a stock is at its highs. Of course this is just an illustration as one cannot really time it to perfection each time. But the point is that those who are reinvesting through bad times acquire more shares that will get them even more dividends. And when those dividends are raised during the stock's bad times (like Philip Morris is going through now in 2013 and will likely go through in 2014), the future returns will likely rocket higher. No wonder, Jeremy Siegel called dividends as "bear market protectors" and "returns accelerators".

Disclosure: I am long PM, MO. I wrote this article myself, and it expresses my own opinions. I am not receiving compensation for it (other than from Seeking Alpha). I have no business relationship with any company whose stock is mentioned in this article.
Additional disclosure: This article in no way endorses smoking.