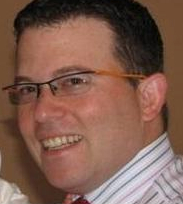 Robert Waxman (at right, top) and Louis Goluboff (at right, bottom) are Principals of Toronto, Ontario based Silvercove Fund Management Ltd., a boutique investment management firm with a focus on alternative assets. The firm's goal is to provide investors with superior risk-adjusted returns.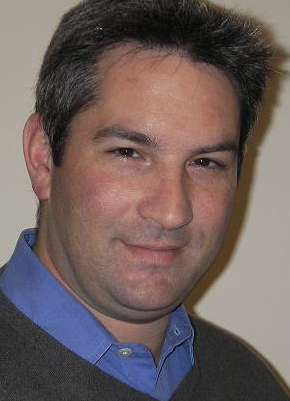 Waxman and Goluboff launched their first offering, the Silvercove Hard Asset Fund LP, on October 6th 2009 and report it has outperformed the S&P/TSX Index while reducing volatility and risk. Their Hard Asset Fund is a multi-strategy fund that employs bottom-up analysis in order to take advantage of a macro view of the underlying hard asset. The investment team has a combined 25+ years in the investment industry including 11+ years managing funds.
We recently had the opportunity to ask Louis and Robert about the single highest conviction holding in their fund.
What is your highest conviction stock position in your fund – long or short?
Our highest conviction stock is Algonquin Power & Utilities Corp. (on pink sheets as AQUNF.PK, but Toronto-traded shares (TSE:AQN) are far more liquid). Algonquin is our pick for its stability, 5.76% dividend, relative valuation and potential capital appreciation. We believe in consistent steady returns and this is a stock that we believe has the highest probability of positive returns without taking on too much risk and volatility.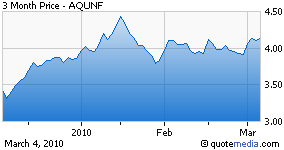 Algonquin Power is a Canadian company with renewable and thermal energy facilities and water distribution and treatment assets. Algonquin can be categorized as a power producer and infrastructure play all in one.
Geographically, the company's assets are located in Canada and the United States with a total install base of 415MW. The company has 41 hydroelectric facilities, five natural gas-fired generating plants, two biomass facilities, one wind facility and one waste to energy facility. The water utility side of the business has 18 water distribution and wastewater treatment facilities. The company typically operates under long-term Power Purchase Agreements and through a captive user base within a regulated utility.
So it has both traditional and alternative energy exposure. To what extent is Algonquin, for you, a sector play on those markets, as opposed to a pure bottom-up pick?
We like Algonquin both as an industry and as a bottom-up pick. The Power and Infrastructure industries are areas that we have a long-term positive bias towards. Algonquin is well positioned to exploit several global trends, including increasing the use of renewable energy, government stimulus spending on infrastructure, energy security and fresh water scarcity.
But Algonquin is primarily a bottom-up pick for us because the market has assigned a discount to the company. We believe that the discount was warranted in the past, but no longer. Algonquin was originally IPO'd as an income trust. It had a payout ratio that was too high for the cash flow generated by the assets, and it was externally managed. As a result of the high payout, Algonquin did not retain cash for organic growth and was forced to increase its debt load and issue equity to acquire assets to attempt to 'grow into' its distribution. The consequence of this was limited growth in cash per unit. The structure as a trust also limited its growth opportunities and restricted its access to capital.
This was a classic out of favour company that investors have ignored. It has strong, cash flowing assets that needed a change in philosophy and structure. Ultimately the balance sheet was strengthened, the trust converted to a corporation, and management was internalized.
The distribution was reduced from $0.92 per year to $0.24 per year in October 2008. That distribution cut, along with cost cutting and asset optimization, took payout ratio from in excess of 100% of cash flow to 40% as of Q2 2009. This change in philosophy should allow the current asset base to grow and add value to existing shareholders.
Can you describe Algonquin's competitive environment? How is it positioned visa vis its competitors?
Both industries that Algonquin operates in are capital intensive and subject to heavy regulation. As such, they have very high barriers to entry. There are many companies worldwide that operate in these industries. They range from large well established multi-national companies with huge install bases to small locally focused start-ups with no install base.
As a result of an expected increase in demand of electrical generation needs in North America, there is a move to green energy use at all levels of government. As an example, in Ontario the provincial government recently enacted the Green Energy Act. This ensures that the Ontario Power Authority must provide priority to green energy projects as well as ensuring utilities provide priority grid access to green energy projects. In the US, the Obama-Biden New Energy for America Plan calls for a 10% target of electricity generation from renewable sources. This bodes well for all players in the renewable space, including Algonquin.
Algonquin's competition in these industries has little to do with existing assets and more to do with the cost of capital to bid on new projects. Algonquin does not have the lowest cost of capital in the industry, but is able to compete with its peers for new projects by being creative and creating strategic partnerships on individual assets. It has a few projects in its pipeline and recently acquired an additional 37MW facility.
How does Algonquin's valuation compare to its peers?
Algonquin is not a widely followed company and we feel most investors have not taken the time to revisit the "new" Algonquin. We feel that the market does not appreciate the importance of the assets in the communities in which they operate and their ability to generate cash flow. We began purchasing the company at tangible book value, and at current prices it is trading just above book value. We use book value in turn-around situations of hard asset companies like this to find a floor to a company's valuation. On a more traditional EV/EBITDA basis it trades at a discount to its renewable energy peers. We have an internal target of $5.25 in the next 12-18 months.
What is the current sentiment on the stock? How does your view differ from the consensus?
There is recognition from the analyst community on the value in the company as there are 3 Outperform ratings out of 5 analysts. Target prices, though, range from as low as $3.00 to as high as $8.00. The positive views have started to materialize in the last quarter or two, and we believe that sentiment on the stock will continue to gain momentum. We are not as optimistic as some, but we prefer a more conservative view of the valuation at this time.
Does the company's management play a role in your position?
Of course it does. Any asset, good or bad requires a good management team to optimize the asset and add value to shareholders. In this case, management has taken a decent asset base and restructured the entity around it to optimize value and provide it with the best chance of success.
What catalysts do you see that could move Algonquin's stock in the near future?
There are several catalysts that could see the stock continue to move higher:
1. Continued operational improvements.
2. Recognition of the company's high dividend yield.
3. Further understanding of the scarcity of fresh water.
4. Additional legislation in favour of green power and continued infrastructure spending.
On the risk end, what could go wrong with this stock pick?
Algonquin's diversification, both operationally and geographically, mitigates the risk of one event affecting the entire company. However, there are several risks that could change our view, including a change in the regulatory environment, prolonged low hydrology rates, counter party risk and a significant reduction in liquidity.
Thank you very much, Louis.
Happy to participate.
Disclosure: Silvercove is long Algonquin
Read more High Conviction Picks »
If you are a fund manager and interested in doing an interview with us on your highest conviction stock holding, please email Rebecca Barnett.
Also today: Algonquin Power: Adequate Yield and Growth Potential (George Fisher)