My History With Crocs
I remember it well - many years ago when Crocs (NASDAQ:CROX) was first introduced, I knew it was going to be a great short bet. It was right around the same time that Heelys were gaining in popularity. I couldn't believe it; two fad-based shoe shorts at the same time. Some of you are probably even asking yourselves right now: what the heck is Heelys?
Fair to say that Crocs has outlived Heelys (NASDAQ:HLYS), which is almost at a total loss, but both companies have gone the way of the buffalo since their heydays during the 2007 era.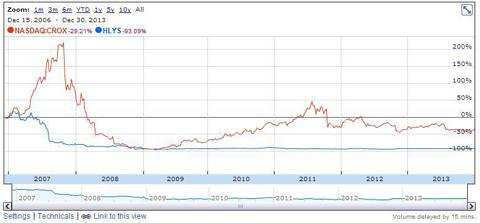 You can call me a hater, but I just always thought the things were ugly, too. And, yes, I realize that Crocs is branching out and making footwear other than the original Crocs, but it's the brand name that just doesn't do it for me.
From Crocs.com:
Crocs, Inc, a world leader in innovative casual footwear for men, women and children, celebrated its 10th anniversary in 2012. Crocs offers several distinct shoe collections with more than 300 four-season footwear styles. All Crocs shoes feature Croslite material, a proprietary, revolutionary technology that gives each pair of shoes the soft, comfortable, lightweight and odor-resistant qualities that Crocs fans know and love. Crocs fans "Get Crocs Inside" every pair of shoes, from the iconic clog to new sneakers, sandals, boots and heels. Since its inception in 2002, Crocs has sold more than 200 million pairs of shoes in more than 90 countries around the world. The brand celebrated reaching $1 billion in annual sales in 2011.
It was announced on Sunday night that the company entered into a financial partnership with Blackstone - which will be hopping on the Board of Directors - and was swapping out its CEO. The meat and potatoes of Crocs' PR were wrapped up by our very own Seeking Alpha on Monday morning:
Blackstone (NYSE:BX) has agreed to pay $200M to acquire a 13% stake in Crocs, the latter said late yesterday, adding that CEO John McCarvel will retire at the end of April.
Blackstone will receive newly issued preferred equity that it can convert into common shares at $14.50 each vs. Friday's close of $13.33, and which will have a cash dividend rate of 6%. The private-equity firm will also receive two board seats.
Crocs will use the proceeds to help pay for a $350M repurchase program, along with Blackstone's investment, the buyback will reduce the footwear maker's publicly traded common stock float by 30%.
Blackstone's investment comes after Crocs' Q3 profit dropped 71% to $13M on revenue of $288.5M. The company expects Q4 earnings to be at the low end of its guidance range for a loss per share $0.20-0.23 - meaning the loss will be greater - and for revenue of $220-225M. Analysts predict $0.19 and $222.25M respectively. Crocs will also take charges of $47-52M in Q4 and may need to carry out further restructuring in 2014.
Short Term, Crocs Will Spike
Let me let everyone in on a big secret: when a company like Blackstone invests $200 million in convertibles into a company like Crocs, only one thing is for sure: Blackstone is looking to make a ton of money as quickly as humanly possible.
Come hell or high water, whether it is through fundamental means or "other" means, Blackstone has a vested interest in getting this stock higher, and they're going to. And, the people buying in today and pushing Crocs up are all likely thinking the same thing. Forget the shoes, forget the CEO - Blackstone is on the board, is likely going to have a ton of say on the new CEO, and this stock is likely to push higher if the macro markets continue to hold up in 2014. It's the same reason that a company losing money is focusing on buying back shares. Fundamentals first, shareholders second.
While the likely bullish argument that is now sending the stock up 17% to $15.62 is that Blackstone is going to reap the rewards of its convertibles, regardless of how the company fares, we've seen this script before. Once Blackstone makes its money off of its investment, it will exit, and Crocs will be just plain old Crocs again.
Years from now, people who bought on the hysteria of this deal for long-term portfolios will likely be looking back and wondering where it all went wrong. Want a retail brand to invest in with staying power? Why waste your time with Crocs when companies like Nike (NYSE:NKE) and Under Armor (NYSE:UA) are out there?
Crocs is not going to be a long-term investment - the Blackstone convertibles can be converted after 3 years if conditions are met. That is the stay of execution that this company has with me - nothing more.
The Brand Takes a Long-Term Bet on Crocs off the Table
And when Blackstone exits and the love affair with Crocs ends yet again, what you're going to have is a dying and tainted brand name, a la the likes of Heelys.
The company right now is sporting a P/E ratio of 18 - a number that high commands big future growth. And, let's get the QA off the table for a second and reduce this one to common sense - is Crocs a brand you've even heard of recently, let alone think is going to grow aggressively? The company continues to post losses and isn't in the fundamental shape necessary to grow aggressively.
RTT News points out concisely how the fundamentals of Crocs as a company make it a terrible long-term investment:
For the fourth quarter, the company now expects revenue to be at the low end of the previously provided guidance range of $220 million to $225 million. On average, nine analysts polled by Thomson Reuters expect revenues of $222.25 million for the quarter. Analysts' estimates typically exclude special items.

For the quarter, loss per share is now projected to be at the low end of the previously given guidance range of $0.20 to $0.23, means higher loss. The forecast excludes aggregate charges in a range of $47 million to $52 million, which is an additional loss per share of $0.45 to $0.50.

While not currently estimable, the company expects that additional restructuring charges may be necessary in 2014 as it refines strategic plans.

Niwot, Colorado,-based Crocs' revenues were hurting lately with declining demand of clogs in the Americas and Japan. For its fiscal third quarter, the company reported a 71 percent drop in profit hurt by sales decline and increased expenses.
Crocs are likely spending their days littering the shelves of discount shoe stores and department stores like J.C. Penney (NYSE:JCP) and Sears (NASDAQ:SHLD) - which both have their own enormous branding and popularity issues to deal with. Dying stores selling dying brands - what more do you need to know?
Again, Crocs is not a long-term buy and hold.
The Verdict: Stick and Move
If you're buying into Crocs right now hoping to ride Blackstone's coattails, it's not necessarily a bad idea. Be wary of profit taking if you're buying in at these levels, or if you have bought in prior to today. Be vigilant about taking your profits and take your cost basis off the table when you can. Manage your risk here - this trade is a "play," not a long-term blue chip.
If you're hopping in now for a retirement portfolio stock, Crocs isn't the right stock. Despite Blackstone's program to "save the company," Crocs remains an extremely risky stock to hold for the long term due to its losses and tainted brand name. Don't let the Blackstone deal fool you - this company remains on its last legs.
Best of luck to all investors.
Disclosure: I have no positions in any stocks mentioned, and no plans to initiate any positions within the next 72 hours. I wrote this article myself, and it expresses my own opinions. I am not receiving compensation for it (other than from Seeking Alpha). I have no business relationship with any company whose stock is mentioned in this article.