By Eric Dutram
Thanks to the Affordable Care Act, 2013 has been a pretty rocky year for the health care market. While some segments, such as biotechnology and drug producers, weathered the storm and appear to be well-positioned heading into the coming year, HMO firms are on shakier ground.
These health providers have also seen strength in their share prices over the course of the year, but could be in trouble as the calendar turns over. That is because intense competition, worries over taxes, and declining margins are starting to hamper the outlook for at least a few firms in this space. While this has been an industry wide trend to an extent, it has been especially apparent in the case of Magellan Health Services (NASDAQ:MGLN).
MGLN in Focus
Magellan manages benefits in three key areas; behavioral health, radiology, and pharmacy, and it has been pretty strong in 2013. The stock has risen by nearly 20% in the YTD time frame, but over the past month, the stock has flat-lined, and could be facing some trouble as we approach 2014.
That is because MGLN recently warned on its guidance for the coming year, slashing profits but keeping revenues in-line with analyst expectations. So, while revenues look to be stable, margins could be tumbling for MGLN, especially if the company is hit by new ACA related taxes, and is unable to pass these costs on to customers.
Now, MGLN expects 2014 earnings to be between $2 and $2.56/share, on revenue of between $3.61 billion- $3.80 billion. This compares to analyst expectations of $3.27/share on revenues of $3.41 billion, implying a pretty drastic cut in expectations by MGLN management.
Due to this huge cut, analysts in the Zacks Consensus have been slashing estimates for all time periods studied, with not a single estimate going higher in the past two months. And with these reduced estimates, MGLN is now looking to have a growth rate next year of -44% for earnings, so it could be a very rough period for the company in the next few months.
Unsurprisingly given these sobering statistics, MGLN has fallen to a Zacks Rank #5 (Strong Sell), meaning that we are looking for some underperforming over the first quarter of 2014, especially if estimates continue to tumble for Magellan.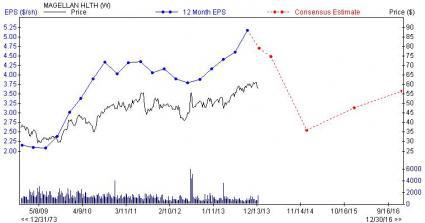 Other Picks
The Medical HMO industry is looking quite poor from a Zacks Industry Rank as well, coming in the bottom 10%. Not a single company has a Rank better than a 3, meaning there isn't a single buy candidate in the dozen names in this space right now.
Instead, if you are seeking a medical play, a look to the generic drug market could be a better idea. Currently, three companies- RDY, IPXL, and SUPN -have top Zacks Ranks, and beat in the most recent quarter as well. So, consider any of these better Ranked plays instead of the HMO space if you are searching for a solid way to play the medical sector in 2014.
MAGELLAN HLTH (MGLN): Free Stock Analysis Report (email registration required)