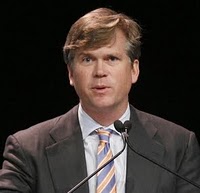 (This post is part of our series on tracking hedge fund portfolios. If you're unfamiliar with tracking investments they disclose via SEC filings, check out our series preface on
hedge fund 13F filings
.)
Next up in our series is H. Lee S. Hobson's hedge fund Highside Capital. He graduated from Princeton University in 1987 and received his MBA from Harvard Business School in 1992. Hobson founded his Dallas, TX based hedge fund in 1993, having previously worked for
Lee Ainslie's Maverick Capital
. Last year, Hobson
presented at the Ira Sohn investment conference
and laid out a long idea of Millicom (MICC) and a short of Ritchie Brothers (NYSE:
RBA
). While we can't see their short positions, we do know that Highside still has a sizable long stake in MICC. Highside employs a long/short strategy and invests in public equity markets.
The positions listed below were their long equity, note, and options holdings as of December 31st, 2009 as filed with the SEC.
All holdings are common stock unless otherwise denoted
.
Brand New Positions
Cisco (NASDAQ:
CSCO
)
Visa (NYSE:
V
)
Google (NASDAQ:
GOOG
)
Conway (NYSE:
CNW
)
McDonalds (NYSE:
MCD
)
Monsanto (NYSE:
MON
)
Aspen Insurance (NYSE:
AHL
)
Express Scripts (NASDAQ:
ESRX
)
Automatic Data Processing (NASDAQ:
ADP
)
Devry (NYSE:
DV
)
Office Depot (NYSE:
ODP
)
Hertz (NYSE:
HTZ
)
Increased Positions
Cigna (NYSE:
CI
): Increased position by 149%
Mastercard (NYSE:
MA
): Increased by 87.5%
Pfizer (NYSE:
PFE
): Increased by 41%
NVR (NYSE:
NVR
): Increased by 35%
Leap Wireless (
LEAP
): Increased by 33%
Apple (NASDAQ:
AAPL
): Increased by 29.4%
Bank of America (NYSE:
BAC
): Increased by 22.5%
Reduced Positions
Polo Ralph Lauren (NYSE:
RL
): Reduced position by 83%
Berkshire Hathaway (NYSE:
BRK.B
): Reduced by 43.3%
Gilead Sciences (NASDAQ:
GILD
): Reduced by 35.7%
Qualcomm (NASDAQ:
QCOM
): Reduced by 34%
Goldcorp (NYSE:
GG
): Reduced by 33.3%
Dell (NASDAQ:
DELL
): Reduced by 22%
Syniverse (
SVR
): Reduced by 21%
Removed Positions
(Sold out completely):
Chesapeake Energy (NYSE:
CHK
)
Macy (NYSE:
M
)
EMC (EMC)
Genpact (NYSE:
G
)
Harman (NYSE:
HAR
)
Dreamworks (NASDAQ:
DWA
)
Raytheon (NYSE:
RTN
)
Lamar Advertising (NASDAQ:
LAMR
)
Micron (NASDAQ:
MU
)
Wellpoint (WLP)
Ameriprise (NYSE:
AMP
)
Dendreon (NASDAQ:
DNDN
)
Clearwire (
CLWR
)
Top 15 Holdings by percentage of assets reported on 13F filing
Apple (AAPL): 5.49%
Lowes (NYSE:LOW): 4.98%
Pfizer (PFE): 4.74%
NII Holdings (NASDAQ:NIHD): 4.29%
NVR (NVR): 3.87%
Millicom (MICC): 3.84%
Microsoft (NASDAQ:MSFT): 3.79%
Cablevision (NYSE:CVC): 3.64%
Mastercard (MA): 3.64%
Dell (DELL): 3.60%
Cisco Systems (CSCO): 3.55%
JPMorgan Chase (NYSE:JPM): 3.55%
Visa (V): 3.48%
American Tower (NYSE:AMT): 3.48%
SBA Communications (NASDAQ:SBAC): 3.40%
It should be no surprise that we see Apple at the top of yet another big hedgie portfolio. After all, AAPL is one of the
top hedge fund holdings
. We also see the prominent plays of Mastercard and Visa that oh so many funds have loved. While many hedgies also hold Pfizer, we make note that Highside has one of the more sizable positions out of the funds we've covered. Did we also mention that they substantially increased their holdings in ALL of the above mentioned stocks?
What sets Hobson's hedge fund apart is their focus on international wireless providers. They have large stakes in both NII Holdings (
NIHD
) and Millicom (MICC). Another interesting position to see on their books is Dell. That stock has not necessarily been in favor with hedgies and so it seems they've taken a bit of a contrarian approach here.
In terms of positions they sold out of completely, they dumped previously large stakes in Chesapeake Energy and Macy's. They also cut EMC from their portfolio and we mention that because we've now seen many hedge funds sell out of this name in the fourth quarter, including
Bill Ackman's Pershing Square
. Highside also significantly reduced their position in Polo Ralph Lauren (
RL
), but they still owned shares at the end of the fourth quarter. Overall though, they definitely increased their exposure to services.
Data used for this article comes from
Alphaclone
, our source for backtesting strategies and sorting through all the hedge fund portfolio maneuvers with ease. Assets reported on the 13F filing were $2.1 billion this quarter compared to $1.8 billion last quarter. Remember that these filings are not representative of the hedge fund's entire base of AUM.