As the famous 1978 rock anthem composed by Peter Townsend of The Who stated:
Well, who are you? (Who are you? Who, who, who, who?)
I really wanna know (Who are you? Who, who, who, who?)
Once you figure out what type of investor you are, the utility sector offers stock investment selections that will meet your investment profile. No matter who you are.
If you are a dividend growth investor, Wisconsin Electric (NYSE:WEC) may fit your investing criteria. It has a current 3.71% yield vs. a 5-yr average of 2.89% and a 5-yr dividend growth rate of 19.1% vs. an industry average of 6.0%. The 1-yr dividend growth rate is 15.3%, and 3-yr dividend growth rate is 21.1%. Below is a table from morningstar.com that outlines the 10-year dividend growth of WEC. Based on a current forward 12-month dividend of $1.53, the average 5-yr yield would equate to a share price of $53.00.
With an environment of rising interest rates and 10-yr rates recently at 3.02%, achieving the lower 5-yr average yield through higher share prices may be a bit of wishful thinking.

If you are income investor not fazed by commodity and nuclear power risk, and looking for a bit of a speculative play, Exelon (NYSE:EXC) may fit your needs. There may not be a more controversial name in the entire utility sector and a contrarian would find a lot to digest with EXC. A turn in the natural gas market should have positive impact on electricity pricing in the Northeast and Midwest, but will probably not affect EXC earnings for several quarters.
If you are an income investor with a low tolerance for risk, Dominion Resources (NYSE:D) may fit your needs. Dominion Resources is a diversified utility with assets in electrical and natural gas. The company recently announced it was spinning off some of its gas assets into a MLP. In addition, it is building a LNG export terminal in Maryland that could become the export facility of preference over Gulf Coast competitors for Marcellus shale production, as it is closer.
If you are a small-or mid-cap investor focused on water resources, Aqua America (NYSE:WTR) may seem to fit your needs. From Reuters.com, the following table shows nice growth for both dividends and earnings.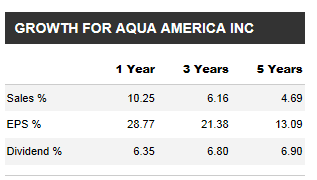 However, be careful, as it seems investor overall rewards have not kept up with its peers. As graphed by Morningstar.com, since 2005, WTR has underperformed its peers.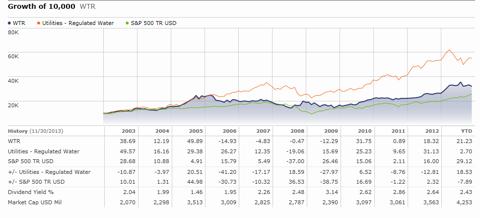 If you are looking for mid-cap stocks that may be ripe for consolidation, Chesapeake Utilities (NYSE:CPK) could be a candidate. CPK fills a geographical niche of the Delmarva Peninsula and central to northern Florida. Management has assembled a business model that is quite profitable generating a consistent high return on invested capital, with a 5-yr average of 7.62%. According to money manager Mario Gabelli, there are about 30% too many utility companies and the current consolidation trend of mergers and acquisitions will continue in the sector for the foreseeable future.
If you are looking for mid-cap growth, federally regulated transmission firm ITC Holdings (ITC) may be of interest. While state regulators have rejected the recent merger proposal with the transmission business of Entergy (NYSE:ETR), the consensus of eight brokers who follow ITC is for a 15% annual EPS growth rate for the next five years. This is several times higher than many larger, more diversified peers will generate. Below are earnings and dividend growth numbers for ITC from Reuters.com: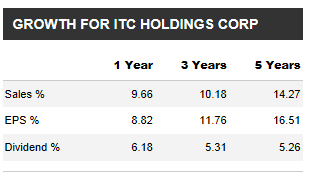 If you are looking for a natural gas utility with substantial upside potential from the Marcellus shale, National Fuel Gas (NYSE:NFG) may fit your needs. Mario Gabelli's Gabelli Utilities Fund (MUTF:GABUX) and Gamco Investors are its largest shareholder with a combined 9% holding of outstanding shares. From the latest GABUX quarterly report (pdf):
National Fuel Gas is a diversified natural gas company. NFG owns a regulated gas utility serving the region around Buffalo, NY, gas pipelines that move gas between the Midwest and Canada and from the Marcellus to the Northeast, and an oil and gas exploration and production business. NFG's regulated utility and pipeline businesses, as well as its California oil production business, provide stable earnings and cash flows to support the dividend, while the natural gas production business offers significant upside potential. NFG's ownership of 800,000 acres in the Marcellus Shale formation, including 745,000 acres in the shale fairway of Pennsylvania, holds enormous natural gas reserve potential, and we believe the position could be worth $3.4 billion, based on recent comparable transactions. Despite the decline in natural gas prices leading to lower production levels, we continue to expect significant long term earnings and cash flow growth from gas production, and we remain excited about the expansion potential of the strategically located pipeline network. The company has increased its dividend for over forty consecutive years.
If you are an ETF investor, there are three interesting ones that could be researched. First Trust Utility AlphaDex (NYSEARCA:FXU) carries a 0.70% fee and a yield of 4.52%. An equal-weighted utility EFT is the Guggenheim Equal-Weighted S&P Utility (NYSEARCA:RYU) with a 0.50% fee and a 3.67% yield. An ETF focused on smaller companies is the PowerShares S&P Small-Cap Utilities Portfolio (NASDAQ:PSCU) with a 0.29% fee and a trailing twelve-month yield of 4.1%. Make sure to review each ETFs holding as some will contain upwards of 25% in the telecommunication sector. A nice list of utility ETFs, along with their performance results, can be found here.
If you are looking for only the crème-de-la-crème of stocks, the utility sector has an offering. Many investors seeking quality will turn to the S&P Quality Equity ranking for 10-yr consistency in earnings and dividend growth. Entergy is the only A+ utility included in the 46 stocks that make the cut.
If you are looking for cutting-edge green technology, small-cap geothermal manufacturer and power producer Ormat Technologies (NYSE:ORA) could be of interest. A subsidiary of Israeli-based Ormat Industries (OTC:OMTDF), ORA operates 595 MW of geothermal generation with five projects under construction increasing capacity by an additional 145 MW. OMA also sells geothermal generating equipment to others. Their latest investor presentation can be found here.
Investors looking for more stable investments could find several in the utilities sector. According to a stock screener search at finviz.com for stocks with greater than 4% current yield, positive earnings growth projections over the next 5 years, and a beta of less than 0.50, or half the benchmark market beta, there were 16 utility companies that qualified.
If you are an investor looking for competitive total returns, you could do worse than holding utility stocks. Below are charts of 3-yr total returns by sector of the Dow Jones US Total Market Industry Groups: Utility - DJUSUTT, Basic Material - DJUSBMT, Consumer Goods - DJUSNCT, Consumer Services - DJUSCYT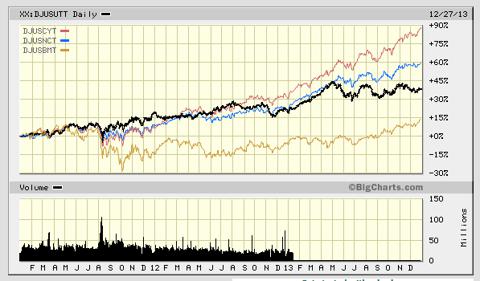 Utility - DJUSUTT, Financials - DJUSFNT, Heath Care - DJUSHCT, Industrials - DJUSINT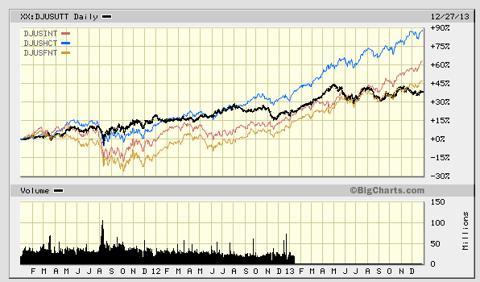 Utility - DJUSUTT, Oil & Gas - DJUSENT, Technology - DJUSTCT, Telecom - DJUSTLT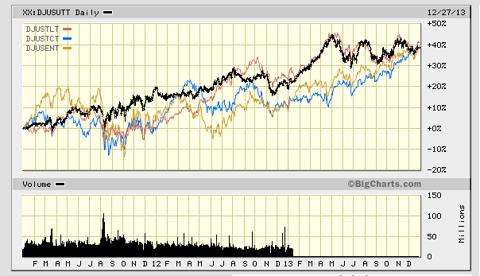 The chart below compares returns for various sectors of the utility index over the previous 3 years: Electricity - DJUSEU, Gas - DJUSGU, Multi-utilities - DJUSUO, and Water - DJUSWU vs. the overall total return of the index - DJUSUTT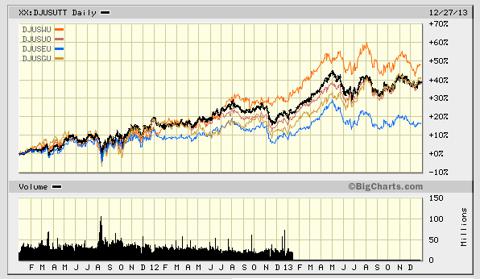 Reviewing the above charts, the Utility sector total returns over the past three years have equaled the performance of the Technology, Oil and Gas, and Telecom sectors, almost tied the Financial sector, while outperforming the Basic Materials sector.
Getting past the news-highlighted stocks in the utility sector reveals a wealth of opportunities - no matter "Who Are You".
Note: A bit of trivia for rock and roll fans: The lyrics of the song begin with a true incident, courtesy of Peter Townsend's alcoholism. He claims he really did "wake up in a Soho doorway", and a police officer recognized him and advised him to go home.
For those who would like a short trip down memory lane, follow this link to a YouTube video of The Who's classic live performance of "Who Are You" at The Concert for New York City on Oct 20, 2001.
Author's Note: Please review important disclaimer in author's profile.
Disclosure: I am long EXC, ITC, NFG. I wrote this article myself, and it expresses my own opinions. I am not receiving compensation for it (other than from Seeking Alpha). I have no business relationship with any company whose stock is mentioned in this article.