Tokyo. December 25, 1989:
The Bank of Japan surprised markets when it sharply increased its key interest rate to 4.25% (the move was meant to tighten policy to curb inflation and prevent an asset bubble). The result: the market crashed, credit tightened up, and a debt crisis ensued. Economic growth stagnated, and Japan entered what became known as the "Lost Decade": the period of 1990 to 2000.
Frankly, the Japanese economy hasn't bounced back: since late 2008 the key interest rate has been held at .1% in an effort to fight deflation. The problem: now the Bank of Japan is limited in its ability to ease monetary policy to combat falling prices, since they can't lower interest rates below zero.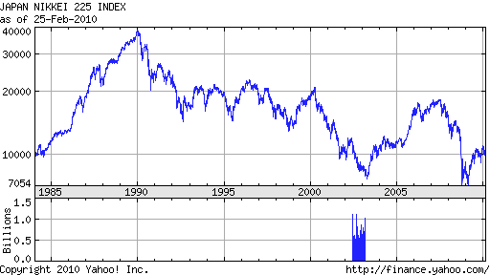 The bad news: Japan is not alone. We too have lost a decade. The market has not made any progress in the past ten years; the S&P 500, a benchmark of the stock market, has been flat.
S&P 500 from 2000 to 2010: A Lost Decade

Source: finance.yahoo.com
This looks bad enough, but reality is even worse: while we have spent the last ten years in a lost decade, we are in for another one. Why? This decade of no returns is just part of a much bigger picture. A picture of how the U.S. equity market behaves in the long run, and it's not always pretty.
When we talk about the markets, we've got to look at trends; specifically long-term, or secular, trends. In a secular trend the stock market moves up or down over an extended period of time (during which there are shorter cycles that bring the market up or down). A secular bull market brings stocks up over time, and a secular bear market brings them down. Either way, secular market trends average around 20 years in duration.
We experienced a secular bull market from 1982 to 2000, with stocks offering gains over the long term.
S&P 500 from 1982 to 2000: A Secular Bull Market

Source: finance.yahoo.com
This last bull market lasted 18 years. And it was immediately followed by the current bear market. Looking back over time, there is a clear pattern: secular bull markets followed by bear markets. Secular bear trends started in 1901, 1929, 1966 and 2000 to the present day (each one interspersed with short, cyclical markets). Based on the length of previous bear markets, we are only halfway through our current trend. While we can expect some ups and downs, over all, we can plan on ten more years in this market of no returns.
Looking back over our economic history, starting with the first decline in 1877 we have been through a total of 80 years of bull markets, and 50 years of bear market trends (according to dshort.com).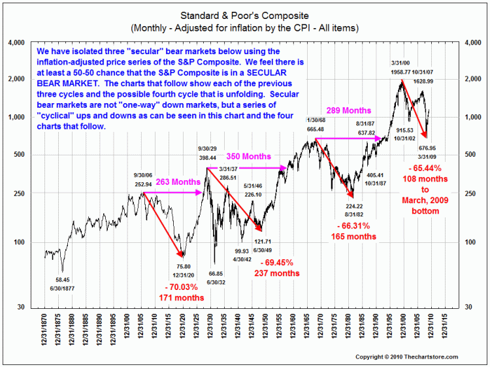 Source: Thechartstore.com
Besides duration, how can we identify secular trends? By direction, as the market moves up or down, but also, how far it moves in that direction: a bull market typically means that stocks advance over 20%, while in a bear market stocks decline more than 20%. But it's more than just the way the market moves, it's also about market valuation. The value of the stock market is determined by the P/E ratio (this is the relationship between the market price of a stock and the earnings per share). This ratio is an indicator of whether the stock market is over or undervalued. Historically, the market has an average, or fair value, P/E ratio around 15.
While we experience secular trends in the market, whether up or down, this ratio varies. When the market is at the peak of a secular bull market, stocks prices have been driven up, and the P/E ratio is fairly high. This point marks the beginning of a secular bear market, when the P/E ratio starts to decline to a fairer value, as stock prices fall. At the start of the last four secular bear trends (in 1901, 1929, 1966 and 2000), the S&P 500 index P/E ratio started well above 15, and fell below the fair value.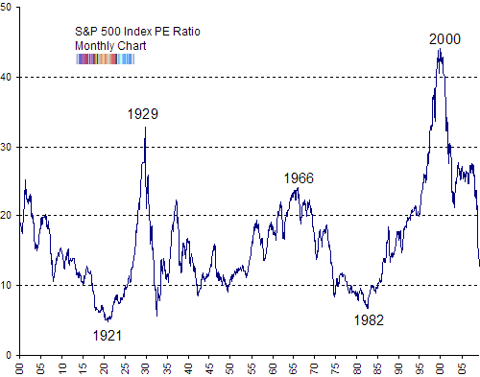 Source: Robert Schiller
What does this mean for investors? It means understanding not just how the markets are moving from day to day, but what trend we are experiencing. The current market trend should shape your investment strategy: secular bull markets create wealth, but during secular bear markets we need to think about preserving wealth. Now, that's not to say that there are not opportunities to gain (or lose) anytime; market trends are peppered with shorter, cyclical ups and downs. Still, any investment goals must be set with long-term trends in mind. Let's face it: over the last decade, an investor with money in an S&P 500 index fund realized no return. You would have been better off stuffing your money under a mattress (it would have grown the same, and you would have slept soundly).
In a bear market, buy and hold investing simply does not work. Your investment portfolio is not like a Ron Popeil chicken cooker: you can't just set it and forget it, especially when equities are facing another ten years in a down cycle. So don't lay your money down and hope that the market will carry your portfolio to new heights; now is the time for an active approach to investment management.
Remember: Hope is not an investment strategy.
Disclosure: None