Broadcom (BRCM) has finally won a major design for its upcoming LTE chip. It will feature its dual-core A9-based M320 application processor in Samsung's new smartphone in early 2014. Announced during the 2013 analyst meeting, this is first design win for the company in LTE. Broadcom's LTE plans have already been delayed, but after it acquired Renesas's LTE assets, the company will finally ship its LTE product. This asset acquisition gave Broadcom a carrier-validated LTE modem integrated system on chip, or SoC, which is ready for production. Since acquiring Renesas's LTE assets in September, the company progressed rapidly and is ahead of its previous plans for its dual-core and quad-core LTE-enabled SoC. In addition, its LTE A modem sampling, which was expected in third quarter of 2014, will now take place in mid-2014.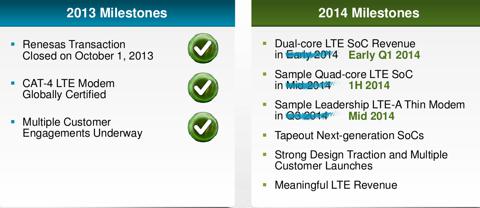 Click to enlargeSource: Broadcom 2013 Analyst Presentation
The inflection point for Broadcom's application processor business will come in 2014, especially in the LTE modem market. Broadcom's integrated turnkey products also are an important driver for the company in emerging markets, especially China. Its integrated turnkey products allow smartphone manufacturers to optimize their bills of material and offer an affordable feature-loaded handset. China's smartphone market favors availability of low- and mid-priced handsets with enhanced functionality. Broadcom's turnkey products for entry-level smartphones include a chipset that combines an HSPA+ processor, a graphics processor, a modem, an RF component, a power management chip, Wi-Fi and Bluetooth connectivity, GPS capability, and an NFC chip. The company has progressed well in China for its turnkey products, with recent design wins for new handsets with Chinese manufacturers K-Touch and G Five. Broadcom's earlier turnkey product offering was limited to the 3G network, but with the addition of LTE the company can tap the current market opportunity created by the rollout of 4G LTE in China. Therefore, Broadcom's fifth-generation turnkey offering will include the three upcoming LTE SoC designs (M320, M320+, and M340) pegged for launch next year.
The Chinese government has recently issued 4G licenses to its telecom providers -- China Mobile (NYSE:CHL), China Telecom (NYSE:CHA) and China Unicom (NYSE:CHU) -- in the TD-LTE network. Only a handful of countries including China have adopted this standard for its 4G. China Mobile has officially launched its 4G services, and demand for LTE-enabled smartphones in China will increase next year. China Mobile alone plans to sells 100 million TD-LTE supportive smartphones in 2014. Broadcom's upcoming SoC supports both LTE-FDD and TD-LTE standards. Next year will be crucial for Broadcom, with the launch of its integrated 4G LTE-enabled SoC.
Winning new designs in China will not be easy for the company, however, given the competitive environment. Chip makers such as Qualcomm (NASDAQ:QCOM), and Marvell (NASDAQ:MRVL) have a strong presence in the Chinese market. Both companies have come out with LTE products for this market, so taking market share from established LTE players will not be easy.
Qualcomm dominates the LTE baseband market worldwide and generates close to half its revenue from customers in China. The company is the front-runner for capitalizing on the 4G LTE market opportunity in the country. Qualcomm has recently launched its first 64 bit Snapdragon 410 chip, which provides LTE support. This application processor supports 4G LTE and 3G for all major modes and frequency bands across the globe. Snapdragon 410 is positioned for entry-level smartphones priced at less than equal to $150, focusing on emerging countries, especially China. Providing 64 bit architecture for entry-level smartphones with LTE support is a key strategy for leading the LTE smartphone market in China. This chip is expected to be available in the second half of 2014, and Qualcomm's strategy should win major LTE designs from China.
Marvell also has a strong presence in China. The company is the leading provider of advanced TD-SCDMA technology (used for 3G) by China Mobile (the world's biggest telecom company in terms of subscribers). To provide the LTE solution in China Mobile TD-LTE technology, Marvell has won an important design by featuring its ARMADA PXA1802 modem+ PMIC components as well as the Marvell's 88rf838 TD transceiver in Yulong Coolpad's 8736 smartphone. This handset is among the first smartphones to be certified by China Mobile for TD-LTE network technology. Marvell has gone one step further and expanded its 4G LTE portfolio with the introduction of ARMADA Mobile PXA1088LTE Pro SoC, which features the ARM Cortex A7 quad-core processor and supports five communication standards TD-LTE, FDD-LTE, HSPA+, TD-SCDMA, and EDGE/GSM. Thus, this not only favors China Mobile's TD-LTE standard but also supports the popular FDD-LTE standard, which the government is expected to license next year, with China Unicom and China Telecom the main expected bidders. This truly global SoC will help in competing with market leader Qualcomm, which provides a third-generation LTE solution with its multi-band, and multi-mode baseband and SoC. This will also establish the lead over upcoming players such as Broadcom, which will launch its LTE SoC next year.
How Broadcom is leveraging its connectivity chip dominance
Unlike for application-processor and baseband products, Broadcom is a market leader with 32.8% market share in connectivity solutions. The company has sustained its leadership in LTE smartphones, too, featuring its combo connectivity chip in 75% of all LTE phones shipped in 2013. Penetration of 802.11ac standard (5G WiFi) in mobile device and routers is low, and therefore the company believes its 5G WiFi will be the next growth driver for its connectivity-solution segment. Broadcom was the first company to roll out a combo connectivity chip for 802.11ac standard under the 5G WiFi name, and because of two times more throughput performance with 35% less power consumption than the competitor's chip, the company has featured this in major top-tier smartphones and tablets launched this year. The 5G WiFi (802.11ac) has a higher average selling price than the legacy 802.11n solution. Therefore, increased penetration of this standard in upcoming smartphones will increase revenue for Broadcom's connectivity business.
The company is also focusing on winning new designs for its bundled solution, which includes processor, baseband and connectivity chip. Complete solutions rather than a piece of it help to fetch an average selling price, or ASP, of $10 to $30, compared to only connectivity ASP of $3 to $6. To win new designs for its bundled product, the company needs a competitive LTE modem and chip, and therefore next year shipment of LTE SoC (Dual-Core) and testing of LTE-A modems will fill the gaps in Broadcom's product offerings. This LTE-A modem will position the company in the LTE baseband market, with availability of the carrier aggregation feature and peak data availability up to 300 Mbps (CAT-6). This chip supports China Mobile's TD-SCDMA (used for 3G) as well as TD-LTE network. This LTE modem will thus revive Broadcom's baseband business by tapping the growing demand of LTE-enabled smartphones in China.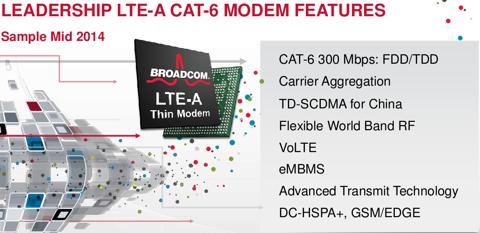 Click to enlarge
Conclusion:
Broadcom's LTE roadmap looks strong, and since acquiring Renesas's LTE assets the company has made progress in launching its first LTE SoC. Ramping up production for its M320 chip for Samsung's upcoming design in early 2014 will put Broadcom ahead of its competitors, which are still developing their first LTE chips. LTE will be significantly reflected in Broadcom's revenue starting in 2015, on account of two main products pending for launch: quad-core LTE SoC and LTE-A modem.
The company has indicated its LTE products will be pegged at an ASP of $18 to $20, with an expected shipment in "tens of millions of handset units" in 2014. The incremental revenue is expected to be $180 million to $200 million in revenue next year. In addition, increased penetration of 5G Wifi connectivity products along with bundled offerings will also drive the company's top-line growth. Looking at the bright prospects of Broadcom, I recommend buying this stock
Disclosure: I have no positions in any stocks mentioned, and no plans to initiate any positions within the next 72 hours. I wrote this article myself, and it expresses my own opinions. I am not receiving compensation for it (other than from Seeking Alpha). I have no business relationship with any company whose stock is mentioned in this article.