Fresh after its success in supplying chips for Sony's PlayStation 4 and Microsoft's XBOX One, and refreshing its graphics cards for PCs, Advanced Micro Devices (NYSE:AMD) may now add another milestone to its list of achievements. The graphics chip maker powers Apple's (NASDAQ:AAPL) professional level workstation, the Mac Pro. Now sold out, the shipment date is February 2014 at the earliest. Investors are already expecting a number of positive catalysts supporting AMD shares. Another one may come their way, when AMD has a news conference on January 6, 2014 at CES. In the immediate term, the market is not recognizing AMD as the graphics supplier for the Mac as a positive catalyst. Shares are still below the $4 level. AMD first reached this level this year in May. AMD closed recently at $3.78. Weighing on AMD is heavy shorting activity, with short float at 18.22%.
Graphics innovation in new Mac Pro
The design of Apple's Mac Pro is impressive. It is very small, measuring 9.9 inches tall by 6.6 inches in diameter. The previous Mac Pro was 12 inches by 12 inches and 8 inches across. Apple achieved the diminutive size by separating mass data storage externally. 20 GB/s data transferring is possible though, thanks to 2 Thunderbolt ports. The inclusion of AMD's chips in the small space is equally impressive, because the system is configured with two graphics chips in a tiny cylindrical enclosure of the Mac Pro. Graphics enthusiasts will appreciate that heat buildup and dissipation is a big challenge, especially in computers with small form factors. Intel's (NASDAQ:INTC) quad-core Xeon processor would generate moderate amounts of heat, but AMDs dual graphics cards could generate even more. Dual AMD FirePro D500 GPUs power the Mac Pro. AMD generates an extra $400 in revenue if buyers choose 3GB GDDR5 VRAM in the configuration. The price tag for the AMD FirePro card jumps by $1000 for a 6GB VRAM configuration:

Source: Apple Store
Heat dissipates from the GPU (graphics processing unit) by sandwiching a triangular heat sink between them. The heat-pipes, along with the fan, run more effectively because they are not upside down. The case is a cylinder, but functions like a tunnel.
The Mac Pro's target user base is for 4K video editing, and the AMD graphics set-up works very well. A recent review reports that apps like Final Cut Pro X run faster than older Mac systems.
Apple is helping build a positive awareness for AMD, but it opens more opportunities for the chip maker in supporting video processing applications on Apple. While x86-based PCs use AMD's crossfire, Apple uses the dual graphics chips through OpenCL on the OS X. FCP X is an example of an application capable of playing 16 4K streams simultaneously. Applying 18 effects in real-time does not result in any performance lag.
Revenue impact
If Apple sells 1.1 million Mac Pros in 2014, based on Gene Munster's estimates, AMD could around $1 billion in extra revenue next year. This is assuming an average sale price of $1,000 for the FirePro chips. AMDs transformation program, which cut operational costs in the last few quarters, could mean significant margins for the GPUs.
Bottom Line
AMD was left out of the rally that benefited other Apple suppliers. Granted, investors are more interested in growth in sales for Apple's iPhone. Investors focused on Apple's contract to supply phones to China Mobile (NYSE:CHL). Suppliers like OmniVision (NASDAQ:OVTI) and Cirrus Logic (NASDAQ:CRUS) rallied.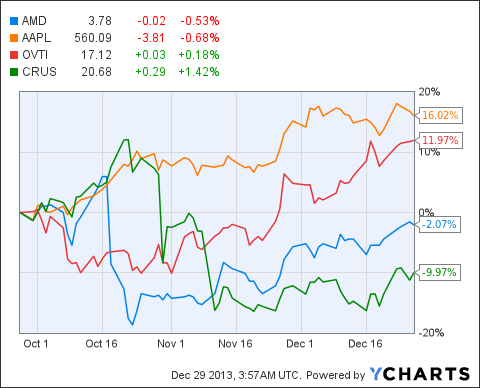 In the near term, investors should recognize AMD's accomplishment as a graphics chip supplier for Apple's Mac. For AMD, it sets the stage for further graphics chip developments ahead. AMD already has positive revenue momentum heading into the new year. A refresh in its PC graphics chips, growing sales in new consoles, and the release of Kaveri on January 14, 2014 are all positive catalysts for AMD.
Disclosure: I am long AMD. I wrote this article myself, and it expresses my own opinions. I am not receiving compensation for it (other than from Seeking Alpha). I have no business relationship with any company whose stock is mentioned in this article.