If you are anything like me, you like to follow what investors are buying, selling and shorting. With the latest short interest figures out, investors are able to see if short sellers are increasing or decreasing their bets against companies. One particular stock that I have been following closely lately has been NQ Mobile (NYSE:NQ).
NQ Mobile is a leading global provider of mobile Internet services in the areas of mobile security, privacy and family protection. NQ was founded in 2005 and maintains dual headquarters in Dallas, Texas, and Beijing, China.
After stumbling upon NQ Mobile earlier this year, I saw a company that was growing rapidly in several key areas. It also helped that the stock price was giving investors phenomenal returns.
Shares eventually hit a brick wall in October, after short seller Carson Block of Muddy Waters issued a strong sell report, calling the Company a "massive fraud". It's been more than two months now since that report was published and several things have jumped out at me.
For those of you that are new to short interest, short interest is an indicator of what short sellers think about a particular stock. If short interest increases, then shorts are betting that the price of the security will be going down. However, if short interest decreases, then shorts are betting that the price of the security will likely be going back up.
Many investors use short interest to make predictions about the direction of a particular stock and to measure the bullishness or bearishness of it. Let's take a look at what has taken place over the last couple of weeks with regards to short interest.
Short Interest Drops
NQ Mobile has a market cap of $675 million with its most recent closing price of $11.85. As of December 13th, 2013, NQ Mobile had short interest of 11.71 million, representing a decrease of 2.35 million or 17% since the last reporting date on November 29th. The short float now stands around 39% with the days to cover ratio at four days. Analysts have an average price target of $30.58 on the Company, which would reflect an increase of more than 150% from its recent closing price on Friday.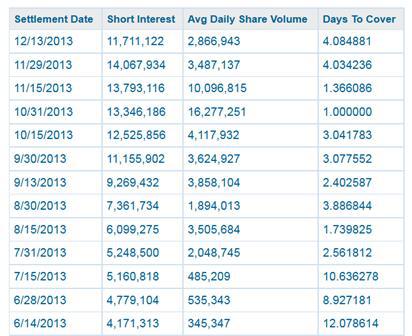 What I find most notable about the short interest decline is that this is the first time short interest has declined since May. It wasn't just any ordinary decline as shorts cut their positions by almost 20%.
On December 5th, Goldbaum Research (who has targeted NQ Mobile) came out with an article saying that short sellers were so confident in their positions that they were shorting every single share they could find. So is that why short interest has dropped 17% since then, Mr. Goldbaum?
It is my belief that this was just another article intended to scare investors out of positions. I'll let you decide for yourself, but it's hard to ignore the fact that short interest is down close to 20% since the last reporting date. Clearly shorts have reduced their bets on the company and are not shorting every single share like some people said was happening.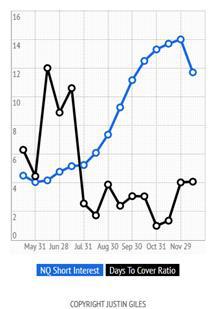 Looking at the chart above, we can see that short interest has not been this low since September, and is also at the lowest point since the Muddy Waters ("MW") attack began back in October. With multiple hedge funds meeting with the company since then, doing their due diligence and buying big stakes in the company, it looks as though shorts aren't so confident in their positions as some people first thought.
Is NQ Mobile The Next Herbalife?
Last week I published an article on my SA Instablog titled Déjà Vu: NQ Mobile Vs Muddy Waters Battle Looks Exactly Like Carl Icahn Vs Bill Ackman In Herbalife.
Now I won't repeat everything from that article, but I would like to point out a lot of the similarities these companies have with each other. I think most of you will be surprised with how much these two companies really have in common.
To make a long story short, Bill Ackman believed that Herbalife (NYSE:HLF) was a pyramid scheme and that the Company would be plummeting to zero. Putting his money where his mouth is, Ackman announced his $1 billion short position in Herbalife last December.
Over the next few months, billionaires Dan Loeb, George Soros and Carl Icahn continued to buy shares of Herbalife. In the second quarter, Soros and Icahn purchased a combined 5.6 million shares. This brought the total stake to 4.9% for Soros, and Icahn became the company's largest shareholder with a 16.8% stake.
Then in October, Ackman sent a letter to his clients telling them he had restructured his losing bet on Herbalife by reducing the fund's short position and replacing it with put options. This was probably Ackman's smartest decision as shares of Herbalife are up more than 70% since Ackman announced his short position.
The second biggest story of the year came in October when MW alleged that NQ Mobile was a "massive fraud." Claims arose that the Company had no cash, no customers, no partnerships etc.
Carson Block followed in Ackman's footsteps saying that shares of NQ Mobile were worth zero. After the MW report, investors sold first and asked questions later. Because of this, shares of NQ Mobile were hammered, just like what happened to shares of Herbalife after Ackman made his announcement.
Like Ackman and Icahn, NQ Mobile and MW both went on national television to defend their claims. You can see the video highlights here (NQ Mobile) and here (MW).
So how much do these investors and companies have in common? A lot more than you think. Let's go through all of the trends.
| | | |
| --- | --- | --- |
| | NQ Mobile | Herbalife |
| Allegations of "Fraud" | Yes | Yes |
| Short Seller Puts Down Big Bet | Yes | Yes |
| National TV Appearances | Yes | Yes |
| Multiple Hedge Funds Buy Big Stakes After Short Attack | Yes | Yes |
| Auditor | PricewaterhouseCoopers LLP ("PWC") | PricewaterhouseCoopers LLP ("PWC") |
As we can see these companies and investors are almost mirror images of each other. After researching and comparing the two, I was blown away with how much they resemble each other.
For instance, I couldn't help but notice that Ackman said that regulators, specifically the Federal Trade Commission, would be induced to investigate and shut the company down. Has that come to pass? Nope!
Carson Block said something along the same lines on Bloomberg when he said that NQ Mobile would be delisted. Has that come to pass? Nope! Is anyone else seeing the similarities that short sellers have used to scare investors and profit from their tactics?
Another thing that stuck out to me is the fact that after these allegations were brought by Ackman and Block, NQ Mobile and Herbalife received major support from hedge funds who bought big stakes in the companies. With Herbalife, Loeb, Soros and Icahn came to the rescue. With NQ Mobile, Toro, ChinaRock, Altimeter, Oberweis and Morgan Stanley came in and purchased 27.8% of the Company.
| | | |
| --- | --- | --- |
| Name | Date | Shares |
| Toro Investment Partners | 11/12/13 | 7,591,695* |
| Altimeter Capital Management | 11/15/13 | 9,497,535* |
| ChinaRock Capital Management | 11/18/13 | 8,360,010* |
| Oberweis Asset Management | 11/19/13 | 9,000,000* |
| Morgan Stanley | 12/30/13 | 7,238,620* |
| Total: | | 41,687,860 |
* Table represents common shares. ADS shares convert at 5:1 ratio
We are now more than two months into the "investigation" and nobody from NQ Mobile has resigned or quit. I'm not saying the Company is perfect by any means, but if board members or anyone else in the Company felt something fishy was going on they would have left by now, don't you think? The fact they haven't only gives shareholders stronger belief in the Company as it shows that MW really didn't understand the Company in the first place.
Lastly, this past weekend, NQ Mobile announced a partnership with Ingram Micro (NYSE:IM), a company out of Santa Ana, California. Yes, you heard right, a billion dollar American company is doing business with NQ Mobile. Wait a second, I thought they were frauds? (Sarcasm). Ingram will help NQ Mobile distribute the Company's mobile apps in Europe, the Middle East and in Africa. This will help the Company to meet its plan of becoming a worldwide company as they continue to execute at a great level.
This is just one of the many partnerships that the Company has formed this year. Earlier this year, the Company signed an agreement with America Movil (NYSE:AMX), Latin America's leading telecom group. In November, NQ signed agreements with Telkomsel (Indonesia's leading provider of mobile telecommunications) and China Mobile (NYSE:CHL) the world's largest mobile carrier.
That brings the total number of subscribers to over 1.15 billion this year for the Company. That's 16% of the total world population! No wonder why the company raised revenue forecasts in 2014. On top of that, the Company is now seeking to grow revenues to more than $1B by 2017.
| | | | | | | |
| --- | --- | --- | --- | --- | --- | --- |
| | 2012 | 2013 | 2014 | 2015 | 2016 | 2017 |
| Revenue | $100M | $192M | $310M | $500M | $750M* | $1B |
| Revenue Growth | 126% | 92% | 62% | 61% | 50% | 34% |
After all that has transpired lately, there isn't any wonder why shorts have been decreasing their bets on the Company. With 39% of the float still short, there is still plenty of pop left that could provide investors with the mother of all squeezes, as Carl Icahn would say.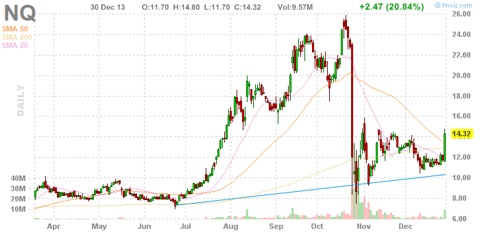 As always, I'm providing you with my track record and other particular stocks that I like. The link provided will show you all of my picks, how they have fared, and where I think they will be going in the near future. I think you will find my track record to be very impressive and useful.
Disclaimer: Investors are always reminded that before making any investment, you should do your own proper due diligence on any stock mentioned in this article. Have a great day and as always, I look forward to hearing your thoughts or questions that you might have.
Disclosure: I am long NQ. I wrote this article myself, and it expresses my own opinions. I am not receiving compensation for it (other than from Seeking Alpha). I have no business relationship with any company whose stock is mentioned in this article.