By Bryan McCormick
Last Friday we posted a "tree map" of the Technology SPDR (NYSEARCA:XLK) exchange-traded fund and noted that, with a weighting of more than 20 percent in the S&P 500, the SPX would have a hard time getting anywhere on the upside without its participation. In one week, we have seen a number of significant gains in the sector that I think will be immediately apparent visually.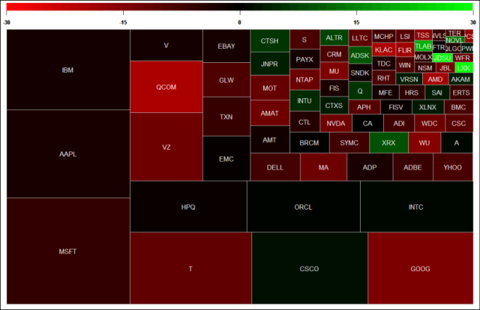 Last week's map scale above is the first thing we should note. Remember we are looking at year-to-date gains here. The maximum and minimum for the scale is at 30. The way the map is drawn requires that the scales be symmetrical on either side of the zero line.

In this case, as indicated by the very bright green, the 30 scale tilted positive with small-weight stocks such as JDS Uniphase (JDSU) and Lexmark (NYSE:LXK) being the big gainers. Qualcomm (NASDAQ:QCOM) was the worst performer of the most heavily weighted stocks. Recall that the rectangles are larger for the most heavily weighted shares. There were few indications of green on the map, and none in the big names, with Cisco Systems (NASDAQ:CSCO) being flat.
When we look at this week's map below, there has been a big change. First, the scale has expanded out to 43, with the big gains coming from Novell (NASDAQ:NOVL). But there is a very important shift, though it may be visually subtle, where Apple (NASDAQ:AAPL) is concerned.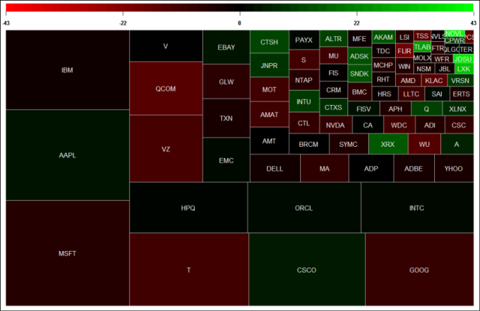 It has gone from being moderately in the red for the year, to in the green. As one of the most heavily weighted names, that is a big deal. There is overall more green on the screen and less of the bright red, indicating mostly down stocks.

Technology as a sector is still a negative drag, still down nearly 3 percent for the year. But it has made big strides in just five sessions.

Without that gain, the S&P 500 would not have made its breakout above downtrend resistance. How the sector behaves now is key to the index's health.
(Graphics courtesy of DeepFoo Analytics)