Today is going to be Goldman Sachs (NYSE:GS) day at FMMF. From its nearly perfect forecasting of monthly labor data (magically adjusting its figures 24 hours before it is released each month to "hit it on the nail"), to its new foray into buying warehouses so it can corner obtain more information about the base metal market (more on that later)... well, let's just say it's important to track the company that the entire US economy now revolves around. There was hope in late January that there would be actual regulation of the beast within our collective bellies... and immediately the entire market was taken down upon release of the Volcker Rules as Goldman was actually surprised about something for the first time in a long time (coincidence, I am sure). But as the banking lobbyists have now had time to rip to shreds any real changes educate lawmakers on how misguided this regulation is, we see Goldman is once more ramping. Our world is back to it's rightful nirvana state. (Click to enlarge)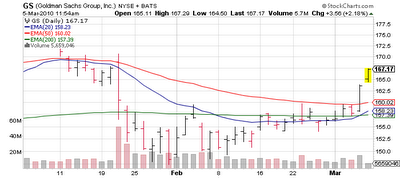 As the bankster to the stars, Goldman has compiled a "VIP" (Very Important Positions) list of top hedge fund holdings... how many hedge funds (from a list of 487) own each stock below in their top 10 holdings. Goldman focuses only on hedge funds that use fundamentals as their main basis of investing rather than technicals, so keep that in mind. Without even looking at the list you can know that Apple (NASDAQ:AAPL), Google (NASDAQ:GOOG), Amazon (NASDAQ:AMZN), Visa (NYSE:V) and Mastercard (NYSE:MA) will be here - these are dominant names in almost any God fearing hedge fund nowadays. We've also pointed out Citigroup (NYSE:C) has caught the attention of many hedge funds [Feb 17, 2010: Hedge Funds Pile into Citigroup]... and why not? It's completely backstopped by the US taxpayers, and the Federal Reserve will do everything in its power to make sure any bank can make mad money just by turning on the lights each morning... actually, the lights are optional. I was surprised that Pfizer (NYSE:PFE) was #2.
Marketfolly brings us the list, so that you to can invest like a hedgie.
This basket of stocks returned 40% in 2009 versus 27% for the S&P 500. Goldman also notes that this list has, "outperformed the S&P 500 by 81 bp on a quarterly basis since 2001, with a Sharpe Ratio of 0.29." Quarterly turnover on this list is typically around 15 positions out of the 50.

Positions that hedgies added largely to in the fourth quarter include: Wells Fargo (NYSE:WFC), Mead Johnson (NYSE:MJN), Merck (NYSE:MRK), Liberty Media (LSTZA), Amazon (AMZN), Apache (NYSE:APA), IBM (NYSE:IBM), Lear (NYSE:LEA), Crown Castle (NYSE:CCI), SBA Communications (NASDAQ:SBAC), US Bancorp (NYSE:USB), Anadarko Petroleum (NYSE:APC), Target (NYSE:TGT), American Tower (NYSE:AMT), and Freeport McMoran (NYSE:FCX).
Apple (AAPL): 67 hedge funds hold it as a top ten holding
Pfizer (PFE): 45
Bank of America (NYSE:BAC): 37
Google (GOOG): 37
JPMorgan Chase (NYSE:JPM): 36
Microsoft (NASDAQ:MSFT): 36
Mastercard (MA): 29
DirecTV (DTV): 27
Wells Fargo (WFC): 27
CVS Caremark (NYSE:CVS): 24
Citigroup (C): 23
Hewlett Packard (NYSE:HPQ): 23
Monsanto (NYSE:MON): 23
Visa (V): 23
Cisco Systems (NASDAQ:CSCO): 21
Walmart (NYSE:WMT): 21
Oracle (NASDAQ:ORCL): 18
Qualcomm (NASDAQ:QCOM): 18
Exxon Mobil (NYSE:XOM): 18
Ebay (NASDAQ:EBAY): 17
Wellpoint (WLP): 17
Intel (NASDAQ:INTC): 16
Mead Johnson Nutrition (MJN): 16
Merck (MRK): 16
Johnson & Johnson (NYSE:JNJ): 15
Liberty Media (LSTZA): 15
Amazon (AMZN): 14
Apache (APA): 14
EMC (EMC): 14
Express Scripts (NASDAQ:ESRX): 14
Ford Motor (NYSE:F): 14
IBM (IBM): 14
Lear (LEA): 14
Teva Pharmaceutical (NASDAQ:TEVA): 14
Yahoo (NASDAQ:YHOO): 14
Crown Castle (CCI): 13
McDonald's (NYSE:MCD): 13
Transocean (NYSE:RIG): 13
Barrick Gold (NYSE:ABX): 12
SBA Communications (SBAC): 12
US Bancorp (USB): 12
Anadarko Petroleum (APC): 11
Berkshire Hathaway (NYSE:BRK.B): 11
Philip Morris International (NYSE:PM): 11
Transdigm Group (NYSE:TDG): 11
Target (TGT): 11
Thermo Fisher Scientific (NYSE:TMO): 11
American Tower (AMT): 10
Comcast (NASDAQ:CMCSA): 10
Freeport-McMoran (FCX): 10