In my last article, I made the argument that Procter & Gamble (NYSE:PG) will soon cease to be the all-powerful dividend paying stock that people know it as today. My main premise for this argument was the fact that the company's Free Cash Flow (or the amount of cash available for distribution after all capital expenditures, interest and taxes have been accounted for) has been decreasing over the past five years. This in itself is not inherently a problem, as long as a company is investing in productive assets that will provide adequate returns in the future. After all, one of the reasons a company such as Berkshire Hathaway does not pay dividends at all is because of the belief that investing free cash flow in high-yielding assets is more efficient than simply circulating it to shareholders.
Therefore, if Procter & Gamble starts investing in projects in a similar way to offset the fall in Free Cash Flow, then investors should not be concerned of the company's prospects long term. However, if the company is not increasing its investment in capital to offset the fall in free cash flow, then this should raise red flags for investors as it signals ceasing growth for the company. In my last article I do not feel that I provided an adequate analysis of the company's activity in this regard, and therefore would like to delve deeper into this matter looking specifically at PG's business operations over the last five-year period.
From analysing PG's Annual Reports (2009-2013), it is quite clear that the company places high importance on the levels of free cash flow available; and uses the "free cash flow productivity" metric to analyse how effectively such cash is being spent, defined as the ratio of free cash flow to net earnings. The company's target in this regard is 90%.

Click to enlarge
From the above, we can see that from 2009-2013, the company narrowly missed its free cash flow productivity target on three out of five occasions. Clearly, the company is recently involved in a lot of M&A activity, and seems to be acquiring businesses that are deemed more profitable while divesting of non-performing ones. Thus, free cash flow has been down over the past few years given PG's structural reorganisation. While divestitures are relatively common in the brand markets as fashions and trends change, PG has recently been considering divesting of other well known brand names such as Duracell, Braun, etc. In this regard, PG is taking somewhat of a gamble that its new product line up will redeem consumer confidence and bring back the brand loyalty that investors never even questioned before now. In fact, one of the stark differences between Procter & Gamble and its competitors is the lack of product specialisation with the former.
Let's take an example of Kellogg Company (NYSE:K). In 2012, they acquired the Pringles brand from Procter & Gamble which is a great strategic addition to their current offerings in the cereal and convenience foods sector. The brands that we all know and love, such as Corn Flakes, Rice Krispies, Fruit Loops, etc are inseparable from the Kellogg brand and it would be absurd to even speculate that the company would ever want to part with them. Simply put, Kellogg knows which market it best caters to, and targets that market meticulously. Johnson & Johnson (NYSE:JNJ) also knows which market it wants to cater to; the healthcare and cosmetics industry. Again, the firm's product offerings are designed to cater specifically to consumers in that market, with the well-known offerings of Band-Aid, Johnson's baby products, Neutrogena, etc. Simply put, Kellogg and Johnson & Johnson have had more success in creating a differentiation advantage because they know which markets to cater to. Procter and Gamble, on the other hand, seems to have gotten "stuck in the middle", attempting to supply all markets from pet food to personal healthcare. A quick look at the earnings growth for these three companies show a more consistent increase in earnings for JNJ and K, while PG has failed to show consistency in this regard.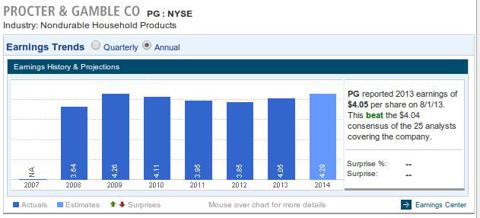 Click to enlarge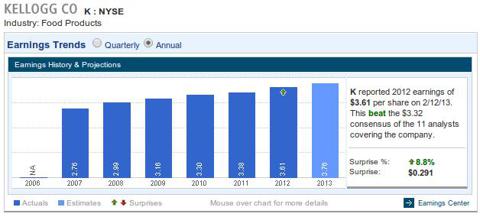 Click to enlarge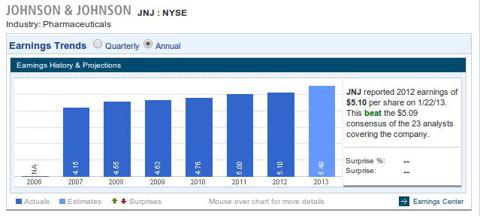 Click to enlarge
So, to come back to my original question; is Procter & Gamble using its free cash flow more productively? Well, that depends highly on what the firm's next move is. There has been no clear indication from the firm as to which markets they are targeting next. Are they going to continue to be a jack of all trades? Or, will they attempt to specialise and restore brand loyalty in this way? From looking at PG's recent acquisitions such as Natura, Nioxin, Ambi Pur, etc, one might be inclined to think that the firm is trying to compete directly with Johnson & Johnson in catering to the personal healthcare and cosmetics market. I personally cannot see that Procter & Gamble will be able to compete with a specialised company in this industry.
In conclusion, while free cash flow has been decreasing, Procter and Gamble has been investing in projects which they see as producing higher returns in the future. Whether the company will succeed in this endeavor is anyone's guess. However, for the reasons I outlined above, there is a significant risk that the gamble may not pay off, and could have an adverse effect on the productive use of free cash flow in the future.
Disclosure: I have no positions in any stocks mentioned, and no plans to initiate any positions within the next 72 hours. I wrote this article myself, and it expresses my own opinions. I am not receiving compensation for it (other than from Seeking Alpha). I have no business relationship with any company whose stock is mentioned in this article.