The final decision of Entergy Corporation's (ETR) proposed spin-off of its non-utility Nuclear power business has been deferred until Mar 25, 2010. The New York Public Service Commission (NYPSC) played spoilsport, who is apprehensive of the financial health of the resultant company (Enexus Energy Corporation).

Earlier, NYPSC expressed its apprehension that the long-term unsecured bonds worth $3.5 billion that Entergy plans to issue for the spin-off will drag down the bond rating of the new company, affecting its financial capacity.

Entergy subsequently agreed to reduce the debt load of Enexus from $3.5 billion to $3 billion. The company also agreed to contribute up to $300 million to New York's energy efficiency fund, if future power prices witness an upsurge.

Entergy has been contemplating the spin-off since fiscal 2007 to separate its regulated utilities and open-market generation units. The new company – Enexus Energy Corporation will take over nuclear plants located in Pilgrim in Plymouth, Massachusetts; Vermont Yankee in Vernon, Vermont; Indian Point in Westchester County, New York; Fitzpatrick in Oswego County, New York; and the Palisades plant in Covert, Michigan.

New Orleans-based Entergy is primarily engaged in electric power production and retail distribution. With 30,000MW of generating capacity, it distributes electricity to 2.6 million customers in Arkansas, Louisiana, Mississippi and Texas. Of this, 14,631MW are gas/oil based, 2,259MW coal-based, 70MW hydro-based and the rest is nuclear.

With around 13,000MW of nuclear-based energy, the company is one of the largest nuclear power generator in the U.S. The company also distributes natural gas to 240,000 customers in Louisiana.

Recap of Fourth Quarter of 2009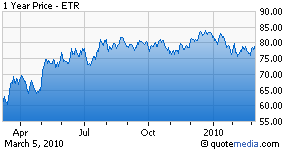 In the fourth quarter of fiscal 2009, Entergy reported a strong EPS of $1.75 easily beating both the Zacks Consensus EPS Estimate of $1.64 and the year-ago quarterly EPS of 99 cents. The upside came from lower taxes and lower operational costs.

However, revenue fell in the reported quarter by 16.7% to $2.5 billion from $3 billion in the year-ago quarter, with Electricity down 24.2% and Natural Gas down 19.8% but Competitive Businesses were up 9.8%. Residential sales increased 6.1% compared to the year-ago quarter, commercial sales increased 3.4%, governmental sales increased 5.4% and industrial sales increased 7.1%.

Overall, volume sales increased 4.4% in the reported quarter. The company was able to improve upon the overall headcount of customers year-over-year by 1.1%, barring industrial customers, which shrunk by 3.3%.

The buoyancy was only one side of the coin. For the company was apprehensive about the fate of its long-standing spin-off. A final decision was expected from NYPSC at that time was in Feb 11, 2010. Also its Vermont Yankee nuclear plant was gathering political storm over allegation regarding contamination of underground water with tritium.

However, Entergy indicated that it was focused on maximizing shareholder value either through the spin-off or through share repurchases and incremental dividend.

Estimate Revisions Trend

Entergy,, prior to the jolt from NYPSC was riding a wave of upward estimate revisions. Based on the company's performance and 2010 guidance, 4 of 17 analysts following the stock have revised their estimates upward over the past 30 days. As a result, Zacks Consensus Estimate now stands at $6.71 for fiscal 2010.

With respect to earnings surprises, the stock in-line with its peers witnessed consistent negative surprises in three of the last four quarters. The average remained negative at 0.14%, reflecting the unfavorable macro backdrop leading to lower demand for electricity during this period. This implies that Entergy has fallen behind the Zacks Consensus Estimate by 0.14% over the last four quarters. With improvement in the macro backdrop and cost-structure strengthening, the negative trend bucked in the fourth quarter of fiscal 2009. In the fourth quarter of 2009 Entergy beat the Zacks Consensus Estimate by 6.71%.

Entergy is focusing on its traditional electric utility business with a planned separation of its nuclear business. The company's move towards separating its merchant power business will leave behind regulated assets, which are well-managed and provide a stable earnings stream.

Our Recommendation

Entergy at present is at the crossroads facing regulatory headwinds for its long-standing spin-off of its merchant nuclear business and regulated utility assets. If the spin-off does not take off, the company has indicated that it would maximize shareholder value by accelerating its ongoing $750 million share repurchase program along with a hike in dividend which has been stagnant over the past two fiscals (2008-09).

Going forward, stable earnings from regulated utilities and significant free cash flow available for share repurchases – dividend hikes and/or debt retirement collectively support management's focus on creating shareholder value.

Entergy ended fiscal 2009 with cash and cash equivalents of $1.7 billion. The company generated $2.9 billion of cash from operating activities in fiscal 2009. Long-term debt decreased to $10.7 billion at fiscal-end 2009 from $11.2 billion at fiscal-end 2008.

However, lower electricity sales, an expected slide in power prices, negative rate case outcomes, and pending regulatory approvals for the proposed spin-off of its nuclear business are areas of concern. This justifies our Neutral recommendation for the stock. Also, the quantitative Zacks Rank for Entergy is currently "3" (Hold), indicating no clear directional pressure on the performance of the shares in the near term.