According to the U.S. EIA (Energy Information Administration), Brazil represents the 10th largest oil producer in the world, thanks to the recent discoveries of offshore pre-salt oil deposits that are quietly transforming the country into one of the largest oil producers in the world.
Notably, exploration and development of heavy oil in offshore Brazil is mainly focused on three basins: the Santos, the Campos and the Espirito Santo. These basins are characterized by a salt layer overlying them, a layer that can reach over 6,500 feet thick.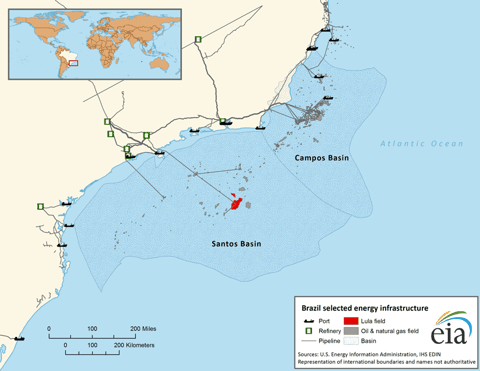 Source: EIA
Abundant Brazilian Resource In Deep Water
Furthermore, the EIA, referring to the Oil and Gas Journal estimates, assessed that Brazil's total proved reserves would hold approximately 13 billion barrels, as of January 2013, thus representing the second-largest in South America after the undoubted Venezuela.
As a matter of fact, the Campos and Santos basins, located in offshore Brazil's southeast coast, contain the majority of the country's proved reserves since more than 90% of oil is produced in deep water.
Last year, Brazilian production reached 2.7 Mmbbls/d, of which 78% was crude oil. According to the ANP (Agência Nacional do Petróleo) of Brazil, the government launched in March 2013, a 10-year energy plan in order to enlarge oil production and reach over 5 Mmbbls/d by 2021.
Chevron In The Heart Of Brazilian Pre-Salt Basins
Frade and Papa-Terra deep water fields are Chevron (NYSE: CVX) subsidiary's two most significant projects in Brazil. Operating and holding 51.7% working interest in the Frade project, Chevron averaged production of approximately 6,000 barrels of crude oil per day and 2 Mcf/d of natural gas. Frade, located in the Campos basin at about 230 miles northeast of Rio de Janeiro, was discovered back in 1986.
Holding 37.5% working interest in Papa-Terra, this Chevron's non-operated field achieved first oil as of November 12, 2013. Discovered in 2003, Papa-Terra is a heavy oil development located also in the Campos basin, at about 70 miles southeast of Rio de Janeiro. The field is expected to achieve total daily production of 140,000 barrels of crude oil once operating at full capacity. Finally, Chevron owns 30% working interest in the Maromba field that still needs the ANP regulatory approval before being developed.
Selected Financial Highlights
What I like about Chevron is its strong portfolio diversification. The producer is growing nicely year after year from several contributing assets from which it generates substantial cash flow: LNG projects notably in Australia, deep water production fields around the globe, shale/tight resources in the continental U.S. as well as its downstream activities that includes refining and retailing of petroleum products.
Chevron's worldwide production is huge. It currently produces about 724 Mboe/d with its North American assets, more than any other region in the world. The second largest production region is Asia-Pacific with 695 Mboe/d, followed by Africa and Latin-America with 612 Mboe/d. Europe and Eurasia ranks last with a respectable 579 Mboe/d.
As of October 2013, total stockholder return achieved 13.8% on a 5-year average while it climbed to 16.1% on a 10-year average. Furthermore, Chevron expects its cash flow from operations to reach the $50 billion level by 2017. Currently, its upstream income accounts for $5.66 billion while it could reach about $6.76 billion by 2017, considering that more than 65 projects' start-up are expected between 2013 and 2017.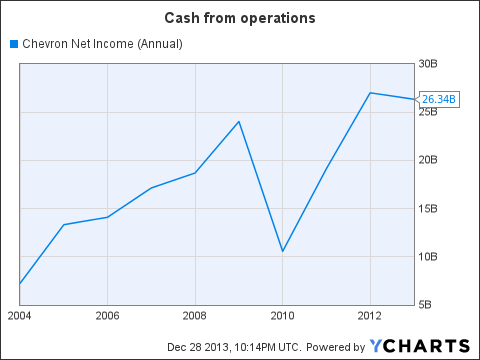 The company's stock price could climb to $136/share by then. Morningstar assessed a current fair value estimate of $130/share for Chevron. The stock price closed at $124.23 yesterday on the NYSE market.
Bottom Line
With a strong balance sheet that includes current operating cash flow of $37.3 billion and total debt of almost $18.6 billion, the major producer's future bodes very well. As a matter of fact, a few major projects are scheduled for ramp-up in the coming two years, such as Gorgon and Wheatstone LNG projects in Australia. In conclusion, Brazil offers a lot of opportunities for Chevron since billions of barrels are trapped beneath the Brazilian sea floor and the latter possess all the expertise to recover most of it as efficiently as possible.
Disclosure: I have no positions in any stocks mentioned, and no plans to initiate any positions within the next 72 hours. I wrote this article myself, and it expresses my own opinions. I am not receiving compensation for it (other than from Seeking Alpha). I have no business relationship with any company whose stock is mentioned in this article.