A combined total of more than $4.6 billion had been raised through IPOs this year as 12 U.S. REITs went public. Less than half of these REITs have outperformed the SNL US REIT Equity index, with spreads ranging from negative 11.15 percentage points to 31.59 percent1age points (through November).
Data center REIT Cryrus One (NASDAQ:CONE) was the first REIT to IPO this year, completing a $360.5 million initial offering Jan. 17 following a spinoff from Cincinnati Bell Inc. (NYSE:CBB). As of December 30th, the company had posted a total return of 21.04%. Shares are trading at $22.30 with a dividend yield of 2.87%.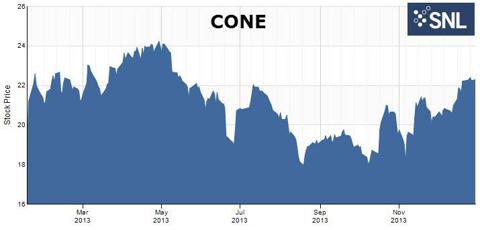 The second REIT to go public in 2013, Gladstone Land Corp. (NASDAQ:LAND), became the first farmland REIT in the U.S. The company completed a $56.7 million IPO on Jan. 28 and posted a total return of 14.68% from that date through Nov. 4. The company's Total Return YTD is 17.59% with a dividend yield of 8.94%. Fellow Seeking Alpha contributor, Dane Bowler, recently wrote an article regarding the company's likely dividend cut.
(click to enlarge)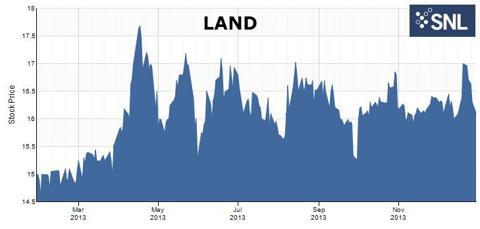 Aviv REIT Inc. (NYSE:AVIV) marked the third REIT IPO in 2013, with an initial offering of $303.6 million completed March 20. The Chicago-based company posted a total return of 22.85% through Dec. 30. The health care REIT has enjoyed the highest year-to-date total return spread for 2013 REIT IPOs. Aviv is trading at $23.84 with an above average dividend yield of 6.04%.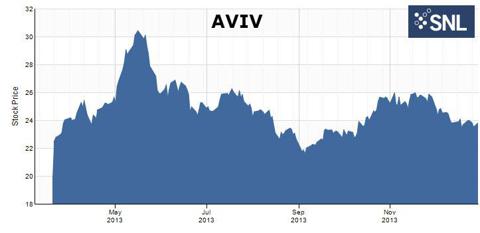 Armada Hoffler Properties Inc. (NYSE:AHH) completed its IPO on May 7, pricing a little more than 19 million shares at $11.50 a share. The Virginia-based diversified REIT has seen a return of negative 17.67% since IPO completion. The shares are trading at $9.10 with a dividend yield of 7.03%.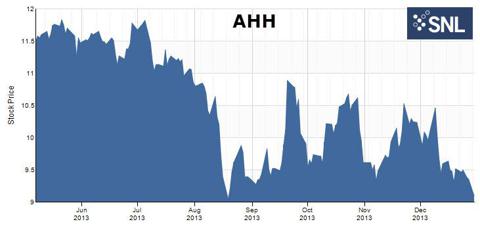 American Residential Properties (NYSE:ARPI), one of the three new REITs to join Silver Bay Realty Trust Corp. (NYSE:SBY) in the single-family REIT space, completed its IPO on May 8. The company raised more than $287 million in an initial offering priced at $21 a share, and has posted a total return of negative 19.33% since that IPO. Silver Bay Realty Trust has also underperformed the broad REIT market since its IPO was completed Dec. 13, 2013. American Residential shares closed at $16.94 and the company is not paying a dividend yet.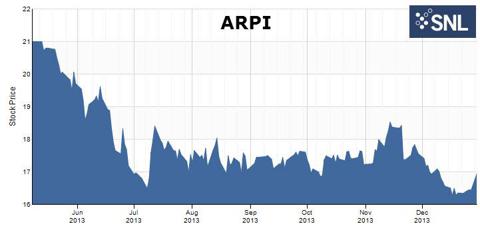 Two REITs completed IPOs July 18. Rexford Industrial Realty (NYSE:REXR), the latest addition to the industrial REIT space, raised $230 million in an initial offering priced at $14 a share. The Los Angeles-based REIT owns 61 industrial properties, with all but one of those assets in California. The company reported the greater San Fernando Valley as its top market at the end of the first quarter, with 29% of revenues generated in that area. The company has provided returns of negative 3.55%. I wrote an article on Rexford earlier this year. The shares closed at $13.29 with a dividend yield of 3.61%.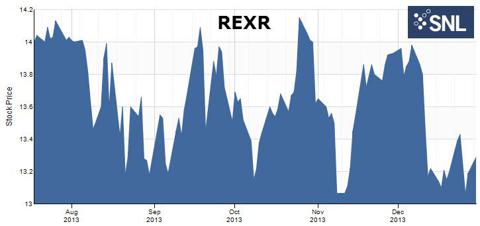 Physicians Realty Trust (NYSE:DOC) also completed its IPO on July 18. The company raised $135 million through its initial offering, which was priced at $11.50 per share. In its initial Form S-11 filing, the company noted that it had been "recently organized to acquire, selectively develop, own and manage health care properties that are leased to physicians, hospitals and health care delivery systems." The company has provided returns of 9.87% since IPO completion. Shares closed at $12.46 with a dividend yield of 7.28%. I recently wrote an article (an interview with the CEO) just a few days ago.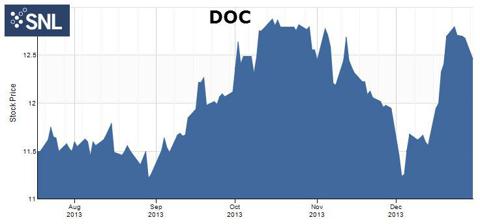 Two additional residential REITs joined the public REIT space recently. American Homes 4 Rent (NYSE:AMH), the latest addition to the single-family REIT space, raised nearly $811.8 million in an offering completed July 31. Posting a positive 1.50% total return since its IPO completion. American Homes 4 Rent closed at $16.19 with a dividend yield of 1.24%. You can also read an article I wrote on the company here.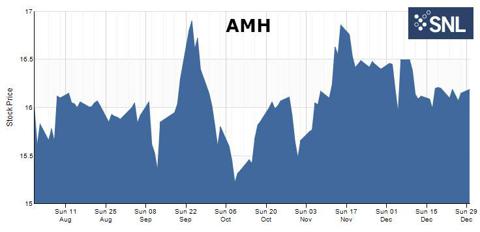 Independence Realty Trust Inc. (NYSEMKT:IRT) completed its IPO on Aug. 13, raising $34 million in its initial offering. The multifamily REIT posted a 2.00% total return since its IPO completion. The REIT's share price was $8.40 with a dividend yield of 7.62%.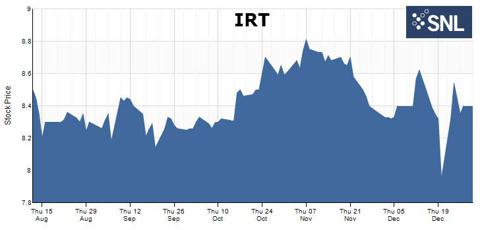 After more than a year of debate among the REIT's stakeholders, Empire State Realty Trust (NYSE:ESRT) finally completed its $1.07 billion IPO on Oct. 1. The owner of the famous Empire State Building priced its common stock at $13.00 and began trading Oct. 2. The company saw a return of 18.20% from its IPO price of $13 through Dec 30th. Empire State Realty closed at $15.28 with a dividend yield of 2.23%. You can read an article I wrote on the company here.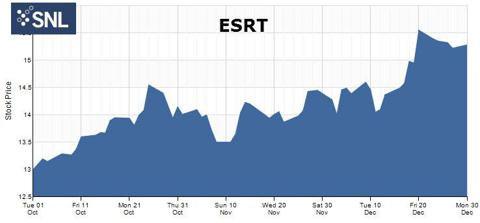 Oct. 8 marked another IPO completion for data center REITs. QTS Realty Trust Inc. (NYSE:QTS) raised $295.8 million through its public offering priced at $21 a share. The company plans to use the proceeds to repay amounts outstanding under its revolving credit facility. Since its IPO completion, the specialty REIT registered returns of14.03%. Shares closed at $ 23.67 with a dividend yield of 5.57%.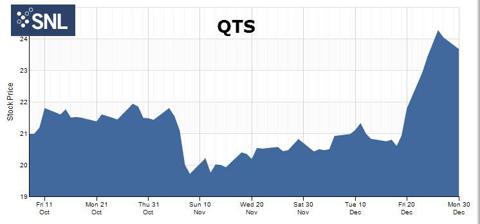 One of the largest shopping-center REITs, Brixmore Property Group (NYSE:BRX) completed its IPO on Oct. 29, raising $825 million, the largest retail REIT IPO since Simon Property Group Inc. (NYSE:SPG) The proceeds from the offering will mainly be used to acquire BPG Subsidiary shares. These will in turn be contributed to the company's operating partnership, which plans to use the proceeds for various purposes, including repayment of indebtedness. As of Nov. 4 registered a total return of 2.3%. Shares closed at $20.46 with a dividend yield of 3.94%.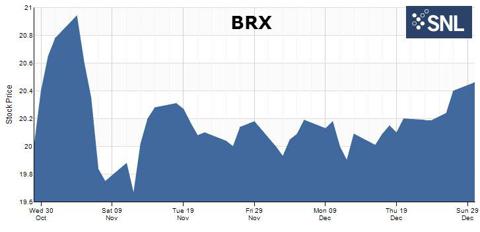 Two hotel chains also went down the IPO aisle in 2013. On November 13, Extended Stay America Inc. (NYSE:STAY) offloaded 28,250,000 shares at $20 apiece in its IPO that raised $565 million. Extended Stay's market value came to about $4 billion after selling about 14.1% of the company in the IPO. The IPO proceeds will total $649.8 million, including the underwriters' overallotment option of 4,237,500 shares. Extended Stay has rocketed up to $26.15 with a total return if 30.75%.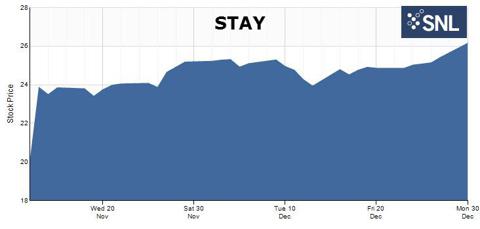 Also, Hilton Worldwide Holdings, Inc. (NYSE:HLT) completed its IPO on Dec. 17 raising $2.61 billion in net proceeds, including those garnered from the full exercise of the underwriters' overallotment option. In total, the IPO comprised 135,286,717 shares of common stock, of which 64,102,564 shares were sold by the company and 71,184,153 shares were sold by a selling stockholder, including the overallotment option. Hilton shares closed at $21.89 with a computed YTD total return if 9.45%.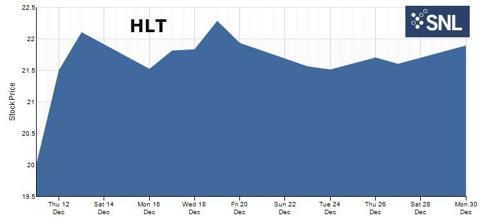 Finally, the non-traded REITs had another banner year for capital raising, mostly generated by just a few dominating sponsors such as American Realty Capital, Cole Real Estate, and W.P. Carey (NYSE:WPC). As a continued tactic for monetizing full-cycle non-listed REITs, the public markets have received a red carpet welcome as a few new REITs made their way to the "big boy bonanza".
Perhaps the biggest news this year was the listing of Cole Real Estate Investments (NYSE:COLE). The Phoenix-based company began trading on June 20th at $11.50 per share. Through the offering period of October 2008 to February 2012 the formerly non-traded REIT originally known as Cole Credit Property Trust III raised $4.7 billion. Investors in the REIT have not had access to liquidity throughout the offering stage and now have the ability to sell their shares at will. In addition to listing on the New York Stock Exchange, the company initiated a modified Dutch auction tender offer.
Then on October 23rd, just four months after the IPO, and announced it was that proposing to merge with America Realty Capital Properties (ARCP) in a deal valued at $11.2 billion. The company enterprise would create the largest net lease REIT with an enterprise value of $21.5 billion. The Merger Agreement has been unanimously approved by the board of directors of each company and is subject to customary closing conditions, including stockholder votes by both companies and is expected to close in the first half of 2014.
Another non-traded REIT to list shares this year was Chambers Street Group (NYSE:CSG). The Princeton-based company commenced as a REIT back in 2004, so the company has a track record that spans almost 9 years. From 2004 through 2012, Chambers Street has grown from $47 million to over $3.14 billion today. Most of the growth (89 percent) occurred after 2007 when the company acquired around $2.8 billion in assets. Chambers Street commenced trading on May 21st, the day before the Federal Reserve announced its tapering plans. Since that time the shares have bounced up and down and never broke through the $10.10 listing price. YTD Total Return is -19.77%. The shares closed at $7.67 with a healthy dividend yield of 6.67%.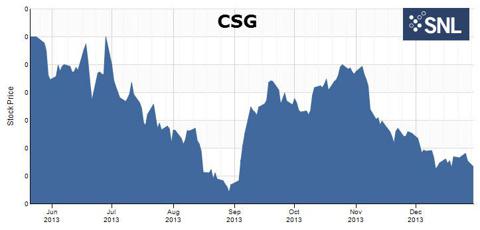 Another non-traded REIT that listed in October (11th) was Columbia Property Trust (NYSE:CXP). As I reported in a Seeking Alpha article, the Atlanta-based REIT was formerly Wells REIT II and invests in high-quality commercial office properties in primary U.S. markets. Columbia has returned just under 10% since listing and the shares are trading at $24.68 with a dividend yield of 4.86%.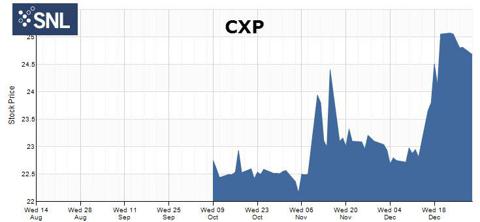 Another widely anticipated REIT conversion completed in November was Penn National Gaming Inc's (NASDAQ:PENN) spinoff of Gaming and Leisure Properties Inc. (NASDAQ:GLPI) which is now a separate company that owns the real estate of Penn National's 21 casinos. Recently Gaming and Leisure agreed to purchase Casino Queen in East St. Louis, Ill., for $140 million. It will own the property and lease it to the current operator in a triple-net, sale-and-leaseback transaction for $14 million in annual rent, representing a 10x EBITDA multiple. Investors got an early treat as shares are up around 10.6% as the closing price was $50.48.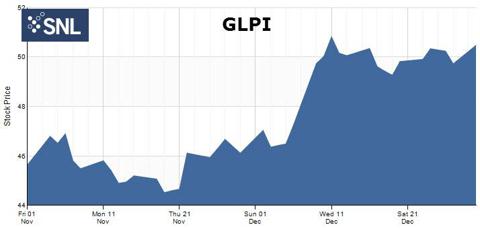 As my conservative mentor and role model Benjamin Graham has recommended in his treatise, The Intelligent Investor, investors should stay away from all initial public offerings. As Graham believed, during an IPO, the previous owners are usually attempting to raise capital for expanding the business, cash out their interest for estate planning, or any other myriad of reasons that all result in one thing: a premium price that offers little chance for buying your stake at a discount.
Graham often argued that some hiccup in the business could cause the stock price to collapse within a few months or years, giving the value minded investor an opportunity to load up on the company he or she admires. As Graham taught, the problem comes from the fact that if you find a truly outstanding business - one that you have conviction will continue to compound for decades at rates many times that of the general market; even a high price can be a bargain.
2013 has certainly provided REIT investors with a wave of new ideas and categories. In addition, the very active IPO market has created some interesting M&A deals (i.e. COLE) and it has also served as a fabulous monetization market for many non-traded REIT investors. It will be interesting to see whether or not other companies like Red Lobster, Sears (NASDAQ:SHLD), or even J.C. Penney (NYSE:JCP) tap the highly coveted dividend paying model.
After all, REITs provide attractive vehicles for companies to payout most of their earnings and avoid being taxed at the corporate level. I contend that the REIT legislation passed by Congress over fifty years ago was an extraordinarily brilliant idea in that it gave the average investor the opportunity to own institutionally-recognized real estate. More importantly, REITs provide all investors meaningful dividends, portfolio diversification, valuable liquidity, enviable transparency and competitive performance. Summed up, REITs are Hard to Beat! Happy New Year.
For more information on REIT Investing, check out my monthly newsletter, The Intelligent REIT Investor.

Source: SNL Financial.
Disclaimer: This article is intended to provide information to interested parties. As I have no knowledge of individual investor circumstances, goals, and/or portfolio concentration or diversification, readers are expected to complete their own due diligence before purchasing any stocks mentioned or recommended.
Disclosure: I am long ARCP, CBL, DLR, GPT, HCN, HTA, O, ROIC, STAG, UMH, VTR, WPC, MPW, CSG. I wrote this article myself, and it expresses my own opinions. I am not receiving compensation for it (other than from Seeking Alpha). I have no business relationship with any company whose stock is mentioned in this article.