Nike's (NYSE:NKE) valuation doesn't look all that attractive on the surface with trailing and forward PE ratios over 20. Many investors would look at the PE and dismiss the stock as too rich in value. However, history has shown that Nike's PE ratio has gone above 50 back in the 80s and above 60 in the late 90s. Although the stock price experienced corrections along with those of the broader market, Nike has gone on to achieve new highs over the long-term. Investors tend to give the stock a premium price for its strong fundamental performance.
Nike has achieved consistent year-over-year increases in earnings, so investors are willing to pay a premium for this consistency. There aren't too many negative surprises. The company does a good job of meeting or exceeding its earnings expectations, so investors are willing to pay up for this quality. With the stock currently trading with a PE over 20, Nike still has some room to grow as the economy continues to grow. The following chart shows that Nike's PE ratio can climb quite high before the stock experiences a correction. The current economic growth should help contribute to Nike's revenue and earnings growth.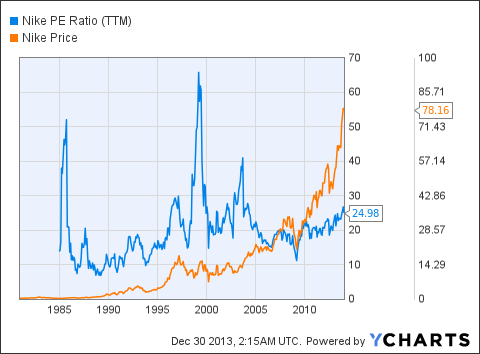 NKE PE Ratio data by YCharts
One of Nike's main competitors, Germany-based Adidas (OTCQX:ADDYY), is trading with a much higher trailing PE of 39. Adidas's earnings have not been as consistent as Nike's over the past few years. Adidas has also struggled more recently with an 8.1% decrease in Q3 net earnings and a 7% drop in sales. However, Adidas attributed the recent drop to currency swings and to tough comparisons to 2012's sales from the Olympics and European soccer championships. Adidas is looking to gain positive momentum in 2014, especially with the FIFA World Cup set to take place in the summer of 2014. As a comparison, Nike achieved an 8% increase in sales and a 4% increase in earnings for F2Q.
Footwear comprises about 57% of Nike's total revenue, with apparel accounting for 29%. The remaining revenue is derived from Nike brand equipment, the Global Brands Division, and the Converse brand. Growth in Footwear is being driven by running shoes with NIKE FREE and Air Max technologies. The apparel portion of the business has experienced growth from the Men's training category which includes NFL licensed items, soccer, running, and basketball apparel.
The company is expecting to achieve gross margin expansion of 75 basis points for FY2014. This will help drive Nike's expected earnings growth of 17% for next year. The company is expected to grow earnings annually at an average of 12% for the next five years. This should help the stock to appreciate from $78 to over $135 in five years.
Nike's focus on innovation is expected to drive this growth going forward. Products such as the Nike+ FuelBand and FuelBand SE allow users to measure the intensity of their workouts. These products can be linked to iPhones, iPads, PCs, or laptops to keep track of workouts and to provide motivation for reaching goals. Users can also join a group to add competition to their workouts. These products provide another opportunity for achieving future growth. Other innovations such as Tech Fleece, Aeroloft, and Dri-FIT Knit should also drive growth for the future as fitness minded individuals seek out these performance products.
To conclude, Nike might be more attractively valued than it appears to be on the surface. As the company continues to grow along with the improving economy, investors are likely to allow for an above average PE ratio. The company's above average expected growth should help the stock to outperform the market over the long haul. Nike's ability to offer new innovative products that are wanted by active consumers should help drive revenue, earnings, and the stock price higher.
Disclosure: I have no positions in any stocks mentioned, and no plans to initiate any positions within the next 72 hours. I wrote this article myself, and it expresses my own opinions. I am not receiving compensation for it (other than from Seeking Alpha). I have no business relationship with any company whose stock is mentioned in this article.