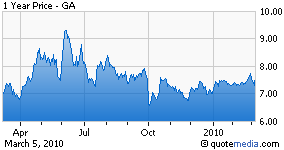 Giant Interactive (NYSE:GA), a Chinese online gaming company, issued its earning release Thursday night. The revenue, $40.4m, came slightly below the Street estimate, $41m, and the EPS, 12 cents, a notch above the consensus, 11 cents. Based on the earning report and what I heard from the conference call, I believe that Giant Interactive is currently fairly valued between $7 and $8 and the stock has a higher chance to go higher than lower.
As I mentioned in my earlier analysis after the Q3 results, Giant's flagship product, ZT online, was plagued by the revenue loss due to closing of certain gambling features. Giant Interactive was making some changes, and one of them, launching ZT online Green Version, seems to take effect.
The most recent earning report revealed further reduction in ARPU, but higher ACU (Average Current User) and higher APA (Active Paying Account). Typically in the FTP (Free to Play) online gaming model, ACU leads APA, which leads the revenue number. So I am expecting the future revenue to improve. According to the management, a quarter-over-quarter revenue increase is expected in Q1 2010 since they have observed a positive trend.
Further, I believe that the company has a right COO, Ji Xuefeng, for the job. It is unclear how innovative this person is, but he has been changing ZT online in the right direction. First he introduced a Green version, which is targeted to players with limited budgets. Second, he is migrating the existing ZT online into the same direction. It appears that these moves have stopped the revenue bleeding.
With the assumption of flat to slight positive revenue growth in sight and new games being introduced, I can make a reasonable estimation for the company's value.
The balance sheet shows that the whole equity line is as good as cash -- the only non cash equivalent items in the assets can be more than offset by the deferred revenue line in the liability. The deferred revenue will be mostly transferred to equity line in the next two quarters. So we can count $865 cash equivalent position.
The company can run on the deferred revenue alone and its net income has very little to do with the current assets item. In 2009, the net income of the company amounted to $125 million. It is reasonable to pay 6x - 8x for the cash generation power, assuming no growth.
This gives us 1.6 billion USD to 1.8 billion USD for the market cap, or $6.9 - $7.8 per share. Based on this, I believe the company is quite fairly valued as of now on a conservative assumption. $7 should be its bottom.
Future verification of improved game performance or new successful game introduction could drive the stock price higher, while misuse of its cash is the main negative risk.
Disclosure: No Positions