In an earlier article we made our predictions for the gold market in 2014, now we'll take a look at four of our favorite precious metals stocks for 2014 and we'll briefly go into why we think they can outperform.
We will make these picks with the expectation of a rising gold price in 2014 (which we believe), and with the goal of outperforming gold (represented by SPDR Gold Shares (NYSEARCA:GLD)), silver (represented by SPDR Silver Shares (NYSEARCA:SLV)), and the Market Vectors Gold Miners ETF (NYSEARCA:GDX).
So now let's take a look at our current top four picks for 2014, why we own them, and why we think all precious metals investors should own them in the New Year.
Goldcorp
Goldcorp (NYSE:GG) is our top pick amongst the major gold-mining companies for a number of reasons. First, Goldcorp has been one the best miners at consistently controlling costs across multiple quarters, and over the last few years has contained them better than their competitors.

Additionally, as investors can see in the table above, their costs remain below the current gold price and thus in a rising gold environment should do quite well as a "best-in-breed" type company. This is very important because institutional investors with large amounts of money to invest often look to the best-in-breed type companies to put that money to work in - Goldcorp fits that profile.
Finally, in 2014 Goldcorp is one of the few majors expecting significant increases to gold production and that should help lower true all-in costs for the company as a lot of the capital spending is completed and the ounces are produced. Even without the expected 400,000 ounces of Cerro Negro production, the company should produce 2.8 to 3.1 million ounces in 2014 - which would be about a 10% increase on 2013 production. If Cerro Negro does come online (which the company still expects) then those production numbers can be bumped up by another 10-15%. But investors should wait until early January 2014 for the company to officially provide those expected production numbers.
Pan American Silver
This selection is not so much a strong belief in Pan American Silver (NASDAQ:PAAS), but instead a belief that the silver price will rise in 2014. Many of the large, publicly traded silver miners have a lot of political question marks when it comes to operations (the new Mexican Tax law comes to mind), and out of all the silver miners we were debating between, Pan American Silver had one of the cheapest valuations from a sales-to-enterprise-value (S/EV) perspective, showed positive earnings in Q3FY13, and a very clean balance sheet.
Finally, their silver production was quite a bit larger than many of their competitors even though the market was giving Pan American Silver a smaller enterprise value than those same competitors. That means that in a rising silver price environment, Pan American Silver could provide investors more levered silver ounces for the same investment - a much nicer bang for the buck than competitors.
Additionally, the company is initiating a buyback program to purchase shares at the current multi-year lows - a move that we think is favorable for the stock going forward. Of course the company has a number of risks with operations in Argentina, Bolivia, and Mexico (Mexican risk is more from the tax perspective), but we believe much of that has already been discounted in the price. Ultimately, we chose Pan American Silver over the likes of First Majestic Silver (NYSE:AG) and Hecla Mining (NYSE:HL) primarily because the valuation was much cheaper - not because competitive, geographical, or operational advantage.
Richmont Mines
Richmont Mines (NYSEMKT:RIC) is one of our new favorite gold mining plays primarily because its valuation is just extremely cheap. We won't go into a lot of details because we covered this in an earlier article, but if investors look at the table below (reproduced from the article), they will see at a sales-to-enterprise-value of 3.76 this company blows almost all the other gold and non-gold value companies out of the water - it is that cheap.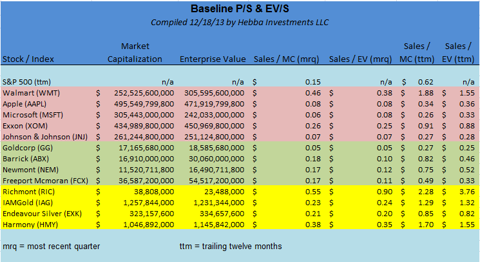 Even though the company has been producing gold over the last few quarters a little more expensively than its competitors, this valuation is at fire-sale levels for a company that has been successfully mining gold for years and has a cash position of 50% of its market capitalization and relatively little debt.
We expect the company's fourth quarter results to be below average, but as higher grades are achieved in Q1FY14 production, the financial results should get much better and we don't mind waiting. Investors should remember that the company is currently trading at around a $25 million dollar enterprise value, a $40 million dollar market capitalization, and will probably produce around 60,000 ounces of gold in 2013. If costs can be cut and margins brought to $100 per ounce, the company would be trading at around a P/E of 6.
What would now happen to profits if the gold price starts to rise? We believe that the gold price will rise, and that would leave a lot of room for Richmont to run.
Pretium Resources
Pretium Resources (NYSE:PVG) should be a name that is very familiar to investors that have been following the exploration portion of the gold mining field and has experienced quite a few large ups and downs over the past year.
This is another company that we've covered in earlier articles, but in a nutshell they own one of the largest, highest grade gold deposits in the world located in the safe jurisdiction of British Columbia, Canada. The company is run by Robert Quartermain, a very well-known name in the industry who built Silver Standard Resources (NASDAQ:SSRI) into a multi-billion dollar company from a small $2 million dollar company.
The company has been involved in a geological controversy over its flagship Brucejack deposit (investors can read more about it from one of our earlier articles) and has recently come out with excellent results from a large 10,000 tonne bulk sample (a little under 6,000 ounces of gold from 10,000 tonnes of rock) to try and quell a bit of the uncertainty concerning Brucejack.
The controversy will probably last until the deposit is put into production, but we believe that the excellent results from its bulk sample may make the company very attractive for one of the majors since there are very few world-class deposits in safe jurisdictions - and this one is potentially a high-grade "company-maker" type acquisitions (investors should remember that Red Lake started Goldcorp - one deposit can make a future major). The company's CEO Robert Quartermain is a large shareholder and industry veteran, who we don't believe wants to build out Brucejack himself, so in terms of large potential 2014 acquisitions Pretium fits the profile and that's why we think it is one of our top acquisition targets of 2014 if the gold price starts rising.
Conclusion
So there we have it our top four precious metals picks for 2014. There are many more companies that we like and that may have a much higher ceiling than the companies we've profiled, but if we had to pick four companies to outperform gold and the gold mining indexes in 2014 without having to require too much research and monitoring from investors, these would be the ones.
Having said that, we are a firm believer in monitoring investments and buying or selling positions if warranted by news and events - if the facts change then we change. So while we like and own positions in all four of these companies, there are different criteria for each one of the companies that would cause us to sell shares or add to our positions (unfortunately we couldn't go into a lot of detail in this article but we hope to in the future), thus investors must do their due diligence.
That's it for now, and I wish all of you that read this far a happy and safe New Year, and hopefully gold and precious metals investors will be quite pleased with what 2014 brings - we think and hope so!
Disclosure: I am long GG, PVG, AG, PAAS, RIC, SGOL, SIVR. I wrote this article myself, and it expresses my own opinions. I am not receiving compensation for it (other than from Seeking Alpha). I have no business relationship with any company whose stock is mentioned in this article.