Bank of America (NYSE:BAC) came a long way in 2013, so with 2014 ahead of us, we thought we would take a look at what may lie ahead for BofA.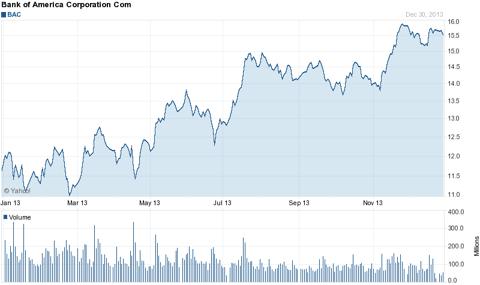 Click to enlarge
The stock is up roughly 34% year-to-date, a bit better than the SPDR S&P 500 (NYSEARCA:SPY) gain of 29.1%. It is the kind of gain one might expect for one of the nation's most important lenders during a period of economic revival. Closer inspection of the stock's peers shows BAC has outperformed its rival banks this year. That also makes sense, given the company's special exposure to the recovering real estate market and the burden it bore before that recovery.
| | |
| --- | --- |
| Bank Stock | Year-to-Date Through December 30, 2013 |
| Bank of America | 33.9% |
| Citigroup (NYSE:C) | 31.2% |
| JPMorgan Chase (NYSE:JPM) | 31.8% |
| Wells Fargo (NYSE:WFC) | 33.1% |
What Factors will Influence BofA's 2014?
Bank of America will be influenced by many factors in 2014, but some will weigh more heavily than others. First and foremost, the economically sensitive cyclical stock will be driven by the economic outlook. The stock's beta ratio of 2.3 illustrates its cyclical nature and the outperformance that should be expected in good times, and also the exaggerated downside risk the stock faces in an economic downturn.
With economic recovery evident in the recently strong GDP data and much improved unemployment rate, the company's operating environment seems primed for it to outperform. Third quarter GDP was revised up to 4.1% on December 20th. The latest Employment Situation Report published on December 6th showed the unemployment rate improved by three-tenths of a percent, to 7.0%. But this stock will exaggerate the market's forward performance, not react to the past. Therefore, for BAC to outperform in 2014, recent trends must continue and/or improve.
Over the very recent past, something important has changed that could impact the future. The Federal Reserve began pulling back its stimulating asset purchases of U.S. treasuries and mortgage-backed securities. This was a long-feared event that turned out to be masterfully pulled off by a Fed obsessed with deliberate action and transparency of communication. By the time the Fed had acted, the market was celebrating its action rather than panicking.
Interest rates are creeping higher on the long-term end of the spectrum, and that is a good thing for banks, which lend long and borrow short. When BofA's net interest margin expands, it produces greater earnings, with all other factors held steady. In the days since the Fed's last monetary policy statement, the 30-year treasury yield has crept higher. It's important that it "creep" higher and not leap higher, because such an abrupt change would have brought with it economic disruption, not to mention market collapse.
What About Valuation
| | | | | | |
| --- | --- | --- | --- | --- | --- |
| Bank Stock | P/B | P/E ttm | PEG | P/S | P/E Fwd. |
| Bank of America | 0.76X | 23.7X | 1.05 | 2.1X | 11.8X |
| Citigroup | 0.81X | 13.1X | 0.6 | 2.3X | 9.7X |
| JPMorgan | 1.12X | 13.1X | 2.25X | 2.3X | 9.7X |
| Wells Fargo | 1.57X | 12.0X | 1.33X | 2.9X | 11.4X |
On a relative valuation basis, BAC is relatively cheaper than peers. Take note of its P/E variance from the rest of the group; it's an anomaly, as the forward P/E is 11.8X, and that compares much better to the peer group. On a price-to-sales, price-to-book value and on a PEG ratio basis, BAC is cheaper. There is reason for that of course, and it is complex. It may be mostly due to the company's big bet on the real estate market and the remnants of the real estate collapse still haunting it. It also has something to do with the composure of the company's business segments versus that of peers. So you cannot just say a stock is relatively cheap based on a metric or a series of metrics. But we can say that the stock appears to be relatively cheap in comparison, or that it has greater upside opportunity if it can somehow alter what hinders its valuation today.
Since we can see an improving operating environment, and since we know the company to be cyclical, we can say the chances for BAC are good this year. Based on its valuation, we can also say its relative opportunity appears to be better than rivals due to the greater room it has for creation of economic and market value. I think putting a number on the opportunity is not necessary, since investments are often compared to other investments and we are more likely to do better in this company than in peers and probably against the market as well, barring some unforeseen events and/or crises. Therefore, 2014 looks like it will be another good year for BAC.
Disclosure: I have no positions in any stocks mentioned, and no plans to initiate any positions within the next 72 hours. I wrote this article myself, and it expresses my own opinions. I am not receiving compensation for it (other than from Seeking Alpha). I have no business relationship with any company whose stock is mentioned in this article.