People say I'm extravagant because I want to be surrounded by beauty. But tell me, who wants to be surrounded by garbage? - Imelda Marcos
Investors of all types want to be associated with the newest, most glamorous companies. Since capital is always limited, our biases can leave certain sectors ignored within our portfolios. This is not to say that these sectors are undervalued, but rather underappreciated and all too often unconsidered. The industry of waste removal is a perfect example, and one company which I think more investors should be considering is Waste Management (NYSE:WM).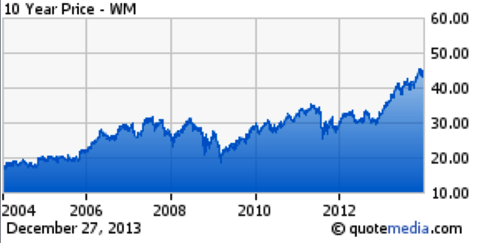 A Stable Cash Cow
Even though the waste industry was impacted by the recent financial crisis, its effect wasn't devastating to Waste Management and its peers, such as Republic Services (NYSE:RSG), Waste Connections (NYSE:WCN), and Stericycle (NASDAQ:SRCL). Trash and recycling are a consistent, slow-growth industry, and these businesses have been bouncing back steadily. While margins can change notably relative to the strength of the economy, the overall risk profile is quite low in this sector, though the reward potential is relatively low as well.
With a market cap of over $21 Billion, Waste Management is the largest of the waste disposal and recycling giants. It has the lowest projected earnings growth amongst these companies, and trades at a slightly lower P/E ratio as well, though this whole sector trades at quite expensive ratios due to the secure nature of the industry. As a mature company, Waste Management is still able to grow through acquisitions, and reward its owners with share repurchases and a consistently growing dividend.

Waste Management 10 Year Dividend History
One concern that shouldn't be neglected is the large debt load held by Waste Management, as its liabilities have been growing steadily over $16 Billion. However, given its reliable projected earnings growth, it's easy to understand why Standard & Poor's Rating Services recently gave Waste Management's long-term corporate credit rating an upgrade to 'A-', from 'BBB', and gave the company an improved risk profile rating, from 'strong' to 'excellent.'
A Growing Green Enterprise
Waste Management calls itself an "environmental solutions provider," a label which suits it well, as it is far more than simply an old-fashioned garbage company. Recycling is a specialty of the company, and Waste Management is amazing at extracting value from the waste it receives. The company takes in single-stream recycling, making the process extremely simple on the customers end. Food and yard waste can get turned into mulch compost and energy, while previously hard-to-recycle forms of plastic are now being turned back into crude oil.
The company operates both landfill-gas-to energy and waste-to-energy facilities, efforts which combined produce enough power for more than 1.2 million homes. While extracting the renewable natural gas from landfills is clearly a green enterprise, it may surprise many that waste-to-energy facilities, which burn trash to create thermal energy, are one of the most environmentally-friendly ways of producing energy. Waste Management has also invested heavily in upgrading its fleet to operate on natural gas, a greener fuel source which it can provide for itself from the aforementioned landfills.
Conclusion
Many investors have biases against certain classes of stocks, which a rational market tends to account for. While Waste Management might not be a cheap stock, investors are paying more for security than growth.
The company is continually finding new methods to utilize assets that others consider trash, and in socially responsible ways no less. Waste Management should be able to keep growing revenue through both new technologies and acquisitions. Combined with share repurchases and a hefty dividend that sits at 3.25%, this stock makes an appealing buy for all types of investors. Retirees looking for an income stream can appreciate the stable nature of the company, and younger investors who utilize DRIPs can feel safe placing Waste Management as a cornerstone of their long-term portfolio.
Disclosure: I am long WM. I wrote this article myself, and it expresses my own opinions. I am not receiving compensation for it (other than from Seeking Alpha). I have no business relationship with any company whose stock is mentioned in this article.