When you come off a year where the market is up over 30 percent, you have to expect investors will be doing as much shielding of capital gains as possible by selling any stocks that are down from their initial price. And for some stocks, the tax loss sell off has hit them especially hard. So it is quite likely that several of these stocks will rebound with the artificial selling pressure off of them in 2014.

With this theme in mind, I have featured several dividend bearing stocks that I have recently bought with the belief they have fallen into this category:
Each of these companies has a different reason for falling out of favour over the course of 2013, but in all instances the company has either remedied the problem or overcome the issue. One of them* I have previously featured in an earlier Seeking Alpha article.
Alaris Royalty Corp.
Alaris is a Canadian company that provides alternative financing to a wide range of private businesses in North America. They offer long-term equity capital to companies for whom traditional debt or private equity is not typically available or attractive, including privately-held companies whose owners want to retain long-term control of their business. They do so in a manner that allows them to provide an attractive, stable yield and liquidity to their investors.

As the chart shows Alaris was cruising along to a record year right up until they announced on December 13 that one of their investments, SHS Services Management LP, had filed for receivership.
SHS operated the Sears installed home improvement business under the brand name, Sears Home Services. The company offerings included products and services such as HVAC (Heating, Ventilation and Air Conditioning), windows, doors, roofing, home décor, gas fireplaces, carpet, and furnace duct cleaning. SHS employed approximately 650 workers nationwide. SHS provided its services directly to consumers and operated sales and warehousing out of more than 80 Sears retail locations Nationwide as well as 8 other facilities throughout Canada.
With the competition issues that Sears had been facing in Canada, (most recently with the arrival of Target), the company was in a situation where it has been closing stores. This in turn impacted SHS apparently.
Alaris had only just invested in SHS in March of 2013. The initial invest was $15 million via a Preferred Share LP. The investment was slated to return approximately $2.5 million per year. SHS paid its monthly distributions right up until September whereby Alaris agreed to forgo receiving them for a period of five months while SHS worked through some cash flow issues.
Alaris announced this situation to its investors in early November. In conjunction with the deferral of dividend payments, they also announced another $2 million investment via a secured short term loan.
Approximately one month later, Alaris announced the continued bad news on SHS. And while it appears the $2 million dollar loan will be recoverable, how much if any of the initial $15 million investment will be recovered is not known at this time. The loss on this investment according to their press release will result in a decrease of cash flow of approximately 3% or $0.065 per share.
From an investment perspective, the company had no debt as of Q3 and investments in 13 other functioning companies. According to their Q3 Balance Sheet they have approximately $411 million worth of investments (Promissory Note Receivables and Preferred LP Units). The Basic Shares outstanding was given as 28.7million. Cash flow from operations generated for the first nine months was $29.2 mm.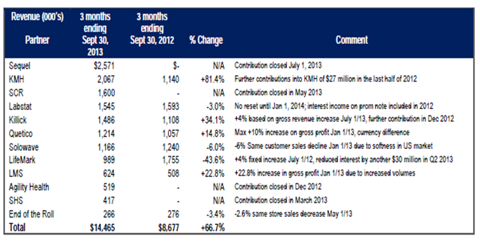 (Source: MD&A - English - Sedar)
Alaris has a track record of consistently increasing their dividend. In 2013 they started the year with a monthly distribution of $0.105 and increased it to $0.115 in June. Then in July they increased it once more to $0.12 where it currently sits. As per the December 13th press release, net cash from operating is now expected to be $1.83 per share and the dividend would consume $1.44 of it giving them plenty of flexibility going forward.
So why will Alaris rebound? You can always count on the market to either over react or under react but very rarely does it get it right in the short term. I think in this instance the market over reacted. The company invests in what could be considered high risk investments. From what I can see, they haven't had any major problems until now and given the space they are in it was likely way overdue.
The analogy to this is similar to an airplane crash. They unfortunately occur despite all the controls and checks put in place. And when they do, every aspect is examined to see what went wrong and what can be improved. Given the SHS situation, the company will do an autopsy to figure out where they went wrong and as a result their investment process will be stronger going forward.
So as investor confidence returns, so will the price appreciation.
Argent Energy Trust and Eagle Energy Trust are two Canadian oil and gas companies working exclusively in the USA. They are both characterized as having bought mature fields with low decline rates. Both companies have worked at adding low risk production by either doing infill drilling or re-completing bypassed zones. They also worked at bringing existing production costs down. And each of them has had an oops that slammed their company valuation.
To understand what happened to Eagle Energy you have to go back to their November 7, 2012 press release. In it they stated the following:
In the Luling area (Salt Flat Field), although some wells performed above type curve forecast, in aggregate the 2012 program did not meet expectations. Eagle has reviewed its drilling practices and has determined that failure to displace drilling mud and cuttings curtailed production from these wells.

This was followed by the announcement that their Chief Operating Officer had resigned on November 19, 2012.
As the chart shows - these two announcements resulted in the stock going from in excess of $10 to $7 in the short term before it did a modest recovery and then plunged some more. While the stock was declining, they continued to bring down costs, and after changing their completion techniques started to have success with the Salt Flat field. Then during the summer, with some results to talk about, the company took to the road with a multitude of investor presentations across North America which helped embolden investor confidence.
However, when the tax loss selling season came, the stock was hit once again. As a result of not making it to its previous IPO price, investors with capital gains likely decided to sell and take the loss. Subsequent to the tax loss selling decline, Eagle put out their 2014 guidance and this served to rally the stock somewhat.
Which brings us to Argent Energy Trust.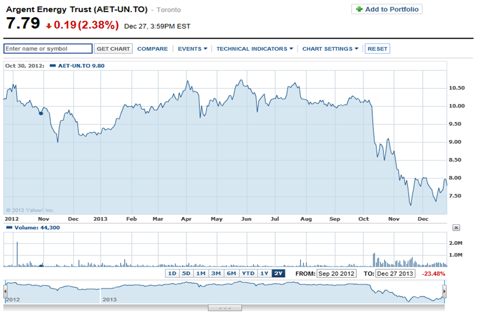 As the chart shows, Argent was humming along nicely until about October 9, 2012 when they released the following in their statement:
The Trust's third quarter production was negatively affected by a fire at the Trust's Manvel field, salting in certain of the Trust's natural gas producing wells, a commercially unsuccessful natural gas well drilled for lease expiry in South Texas, and completion of workover activity which in aggregate reduced average third quarter production by approximately 350 boe/d....
In conjunction with this announcement, Argent also announced the acquisition of production in Wyoming for $105 million to be financed by existing lines of bank credit.
Now typically, when a company this size makes this type of announcement, the hedge funds will short it because the company usually goes to the market as soon as possible afterwards to finance the acquisition. With the oil and gas sector having a rough year, it was likely a safe bet for the hedge funds to assume they would finance at reduced prices to where they were currently trading from - similar to what other companies had done all year in the same circumstances.
To Argent's credit, they did a bought deal for Convertible Debentures which took away a lot of the upside for the hedge funds. However, by then, the damage was done and they were right in the heart of tax loss selling season.
Again, similar to Eagle, Argent was a victim of the timing of some negative news. While insurance should cover the damages to the Manval field, and production losses as a result of workovers are normal course of business in the oil sector, the Company likely also paid the price for drilling the dry well. Oil and Gas Trusts are about low risk and drilling dry wells aren't typically appreciated by investors.
That aside, the mechanisms that drove down Argent's stock are likely now no longer in place and with continued success (similar to what Eagle did) investor confidence will return once more for 2014. So these are two other companies that should go back or near to previous trading valuations in 2014.
Finally, Argent has indicated as per their December 19, 2013 press release that production is currently 7,100 boed and for 2014 to range between 7,000-7,200 boed. Capital Expenditures for 2014 is currently budgeted at $45 million.
Eagle has indicated that for 2014 production will average 3,250 - 3,450 boed with operating costs between $12.50 - 14.50 per barrel. Capital expenditures are expected to be $22 million.
In this final part, I will discuss Canexus Corporation.
I first started following Canexus as a means of playing railroad stocks. The company had announced they were getting into the business of transloading oil shipments and I thought it was a good way to invest as a provider of railroad infrastructure.
On December 7, 2012 the company announced the following headline:
Canexus Corporation Announces Expansion of North American Terminal Operations Capabilities to include Pipeline Connected Unit Train Operations
Prior to this announcement Canexus was mainly a chemical manufacturing and handling company. It produced sodium chlorate and chlor-alkali products largely for the pulp and paper and water treatment industries. It had four plants in Canada and two at one site in Brazil.
And they also had a small fee-for-service hydrocarbon transloading terminal at Bruderheim, Alberta. This was where all the new growth in the transloading business was to occur.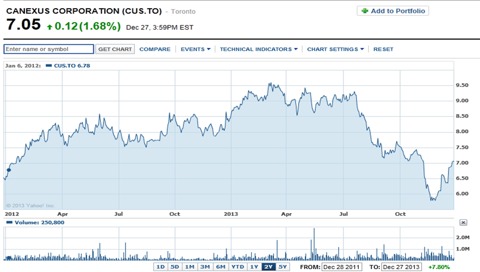 This announcement delighted the market and the company was rewarded with an approximately 20 percent increase in valuation. To understand the subsequent decline in 2013, I start with their press release on July 22, 2013 where they indicated the following:
Canexus Corporation (TSX: CUS) (the "Corporation" or "Canexus") is continuing to experience weakness in caustic soda and hydrochloric acid markets, as initially discussed in Canexus' press release of May 8, 2013 (the "Prior Release"). In addition, Canexus has experienced a delay in ramp-up of truck-to-rail transload capacity at our North American Terminal Operations ("NATO" or "Canexus Bruderheim Terminal") at Bruderheim. The combination of these factors has affected second quarter results and is also expected to affect results for the balance of the year.
Now previous to this announcement, the market was quite excited by the prospects of the Bruderheim expansion. This was a two phased expansion. Truck-to-rail expansion was to increase to 30,000 barrels per day. Pipeline-to-rail expansion was to be 72,000 barrels per day.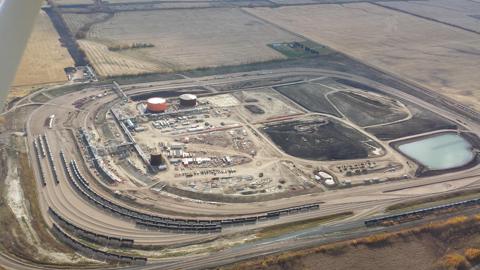 Source - Canexus Website
The pipeline-to-rail expansion was to done in two parts, with the first part to be completed between Q3 and Q4 of 2013, and the second part to be completed in mid 2014 in conjunction with a pipeline expansion project.
However, with the announced truck-to-rail delay, in conjunction with weakness in their chemicals business, it gave the market concern over their cash flow generation abilities in the short term. There was also concern that no long term contracts existed for the pipeline-to-rail operation.
This concern was further heightened by their November 7, 2013 press release that indicated the following:
Operating Cash Flow from unit train operations, assuming 10 to 11 unit trains per week, could exceed $50 million annually and Canexus expects to be at this level of activity for the fourth quarter of 2014. With the delay in completion and commissioning of the unit train facility from the third quarter to late in the fourth quarter, and a winter start-up, we believe it prudent to be conservative in estimating the Operating Cash Flow to be generated from the NATO business unit in 2014, but expect solid performance commencing in Q4/14 and beyond.
Now the problem with their November 7th statement was that it reads like the initial startup of the pipeline-to-rail operation is occurring in late 2014 as opposed to late 2013. Any investor not intimately familiar with the timeline of the various phases of startup of this project would read this as a major delay in cash flow generation.
With the stock being down significantly, and concerns now over when cash flow generation would actually occur, there were enough reasons for investors to sell and take the tax loss. Again, note the timing of this last announcement was right at the start of the tax loss selling season.
The stock stayed down in price until their December 5th announcement where they indicated that they had contracted 60-70 of the pipeline-to-rail operations starting in mid 2014. This announcement alleviated a lot of concern over whether the facility would be used or not.
Then on December 17th, they announced that the pipeline-to-rail operation was functioning and doing actual loading activity. This likely helped clear up a lot of the confusion generated by the November 7th announcement.
SO WHY WILL CANEXUS DO WELL IN 2014?
The main problem with Canexus in my opinion is that the company has done a poor job of setting expectations as to when the various projects will be completed and when cash flow from these projects will begin to occur. As the projects come on and cash flow begins to be generated, the market will get more comfortable with what the new levels of earnings and cash flow generation are - subject to the usual price cycles of their chemical markets business.
What makes the Terminal business exciting for the investors is that once it is up and running, given the nature of the long term contracts, it should provide Canexus with a consistent cash flow stream from this operation. This will likely appeal to the market.
Disclosure: I am long OTC:ALARF, OTC:RSGUF, OTC:ANGYF, OTCPK:CXUSF, ENYTF. I wrote this article myself, and it expresses my own opinions. I am not receiving compensation for it (other than from Seeking Alpha). I have no business relationship with any company whose stock is mentioned in this article.