Any investors in Annaly (NYSE:NLY) common shares can take a look at the chart below and see that the risk in owning a leveraged financial firm is palpable when interest rates are expected to rise. Holders of NLY common shares have been absolutely pummeled this year and whether the pain is over with or not is up for debate. However, there is a less risky alternative to reach for yield and that is the Series A Cumulative Redeemable Preferred Stock (NLYPRA, may differ depending on your broker). In this article we'll see if NLYPRA may be right for your income portfolio as an alternative to NLY's wildly volatile common stock.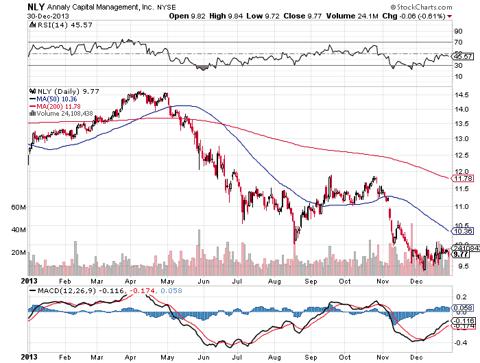 Defining NLYPRA is pretty straightforward as it is not a complicated security. NLYPRA is a traditional preferred stock which means it has no stated maturity date and also has no debt backing the issue, as is the case with a trust preferred or exchange-traded debt. NLYPRA was issued at $25 per share and pays annualized dividends of $1.96875 in quarterly installments for a coupon yield of 7.875%. This is a very strong yield but as shares are currently trading for a small discount to the issue price at $24.15, the current yield is actually a bit higher at a very robust 8.2%.
In addition to the very high yield the distributions from NLYPRA are cumulative, meaning that if NLY were to miss a dividend payment on NLYPRA it would be obligated to make up that payment. This is a huge positive for this issue in the context of the way NLY operates. That is, NLY, like its competitors, utilizes significant leverage in order to produce revenue and profit from its holdings and while that is terrific in boom times, as we've seen lately, it can come back to haunt you when things go south. And while the common dividend is currently higher on an annualized basis, it is far from cumulative or guaranteed in any way. With NLYPRA you've got some protection on your dividends as NLY cannot simply cut it the way it can cut the common dividend to preserve cash.
NLYPRA is also redeemable, as the title of the security suggests, and that means NLY can call this security at any point. Beginning in April of 2009 this preferred has been on the block as a potential call candidate but NLY has thought better of it thus far. Whether NLY will call this is anyone's guess but given the coupon rate and the fact that NLY hasn't refinanced this despite record-low interest rates, my gut tells me NLYPRA is likely safe from being called. However, even in the event it is called, you'll be made whole plus a small capital gain arising from the discount shares currently trade at in relation to the call price of $25.
There are some significant risks to owning NLYPRA and you must be aware of them and understand that owning NLYPRA is stepping out pretty far on the risk curve in terms of income investments. First, there is interest rate risk. This is true of any preferred security but particularly with Annaly. Since Annaly uses tremendous leverage in order to produce income off of interest rate spreads it is more susceptible to interest rate risk than most preferred-issuing firms. This article is not a discussion of NLY's business model but you must understand what you're getting into by owning this security. In addition, the inherent interest rate risk of owning a preferred is that when interest rates move up, income securities generally move down in price. This could leave holders of NLYPRA, or most any other income security, with capital losses.
Additionally, NLYPRA, despite being a traditional preferred that pays dividends instead of interest, is not eligible for the preferential dividend tax treatment. Since it was issued by a REIT, the distributions from NLYPRA are essentially treated as interest payments and thus, will produce a lower after-tax yield than a similar preferred issue from a non-REIT that is eligible for the preferential tax treatment. If you're holding NLYPRA it shouldn't matter but for those considering it in a taxable account, that can be a sizable negative depending on your particular tax situation.
Overall, NLYPRA offers a lower risk way to gain exposure to NLY without having to ride the NLY common stock rollercoaster as seen above. And while the common offers a higher annualized yield at present the risk of further huge capital losses is real and the prospect of further dividend cuts to the common is not only possible but likely. With NLYPRA your dividends are cumulative and cannot be cut by NLY and as such, I believe NLYPRA offers a much greater risk/reward scenario for income investors than NLY common shares. The 8.2% yield is among the higher yields you'll find in the preferred market today and with shares trading at a discount to their call price, offer a bit of security should the preferred be called. If you are okay with the added risk of NLYPRA it could be a great addition to your income portfolio.
Disclosure: I have no positions in any stocks mentioned, and no plans to initiate any positions within the next 72 hours. I wrote this article myself, and it expresses my own opinions. I am not receiving compensation for it (other than from Seeking Alpha). I have no business relationship with any company whose stock is mentioned in this article.
Additional disclosure: I may initiate a position in NLYPRA at any time.