Promotora de Informaciones (NYSE:PRIS),(NYSE:PRIS.B) is Spain's leading media conglomerate and its shares took a tumble in 2012 due to the weakness of the Spanish economy nullifying the results of its restructuring plan and preventing it from increasing its deleveraging efforts. Although PRISA's share price nearly tripled in 2013, PRISA's share price endured a high level of volatility. I rate PRISA as a Strong Buy due to the following positive catalysts:
PRISA's share price is trading at a 77% discount to its book value
PRISA refinanced its upcoming debt maturities and extended the borrowing terms on this debt. This enabled investors to conclude that PRISA will have the time to explore strategic alternatives for its business units rather than selling them at a dirt-cheap price in order to deleverage its balance sheet.
PRISA's business units have strong market share in each unit's respective industry
The economy in its in its home markets of Iberia (Spain and Portugal) is bottoming out and analysts expect it to gingerly improve in 2014.
Steady growth from its presence in the emerging markets of Latin America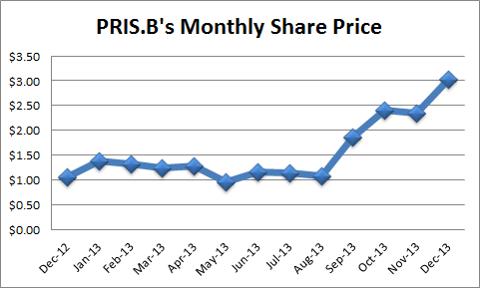 Source: PRISA Investor Relations
PRISA'S BUSINESS UNIT PERFORMANCE
PRISA EDUCATION: PRISA Education endured -13.8% revenue declines in Q3 2013 (-3.3% in YTD 2013) after growing by 4.5% in H1 2013. International markets revenue was not enough to offset weaker than expected local currency performance. Revenue growth excluding foreign exchange changes grew by 3.9% in H1 2013.
Peruvian revenues declined by 30.4% due to strong institutional sales occurring in the prior year period.
Columbia (49%) and Mexico (3.3%) benefited from strong digital learning system sales.
Foreign exchange effects (1.9% reported revenue growth, 17.3% constant currency) negatively affected Brazil's revenue performance.
Ecuador's revenue was negatively impacted by delays in its sales campaign which usually takes place in Q1 but helped Q2 performance (35.7% growth in Q2 2013).
Recurring EBITDA declined by 16.6%: €153.3M YTD 2013 vs. €183.8M YTD 2012.
Recurring EBITDA margin down by 440 bps to 27.2% from 31.6% in YTD 2012 due to expenses for developing Digital Education Systems.
PAYTV: PRISA's PayTV (Part of Audiovisual business) segment grew revenues by 0.4% year-over-year for Q3 2013 & 9.9% for YTD 2013 versus prior year levels. Adjusted EBITDA declined by €137M as PRISA incurred and recognized expenses relating to its new football contract. A year-over-year decline in its satellite subscriber base due to the weak Iberian economy compounded PRISA PayTV's troubles but at least it stabilized during the linked quarter. I can see that this explains the increase in churn that PRISA PayTV incurred.
iPlus penetration increased by 6.05% year-over-year and 0.99% in the linked quarter. The penetration rate has grown every quarter since 2009. iPlus subscribers were 613K, up from 578K in Q3 2012, 460K in Q3 2011 and 369K in Q1 2011.
Canal+ previously acquired exclusive PayTV rights to the Spanish League of Professional Football for the 2012-13 to the 2014-15 seasons.
Canal + maintains its leadership in the market according to the latest data published by the CMT, with a market share of 43.8% of average number of subscribers in Q3 2013.
YOMVI reached 436K (25.3% penetration) unique users in Q3 2013, up from 227K (13.2% penetration) in Q3 2012.
YOMVI's content downloads increased from 974K in Q3 2012 to 1.81M in Q4 2012 and 2.61M in Q3 2013.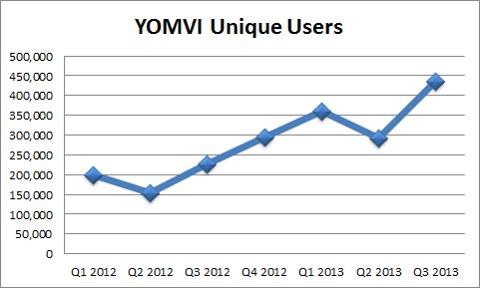 Source: PRISA's Quarterly Earnings Section
MEDIA CAPITAL:
Media Capital continues to endure soft financial performance as a reflection of the continued weak economic conditions and weak advertising market in Portugal.
Segment revenue down 2% and adjusted EBITDA down 2.6% in H1 2013.
H1 2013 performance shows that cost cuts and strategies to develop non-advertising revenues are now offsetting 11.4% advertising revenue declines.
Media Capital is focusing on cost control in order to try to preserve adjusted EBITDA.
Televisão Independente (TVI) had an average daily audience share of 28.9% (in Prime Time
RADIO: PRISA Radio's results suffered from weak Spanish advertising market. However, Spanish advertising market is starting to stabilize in Q3 2013. Spanish radio advertising sector down -12.6% in YTD 2013 versus -17.1% in H1 2013 and 24% in Q1 2013.
Revenues: +2.3% €80M Q3 2013 vs. €78.2M Q3 2012.
Adjusted EBITDA: +13.4% €11.8M Q3 2013 vs. €10.4M Q3 2012.
YTD International Advertising Radio revenues up +4.4%, due to growth in Mexico (+10.6%) Colombia (+6.5%) and Chile (+3.5%).
Spanish Advertising Revenues continued to narrow its rate of decline in Q3 2013 (-4.4% vs -12.3% in Q2 2013 & -22.4% in Q1 2013). Latin American revenues account for 46% of division revenue in YTD 2013, 43% in YTD 2012.
At least PRISA Radio is still leading the Spanish radio market.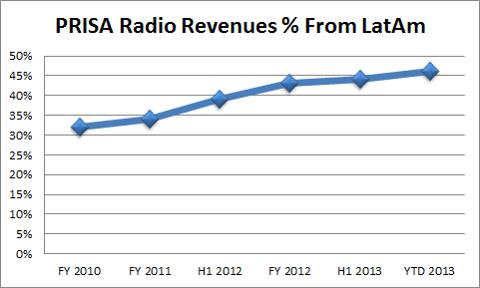 Source: PRISA's Quarterly Earnings Section
PRESS: PRISA's hardest hit segment due to the weak advertising market in Spain, however the Spanish advertising market is starting to reach a bottom.
Circulation fell by 17% but Press Advertising increased by 6.2%.
Revenues declined by 9.6%: €63.7M Q3 2013 versus €70.4M Q3 2012.
Recurring EBITDA grew by 8.4% €12.6M YTD 2013 versus €11.6M YTD 2012.
PRISA Press's Digital Advertising revenues grew by 8% in YTD 2013 and now represent 24% of the division's advertising revenues (up from 19.5% in YTD 2012).
PRISA's three major papers all saw circulation declines. El País's circulation declined by 11.4%, Cinco Días (Economic Newspaper) saw 5.9% declines and Diario AS (PRISA's Sports-oriented Newspaper) incurred a 12.7% circulation decline.
I reiterate that Cinco Días is holding up better than PRISA's other newspapers is because people are interested in first hand news about the Spanish economic mess.
At least PRISA Press (El País et al) is still the market share leader in the newspaper industry with 30%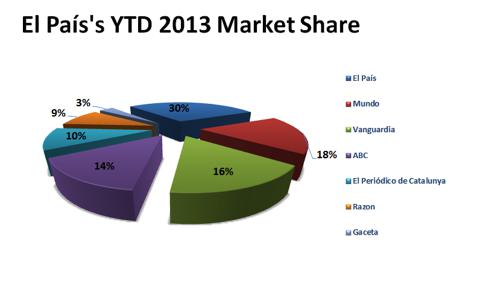 Source: PRISA's most recent earnings report
DIGITAL: Represents a small portion of the company but I continue to see strong growth here. The only segment that shows growth in Spain's advertising market is the online segment.
PRISA's online advertising revenues grew 7.1% and reached €25.7M in YTD 2013 versus a 4.5% fall in the market according to i2p.
PRISA Digital's total revenues grew by 52.4% and reached €56.8M in H1 2013.
PRISA's unique browsers increased by 17%, driven by growth from elpais.com (16%), AS.com (28.2%), Radio LATAM (27.7%) and PRISA TV (50%), though I was displeased that the business-oriented website 5Dias.com saw a 10.7% decline in its visitors in YTD 2013 versus YTD 2012.
I see that PRISA's digital properties are helping to defray some of the declines from its traditional media properties.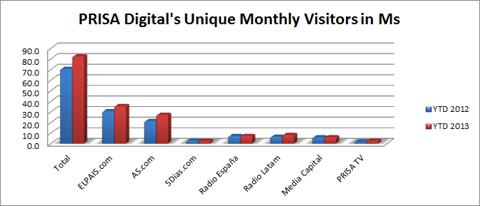 Source: PRISA YTD 2013 Presentation
OVERALL PERFORMANCE
Groupwide Adjusted Revenue decreased 3% during Q3 2013 €676M vs. Q3 2012 €697M and increased 1.5% in YTD 2013 versus YTD 2012.
Groupwide Recurring EBITDA declined 48.6% in Q3 2013 €101M vs. Q3 2012 €196.5M and decreased by 40.8% in YTD 2013 versus YTD 2012
Strong focus on cost control and efficiency: recurring operating expenses down 4.1% for YTD 2013 excluding the impact of the new football rights contract.
PRISA's Financial Debt declined by €400M due to recapitalization transactions in 2012 but crept up by €283M in YTD 2013 due to PRISA's soft performance
At least PRISA was able to utilize less working capital in YTD 2013 versus YTD 2012.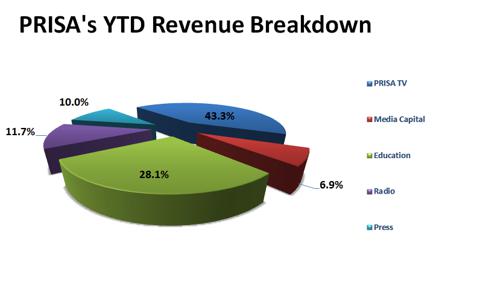 Source: PRISA's most recent earnings report
LATAM results & effect: I am interested in quantifying the degree in which Latin America was growing and Spain/Portugal growing or shrinking.
LatAm rev growth +0.6% reported (9.9% constant currency) year-over-year though EBITDA declined by 5.3% (+3.4% constant currency).
LatAm share of revenues is now at 33% of PRISA's YTD 2013 revenues. I previously expected solid economic growth in LatAm for rest of the 2013 fiscal year as well as 2014. With slowing growth throughout the LatAm economy, I was concerned that PRISA's growth in LatAm was slowing. At least the Spanish home market economy finally generated positive GDP growth in Q3 2013 (+0.1%).
LatAm represents nearly 55% of PRISA's EBITDA even though Spain/Portugal represents 67% of PRISA's total revenue
LatAm represents 33% of PRISA's total revenue & 27.2% of its advertising revenue.
CASH FLOW YTD 2013:
Recurring YTD 2013 EBITDA declined by 43.5% versus YTD 2012.
PRISA's operating cash flow of €102.1M was offset by €105.6M in Capital Expenditures, €43.6M in Interest Expense, €47.4M in Tax Payments and €39.3M for other outflows.
CapEx increased by 1.1% year-over-year
DEBT REFINANCING
PRISA announced in Q2 2013 that it wants to reorganize the terms of its €2.9B worth of debt according to a person familiar with the matter. PRISA sought to refinance and extend €1.28B worth in outstanding loans that are mostly due in March 2014. PRISA is also holding talks to sell its literature business Alfaguara as well as any other assets necessary to reduce debt to a sufficient level. On December 19, PRISA denied a report claiming it reached an agreement for the sale of "Alfaguara" and the rest of its literary brands to Penguin Random House nor for the sale of any other division in Santillana. The same day, PRISA also announced that Harry Sloan and Martin Franklin resigned from PRISA's board. PRISA replaced Messrs. Franklin and Sloan with Claudio Boada Pallerés and Alain Minc. Martin Franklin will remain linked to PRISA as a senior adviser.
On December 11, PRISA's shareholders approved an agreement to restructure its debt in order to give the company time to turn around the business and cut debt. PRISA obtained new liquidity and extended debt maturities with creditors, which include 28 banks and 17 institutional investors, while gaining time to sell businesses such as broadcasting assets and reduce debt. Here are some of the key terms of the deal:
Hedge funds are providing new liquidity of €353M, maturing in two years, with possibility of a one-year extension. It carries a compensation fee that can be paid in warrants equivalent to 17 percent of the company's Class A shares
€647M in 5 year high yield debt and €2.28B in 6 year high yield debt
Average cost of all tranches including warrants is estimated at EURIBOR plus 379 basis points
The new financing structure includes high-yield, high-risk payment-in-kind notes
The third financing tranche has some deleveraging milestones through alternatives including asset sales or debt repurchases at a discount in the market.
PRISA has given banks an option to receive part of its stake in its education division Santillana if it fails to achieve those milestones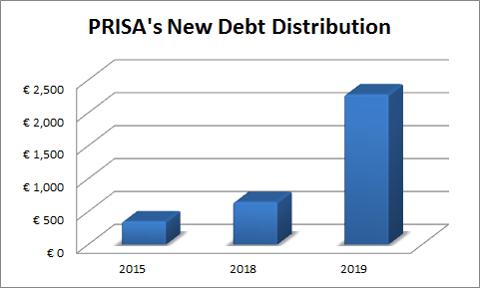 Source: Businessweek
ECONOMIC OUTLOOK
I see improved operating trends in the Iberian advertising market. In Q1 2013, Iberian advertising declined by 15.2% year-over-year but narrowed the decline to 12.7% in Q2 2013 and 4.17% in Q3 2013. However, retail sales in Spain will register a year-over-year decline in Spain in 2013 and will be the sixth straight year Spanish retail sales declined. Since 2007, advertising in TV has fallen by 53%, 69% in Press and 49% in Radio. I agree with managements projections for improved business performance in PRISA's business units for FY 2014. In addition to the Spanish economy growing by 0.1% in Q3 2013, the Portuguese economy grew by 1.1% in Q2 2013 and 0.2% in Q3 2013. Portugal raised its FY 2014 GDP forecast from 0.6% to 0.8%. Portugal's jobless rate dropped to 15.6 percent in Q3 2013 after exports lifted the economy out of a 2 1/2 yearlong recession in Q2 2013. Moody's and S&P recently raised its outlook on Spain's economy from "negative" to "stable"
RISKS
Potential inability to realize a fair price from the potential sale of its business operations
The Iberian economy enduring a double-dip recession, resulting in continued revenue declines and losses.
The Latin American economy slipping into recession, resulting in revenue declines from operations or foreign exchange translation losses
Alternative delivery distribution methods may negatively impact its newspaper and magazines business
Inability to offer fresh new products and programs in its different business lines
Loss of key personnel
In conclusion, I rate PRISA a Strong Buy. I am very cautious on the home Iberian markets of Spain and Portugal due to the weak economic situation. PRISA improved its free cash flows due to reduced interest expenses and improvements in working capital management however; it needs to stabilize core-operating income. At least PRISA's market capitalization is 23% of its book value. I think that a company with leading media and education content properties trading at 23% book value is simply ridiculously cheap. I believe this way even taking into account the fact that PRISA is employing a high level of leverage in its business. Now that PRISA has refinanced its debt, it has eliminated concerns about bankruptcy for the near term. PRISA's refinancing deals will enable it to improve the likelihood of receiving a fair price for the sale of its assets should it decide to sell any of its divisions in order to deleverage the company. The last reason why I am holding PRISA is its football rights deals, even though the deals have had a significant short-term cost so far.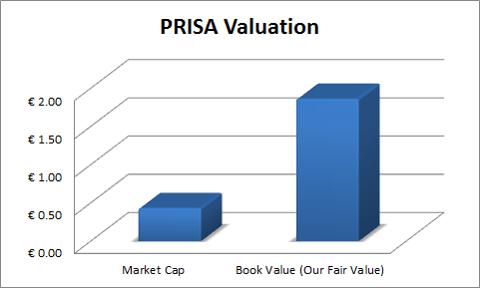 Source: Bloomberg
Disclosure: I am long PRIS, PRIS.B. I wrote this article myself, and it expresses my own opinions. I am not receiving compensation for it (other than from Seeking Alpha). I have no business relationship with any company whose stock is mentioned in this article.