"Never make predictions, especially about the future." - Casey Stengel
Tuesday is the last day of 2013. It has been a wonderful year for equity investors as the overall market is on track to produce the best returns in almost two decades. It is also the time of the year that financial analysts and columnists make predictions about the coming year.
I started this longstanding ritual Monday with my first prediction for 2014. Today I am posting my second prediction for the coming twelve months.
Prediction #2 - Apple (NASDAQ:AAPL) hits $650 a share sometime in 2014
To me, this is a very probable event for a variety of reasons.
Momentum:
Since the stock bottomed around $390 a share in late June, the shares have been on fire. AAPL has moved up ~40% since then but is still down more than 20% from its highs over $700 a share in mid-September of 2012. I believe this momentum continues into the New Year.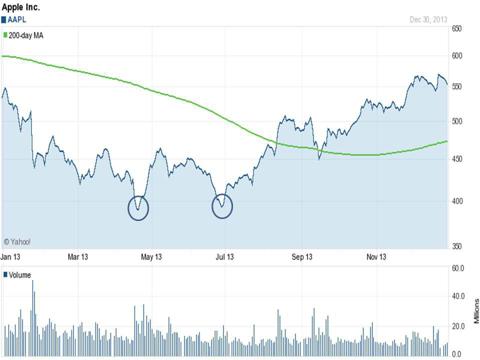 The stock is technically strong. Apple posted a double bottom at just under $400 a share during the second quarter. Since crossing over its 200 day moving average for the second time in a month right after the launch of the 5S/5C iPhones in September, AAPL has been one of the strongest large cap performers in the market. I would look for this outperformance to continue into 2014.
In addition, consensus earnings estimates for the current fiscal year have moved up just under $1 a share over the past three months. Consensus earnings estimates for the following fiscal year have moved up almost $2 a share over the same timeframe. The company should also post the first positive year over year earnings results in five quarters when it submits its next quarterly report.
800mm possible new consumers:
In a story that has been well-covered but still has not got enough play in my opinion, Apple signed both China Mobile (NYSE:CHL) and NTT Docomo (NYSE:DCM) to new distribution deals recently. This means more than 800mm consumers can now purchase a new iPhone on their existing network. To put that in perspective, that is more possible consumers than the populations of all of the Eurozone, the United States and Canada combined.
The new deal with NTT Docomo has already paid major dividends for Apple in growing market share in Japan. I would look for similar positives and growing revenues in the Middle Kingdom as a result of the deal with China Mobile in 2014. The consensus analyst opinion is that the China Mobile deal will result in 17mm to 30mm new iPhone sales in 2014. This new customer base is one reason I think consensus earnings estimates will continue to rise early in the New Year as more analysts start to factor this event into their projections.
Valuation:
Despite the recent ~40% rise in the stock over the past couple of months, Apple is still one of the cheaper large caps in the market. The shares go for around 11.5x forward earnings, a significant discount to the overall market multiple of 15 - 16 times forward earnings.
This does not factor in the company's ~$147B worth of net cash & marketable securities on its balance sheet. Factor that in and Apple sells for less than 9x forward earnings. The company is returning $8B to $10B a quarter to shareholders via dividend payouts and stock repurchases. The shares yield 2.2% and investors should expect another dividend hike in 2014.
Summary:
Apple should continue its recent momentum into 2014. The New Year should also see the company return to growth mode as it is early in a product cycle where it has successfully launched new versions of its iconic iPhone and iPad franchises.
APPL reached $700 a share late in the summer of 2012 as it was marching to just over $44 a share in earnings for FY2012. Estimates are in a like range for the current fiscal year. I see no reason the shares cannot approach their previous highs as growth accelerates. To be conservative, I have a $650 a share price target for Apple in 2014. This is line with the same forecast recently issued by analyst firm Stifel Nicolaus. BUY
Disclosure: I am long AAPL, CHL. I wrote this article myself, and it expresses my own opinions. I am not receiving compensation for it (other than from Seeking Alpha). I have no business relationship with any company whose stock is mentioned in this article.