Editors' Note: This article covers a stock trading at less than $1 per share and/or with less than a $100 million market cap. Please be aware of the risks associated with these stocks.
As it pertains to the equities market, the end of the calendar year has always brought about erratic and misunderstood activity. Unscrupulous portfolio managers have been known to sell off positions early in an effort to ensure favorable commissions. Tactful and strategic investors regularly sell off losing positions to confirm tax losses and offset gains. Companies in transition often prepare themselves for the upcoming year, though a multitude of actions, which can affect, adversely or otherwise, the value of their shares. None of these practices are new to the markets, nor should they surprise even the most novice of investors. However, sure enough, year in and year out, these activities set off a disproportionate reaction among shareholders, which further induces panic and price adjustments. Such has been the case this year with Sophiris Bio Incorporated (NASDAQ:SPHS).
I first wrote about Sophiris two months ago. In that article I presented the company as a virtually asymmetrical investment opportunity. I cited highly competent management, a decidedly targeted drug candidate, a largely unsatisfied market, and a surplus of analyst price targets which indicated approximately 100% upside, as legitimate cause for investment consideration. At that time, the price per share at Sophiris was $4.65. As it stands at the time of this article being written, Sophiris shares are currently trading for $3.80 per share. As the current price represents an 18% decline, I wanted to complete an updated article which re-evaluated, and re-affirmed, the criteria and assertions from the first editorial. I believe in standing accountable for analytical forecasts, and I wanted to follow up for the thousands of readers who read that initial piece.
Therefore, in this article, I will offer the following;
• A brief introduction to reintroduce the company and its lead drug candidate
• A synopsis of events over the last two months and their implications
• An update on the phase three trial status and its expected date of completion
• A review of potential addressable markets and the applicable potential revenues
• A reinforcement of the company's long term potential and additional insight to support such
For those of you who have not read the first article, it only makes sense to begin this piece with a brief introduction to the company and its primary therapeutic instrument. However, for whatever it is worth, I still recommend reading the first piece in order to gain a more complete picture. That being said, let us begin.
Sophiris Bio and its Product
Sophiris is a Canadian urology company who maintains an operations center in southern California. The company is led by its chairman, Dr. Lars Ekman, a board certified surgeon with a Ph.D. in experimental biology from the University of Gothenburg in Sweden. He is highly accomplished, and in possession of substantial experience. In addition to having served in various executive capacities at Pfizer (NYSE:PFE) over the course of 16 years, he has also led research and development teams at Elan Pharmaceuticals (NYSE:ELN) and Schwarz Pharma AG.
Alongside Dr. Ekman is the companies CEO, Randal Woods. Mr. Woods was previously the President and CEO of NovaCardia, a pharmaceutical company focused on cardiovascular diseases, until its acquisition by Merck & Company (NYSE:MRK) for 350 million dollars in 2007. In addition to Dr. Ekman and Mr. Woods, Sophiris employs world-leading urologists, is backed by experienced investors, and is led by a veteran drug development team that has achieved more than twenty drug approvals, which by their own declaration, include "several blockbusters".
Currently, the company is developing a drug candidate called PRX302. PRX302 is designed to provide long-term relief of benign prostatic hyperplasia symptoms without causing sexual dysfunction or sacrificing quality of life. It is formulated as a recombinant version of the native proaerolysin protein. PRX302 has been genetically modified by replacing the furin-cleavage sequence with a PSA-selective sequence. In summation, this allows for the treatment to be highly targeted, highly efficient, and highly effective. It also has indicated an admirable safety profile.
Recent Events
Over the last two months the company has made two significant announcements. The first came on November 5th, when Sophiris applied for a voluntary delisting from the Toronto Stock Exchange. As per the directors at Sophiris, the decision to delist was a result of minimal trading activity on the exchange. The minimal activity could no longer justify the expenses and administrative efforts required to maintain their listing. Furthermore, the company cited the fact that the trading volume in U.S. markets, on the NASDAQ, provided Sophiris and its shareholders with more than sufficient liquidity moving forward. In speaking about the decision, Sophiris CEO Randal Woods made the following statement;
"Delisting from the TSX creates a central marketplace on NASDAQ for Sophiris shares. With Sophiris operations based in the United States, strong exposure to the U.S. financial community, and a phase three trial now underway for PRX302, we believe this was a prudent move for shareholders."
The second announcement made by the company came on November 12th, when the company publicized its activities and financial data for the third quarter. In doing such, the company reminded everyone that enrollment had begun for its phase three trial of PRX302. The randomized, double-blind, and vehicle-controlled trial, will assess the safety and efficacy of a single intraprostatic injection of PRX302 for the treatment of BPH (benign prostatic hyperplasia). The primary endpoint is to evaluate the International Prostate Symptom Score change, from baseline to completion, over 52 weeks. Secondary endpoints include the measurable change in maximum urinary flow from baseline, to completion, over 52 weeks. The trial will be an international, multi-center trial, and will include 440 total subjects. The trial's expected completion date is July of 2015.
As it pertains to the company's financial performance in quarter three, Sophiris reported relative progress. The company reported a net loss for the quarter of 3 million dollars, or .31 cents per share. This was a significant improvement over the third quarter in 2012 when the company reported a net loss of 5.6 million dollars. In addition, the company reported that research and development expenses were only 2.1 million dollars for quarter, compared to 3.4 million dollars for the same period in 2012. The decrease in research and development costs were attributed to the following; a 400,000 dollar decrease in costs associated with the transfer and scale-up of manufacturing activities, a 200,000 dollar decrease in non-clinical experiment activities, and a 400,000 dollar reduction in carry over from the company's phase 1 and 2 trials. Furthermore, the company reduced its general and administrative expenses by over 50% quarter-over-quarter, and cut down its interest expense by 25% when utilizing the same comparative period. The company's performance over a comparative nine month period was even more impressive.
Nonetheless, despite these efforts to consolidate and reduce costs, liabilities, and obligations, Sophiris has seen its share price fall in the fourth quarter of 2013 by 18%. This fall is irrational, and it offers investors an opportunity to either initiate, or add to, their current positions. There has been absolutely no event of consequence over the last two months to indicate that the downward price adjustment is reasonably justified.
Addressable Markets and Analyst Support
According to the American Urological Association the addressable market for enlarged prostate, or benign prostatic hyperplasia, is approximately 500 million dollars. This is a significant market. It is also growing at a rate of no less than 3-5% annually in the United States. This is attributed to two primary facts; first, the incidence rate is increasing incrementally, and secondly, the prevalence of the ailment increases with age. While the incidence rate for men over the age of 40 is less than 10%, for men over the age of 80 the incidence rate is over 90%. As the population ages, and as life expectancy increases, the incidence rate adjusts accordingly. Therefore, the potential market for PRX302 presents as one not only of substance, but also of growth.
This market, and its evolution, coupled with the success of PRX302 in phase one and phase two trials, have led to universally optimistic opinions among analysts. As was stated in the first article, analysts at Stifel Nicolaus, and Lazard Capital, have given Sophiris a "buy" rating with respective price targets of nine and ten dollars. Leerink Swan has given Sophiris an "outperform" rating with a price target of 11 dollars.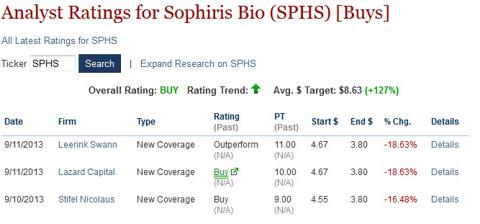 Citi has also offered a short term price target of 4.50, with a "neutral" rating. However, Citi initiated its coverage on December 2, 2013 when the price was 4.29 per, and their target of 4.50 was applicable for the end of the year 2013.

As it stands, since the price targets offered by Leerink Swan, Lazard Capital, and Stifel Nicolaus are forward looking price targets, looking ahead to the end of phase three trials, the average long term price target among analysts is, in fact, 10 dollars per share. Therefore, the applicable upside from current levels is equal to 163% on average.
Moreover, Stifel Nicolaus has said that it gives Sophiris a "75% chance of a successful phase three trial based on data from previous trials" and Leerink Swan has stated the following;
"Our due diligence suggests Benign Prostatic Hyperplasia treatment with PRX302 could represent for urologists an attractive intra-office injection procedure with benefits compared to front-line oral standard of care drugs or more invasive procedures……..PRX302 has demonstrated encouraging phase two data……..Sophiris has sufficient financial resources, in our view, to independently fund operations through its two key catalysts. We project that positive PRX302 phase three, 3-month data, the second half of 2014, and 12-month data the second half of 2015, could serve as significant catalysts given the large BPH market. We estimate PRX302 peak sales could reach 779 million by 2023."
Further Support for Investment Considerations
Thus far, this article has summarized the basic details of the first article, and offered new information and detailed explanations for supporting Sophiris moving forward. We have recapped the company's identity and drug candidate, summarized the details of the company's third quarter, emphasized the market implications of the treatment alongside the company's analyst projections, and have brought investors up to date on short term coverage initiated by Citi. Now however, it is time to further validate why this recent price drop represents a considerable buying opportunity.
As the legendary investor Peter Lynch once said, "there are many reasons why an insider sells, but only one reason why they buy." In other words, when an insider sells shares of a company it should not always be perceived to be a negative thing. It is not, by any means, a reason to jump ship. The motivating factors for an insider sale are multiple and diverse. However, when an insider buys it is only for one reason. An insider buys because they believe absolutely in the company's earning potential, and they know that such an investment is well founded. This is why, in the equities market, investors follow insiders buying activities with a watchful eye. Well, consider the insider activity at Sophiris. Since August of this year, at the time of the company's NASDAQ opening, there have been 1.6 million shares purchased by insiders. Now, how many have been sold since then?
Zero.
There has not been a single share sold by insiders at Sophiris despite this recent decline in price. The average price of insider purchase, for the record, was 4.91 per share. The below chart of insider activity was accurate as of December 29, 2013.

In fact, total insider and institutional holdings at Sophiris are equal to over 70% of all outstanding shares. Therefore, prospective shareholders should feel confident that insider interests are fully aligned with those of common retail investors.
Conclusion
The end of the year always brings with it price action unique to the month of December. Sometimes the activity inaccurately inflates values. At other times, the activity presents unique buying prospects. It is the contention of this article that current levels for shares of Sophiris offer an excellent buying opportunity. The upside from here is likely in excess of 150% by the end of 2015. Therefore, employing a "buy and hold" strategy here for the next 24 months, could equate to gains of 75% per year over the next two years, based on median average. Furthermore, with analysts at Stifel Nicolaus estimating the likelihood of a successful phase three trial being in the vicinity of 75%, and insider and institutional holdings equating to over 70% of total outstanding shares at a 23% premium to current price levels, protections against downside risk are adequately in place.
Certainly, however, there is still risk. A successful trial outcome is never guaranteed, and the developmental drug market is highly competitive. Therefore, standard risks still apply. Nonetheless, Sophiris offers a well above average investment opportunity for prospective shareholders at current levels. If one possesses the ability to employ patience over a multi-year period, and is capable of dealing with the pathological delays associated with FDA trials and NDA's, then the assumption of a position into Sophiris is well worth considering. Prospective investors would be wise to complete their own due diligence, and to consider the assumption of a long position into Sophiris Bio.
Disclosure: I am long SPHS. I wrote this article myself, and it expresses my own opinions. I am not receiving compensation for it (other than from Seeking Alpha). I have no business relationship with any company whose stock is mentioned in this article.
Additional disclosure: It is advised that all prospective investors complete their own relevant due diligence prior to initiating an investment into any company detailed herein, or on any other web based platform.