Below is a look at year-end 2013 sector weightings for the S&P 500. As shown, Technology is finishing the year on top at 18.58% of the index, followed by Financials in second at 16.17%. Health Care ranks third with a weighting of 13.01%, while Consumer Discretionary is in fourth at 12.54%. Energy is at 10.24% and Consumer Staples is at 9.79%. At the bottom of the index are Materials, Utilities and Telecom. These three sectors combined don't even add up to the weighting of Consumer Staples.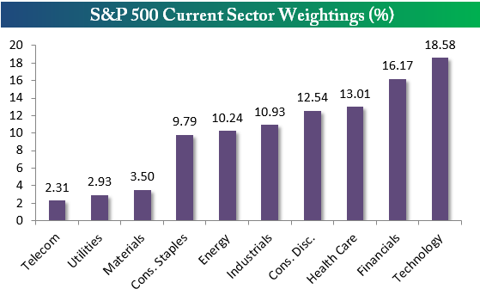 Click to enlarge
Below is a look at how sector weightings have changed over the last 23 years going back to 1990. The ebb and flow is pretty interesting.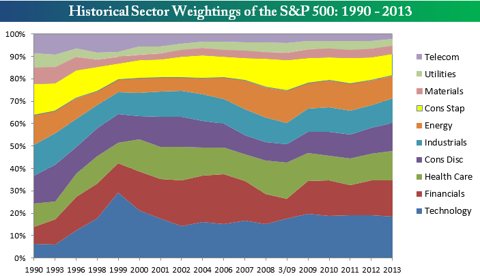 Click to enlarge
Finally, below are charts showing the weightings of each S&P 500 sector going back to 1990. For each sector, the red line represents what its average weighting has been over the entire time period. Five sectors are currently above their long-term averages and five are currently below their long-term averages. After trading below its long-term average since 2003, the Consumer Discretionary sector has just cracked above it this year. Consumer Staples, on the other hand, has moved well below its long-term average this year. This is what you would expect to see during a bull market. Along with Consumer Staples, other defensives like Utilities and Telecom have also seen their weightings fall quite a bit this year.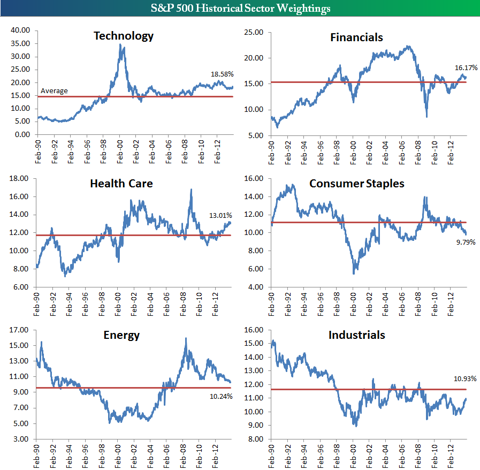 Click to enlarge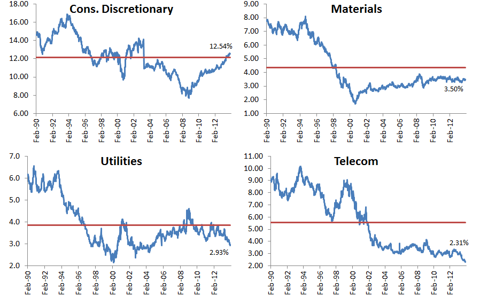 Click to enlarge