Let's start with the most important story in banking today, and it is not commercial real estate. It is the significant improvement of the interest spread of new loans versus deposit costs.
This spread reflects both the marginal profitability of generating new loans and resetting those deposits to new lower interest rates. In time, this spread is driving the significant improvement in net interest margins (NIM) of most banks as soon as their non performing assets (NPAs), that are not accruing interest, start to stabilize. Some call it the big bailout, but historically this has been the way that lower interest rates have stimulated the economy. As soon as banks strengthen their balance sheets and competition for loans restart, interest rates on new loans should also fall.
The following (click to enlarge) is a chart from the recent Zions Bancorporation (NASDAQ:ZION) investors day. This bank still is shaky and has not been as aggressive as others in recognizing NPAs but the information disclosed was excellent. And this graph tells the tale.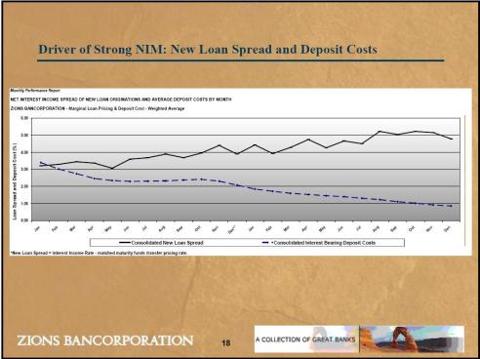 Disclosure: No Position