The Fed will officially begin to taper by $10 billion USD per month in January, and the markets interpreted this as a sign that the economy is well enough to support itself. The Dow Jones jumped immediately after the announcement, and major indices across Europe also rose. The US is leading the global recovery and Europe is poised to pull out of a six year slowdown next year. Consumer spending is on the uptrend and the auto industry in particular is expecting a big year for 2014.
Forecasts for new auto sales in 2014 are estimated to be around 16.4 million - the highest since 2006. New sales are expected to get a boost from an aging vehicle fleet with an average age of 11.3 years and a continued lack of used cars available, causing prices to be above average in the used category. Demand for new vehicles in Europe, which was down 5% for 2013, may be up as much as 5% for 2014 thanks to an improving global economy.
Screening for stocks related to the auto industry in value territory yielded three picks for us for the new year: Toyota Motor Corp. (NYSE:TM), Goodyear Tire & Rubber (NYSE:GT), and American Axle & Manufacturing Holdings (NYSE:AXL). All three trade at less than 17 times earnings, have a PEG ratio of less than one, and have future EPS growth for the next 5 years in excess of 18%.
Toyota is well known - a giant $193 billion auto manufacturer that has been making headlines for all the wrong reasons lately. Issues have plagued the stock over the past few years, but management has taken tremendous strides in improving quality and increasing safety. Its flagship car, the Corolla, is the best-selling car of all time topping 40 million units sold since its inception, and Toyota's marketing towards the younger generation has effectively bumped sales by 5% year-over-year.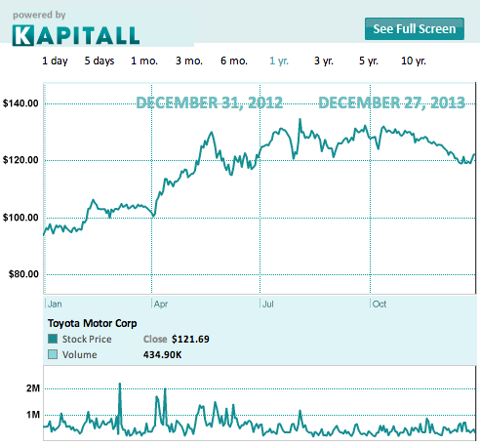 (Click to enlarge. Sourced from Zacks Investment Research.)
The stock only trades at 13.7 times earnings with a long term EPS growth rate of 33.2% giving it a PEG ratio of 0.43. EPS growth for this year is up an astounding 236.2% while quarterly revenue grew over 16% year-over-year. Coupled with a 2.08% dividend yield, this stock could easily trade at around $140 in the next 12 months - an 18% discount from current price levels.
Next on the list is Goodyear Tire & Rubber, the largest tire manufacturer in North America and Latin America and second largest in Europe. The company operates 52 plants in 22 countries making them a global presence and a recognizable brand. While possessing a market cap of just $5.79 billion while posting sales of nearly $20 billion (trailing twelve months), the company trades at a very attractive 0.29 price-to-sales ratio.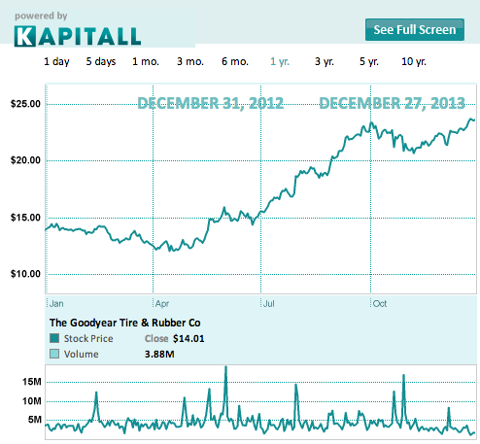 (Click to enlarge. Sourced from Zacks Investment Research.)
Goodyear has the highest P/E of the three auto stocks mentioned at 17.57, but still trades at less than the S&P 500 average at 20.25. EPS growth over the next 5 years is expected to be around 30.78%, which gives the stock a PEG ratio of 0.57. Expected EPS next year is around $2.80 giving the stock a price target of about $47 - over double its current value. Investors also benefit from some downside protection with its dividend, currently yielding 0.9%.
The final company on the list may be the smallest at $1.5 billion, but has the cheapest valuation of the three. American Axle & Manufacturing Holdings specializes in drive-trains and drive-lines with more than 30 locations in 13 countries. The stock trades at a ridiculous 4 times earnings, but was largely impacted by tax benefits exceeding $330 million last year. Even allowing for a greater P/E, the company has forecast earnings of 18% long term, giving them a PEG ratio of 0.22 at its current valuation, but would still be less than 1 with the tax credits taken out of the equation.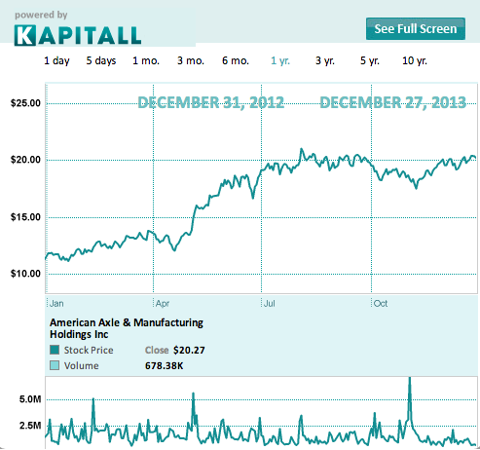 (Click to enlarge. Sourced from Zacks Investment Research.)
The company's performance is strongly tied to General Motors (NYSE:GM) with 73% of revenues through the third quarter coming from them. Management reiterated guidance through 2015 with expected sales topping $4 billion that year. EPS next year should come in around $2.55 and given a reasonable future P/E of 10 like its closest competitor Dana Holding (NYSE:DAN), American Axle & Manufacturing's stock could be worth $25.5 - a 27.5% increase.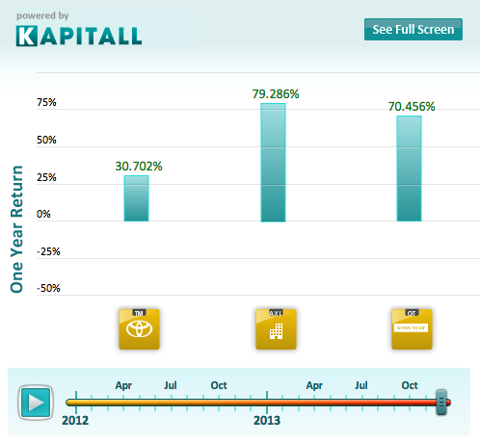 (Click to enlarge. Sourced from Zacks Investment Research.)
Disclosure: I have no positions in any stocks mentioned, and no plans to initiate any positions within the next 72 hours.
Business relationship disclosure: Kapitall is a team of analysts. This article was written by Daniel Cross, one of our writers. We did not receive compensation for this article (other than from Seeking Alpha), and we have no business relationship with any company whose stock is mentioned in this article.