As the 2013 trading year comes to a close we have to look back and admire the tremendous year that it was. Many of the gains were fueled in part by share repurchases and activist investors pushing companies to go in new directions and one can bet this carries over into 2014. Even today we are seeing news of investors pushing for change and companies enacting poison pills to block activists from engaging them.
While we expect these events to carry over into the New Year, we also expect that M&A activity will pick up, something that should help drive the bull market to new highs. Optimism is a good thing to have in the market and with companies looking for ways to deploy their capital it seems that M&A will be the next catalyst outside of revenue growth.
Chart of the Day:
This chart of the S&P 500 Index shows how strong this bull market has been in 2013. We expect a few hiccups in 2014, but believe that we have another up year.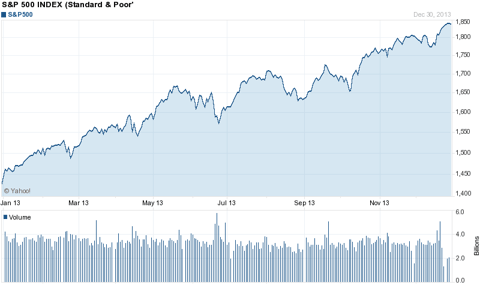 Source: Yahoo Finance
We have no economic news today, but will have unemployment claims data when the market reopens on January 2nd after the New Year.
Asian markets finished mixed today:
All Ordinaries -- down 0.09%
Shanghai Composite -- up 0.88%
Nikkei 225 -- CLOSED
NZSE 50 -- down 0.67%
Seoul Composite -- CLOSED
In Europe, markets are trading lower this morning:
CAC 40 -- up 0.47%
DAX -- CLOSED
FTSE 100 -- up 0.26%
OSE -- down 0.11%
Poison Pill Put In Place...
Management at Hertz Global Holdings (NYSE:HTZ) has put into place a poison pill to keep any potential activist investors at bay. The shareholder rights plan as they call these things has a 10% threshold, thus preventing anyone from accumulating a stake larger than 10% in the company to take on an activist role. Hertz has put the plan into place for one year and one would expect the plan to be allowed to expire if management works through some of the current issues facing the company. If not, Hertz management could vote to extend the plan for another term.
The poison pill was put into place due to "unusual and substantial activity" in the trading of Hertz Global shares. There are already a number of players involved in the shares, but reports are indicating that Dan Loeb and his hedge fund, Third Point, had accumulated a stake of around 4% in the shares for non-activist purposes.
Cracker Barrel Pushes Back...
It is hard to get too upset with the returns provided by Cracker Barrel, but at least activist investors provide a level of oversight that retail investors cannot.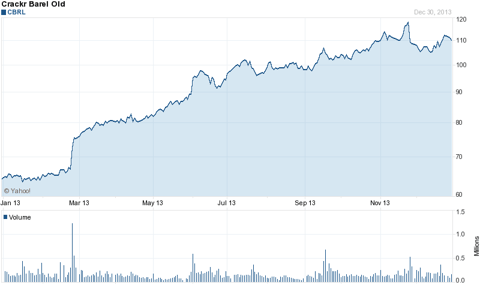 Source: Yahoo Finance
Readers are probably well aware of the issues facing Darden Restaurants (NYSE:DRI) and the activist investors' proposals to create more value for shareholders, but the situation at Cracker Barrel (NASDAQ:CBRL) seems a bit crazy. Sardar Biglari, who owns about 20% of the Cracker Barrel shares, continues to call on management of the company to begin a process to sell the company, with his preference being that it is sold to him! It seems self-serving, but thus far his proposals have been voted down by shareholders and Cracker Barrel responded to his latest proposal by stating that the company is not for sale at this time. It is annoying to have to continue to read about these stories when you are a shareholder, but investors such as Mr. Biglari do tend to keep management fully aware of the job at hand and to deliver good results.
Disclosure: I have no positions in any stocks mentioned, and no plans to initiate any positions within the next 72 hours. I wrote this article myself, and it expresses my own opinions. I am not receiving compensation for it (other than from Seeking Alpha). I have no business relationship with any company whose stock is mentioned in this article.