After witnessing the U.S. domestic production boom of crude oil and natural gas from Bakken in North Dakota and Eagle Ford, Valero Energy Corp (NYSE:VLO) started focusing on its refinery segment with 67% of the total investment in its light crude oil processing and logistics in the coming year. The total production from these two fields are complemented with an extra 50,000 barrels per day in October and resulted in lesser import of crude oil and natural gas. The increased production accounted for growth of almost 700,000 barrels per day over the past year. The excessive supply of crude oil and natural gas forced the U.S. oil producers offer discounts to the Gulf coast refineries, and the excessive supply is expected to continue long-term. As the oil price is lower due to higher production, Valero will witness increased margins on refined products and will maintain the strong topline in coming years.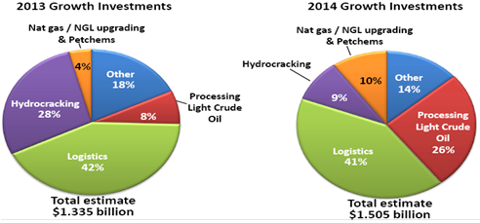 With a large investment in its refinery segment, Valero is planning to increase its access to refineries for low-priced crudes and its capability to export the products overseas. The average price difference among U.S. domestic benchmark, West Texas Intermediate, or WTI, and Bakken oil was about $5 per barrel this year, and it is expected to be on a lower side in 2014. Presently WTI is trading in between $11 to $13 per barrel below Brent and the expected spread for next year is around $9. Therefore, Bakken oil is trading cheaper than the Brent by around $16 to $18 per barrel. The company used to import crude oil for its refinery in Canada to process light sweet crude from Europe and Africa. So for Valero, buying bakken oil is more profitable than importing Brent Crude for its refining processes.
With its refineries in the U.S. Gulf Coast Valero is also planning to expand its refinery units to support growing U.S. production. The company expects to add new units in its Houston and Corpus Christi refineries. These two additional units are expected to start production by 2015 and support the existing refinery to maximize the production of gasoline and diesel with 90 million barrels per day, or Mbpd, and 70 Mbpd respectively. With the projected growth in production it is expected to improve margins in coming years.
The company is also investing in logistics to ease export activity with rail cars and unloading terminals between its other refineries. To use the high crude oil production in U.S., the company exported crude oil to its Quebec refinery because of the low-cost advantage it has through its crude rail unloading terminals. Additionally, to support the refining activity in its Quebec refinery, it purchased 5,320 rail cars for delivery of U.S. crude oil through 2015.
The reason for its investment in railroad projects over pipelines is that railroads are considered safer in exporting crude oil as the spill rate is less than that of the pipeline. During 2010 to 2012, pipeline spills accounted for 19.9 million gallons, whereas railroad spillages accounted for only 95,000 gallons of crude oil.

Source: Association of American Railroads
Valero's substantial investment in rail cars and crude rail unloading terminals is expected to maximize its crude oil export and processing activity in its Quebec refinery. Earlier, the U.S. exported 24,000 barrels per day crude shipment to Canada, and it grew to 99,000 barrels per day in September. This growth is possible due to the one-year renewable export license that enables Valero to ship up to 90,000 barrels of U.S cost-advantaged crude per day to Canada. It is expected to grow to 200,000 barrels per day in coming years. Although the shipping costs of oil in the U.S. by rail is around $4 to $5 per barrel higher than the traditional pipeline export, refiners still prefer to use railroads to export crude oil. The U.S. government continues to pressure pipeline projects due to environmental concern, and also the domestic oil glut has outpaced the U.S. pipeline capability. So the investment in rail cars and unloading terminals will strengthen Valero's future potential to export crude between its refineries and will enable the company to process light crude oil with an added advantage at a reduced cost.
Focus on methanol production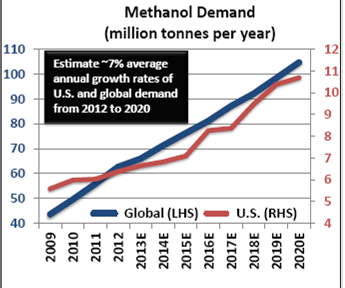 Methanol is an industrial chemical that can be used as fuel. Apart from that methanol is used to produce formaldehyde, acetic acid, and other chemicals. The popularity of methanol is gaining over gasoline due to its ability to improve fuel economy and vehicle performance without any chemical additives. The U.S. is one of the growing markets for methanol, representing around 10% of the global market.
Along with the U.S., China has also widely accepted methanol in traditional and non-traditional application sectors. This year the total consumption of methanol by the non-traditional applications; primarily in fuel driven applications, accounted for 30 million tons. It is expected that the methanol consumption in non-traditional applications will grow further in coming years in China.
Valero as an independent refiner in the U.S. Gulf Coast plans to invest $700 million in a methanol plant in its St. Charles refinery. The project will complete by the end of 2015. The total capacity of methanol production is projected to be 1.6 to 1.8 million tons per year. As methanol demands are also growing in other countries apart from the U.S. and China, the company's future investment in a methanol plant will improve the bottom line. Also, its projected future methanol production will reduce the total import of 5 million tons of methanol per year in the U.S.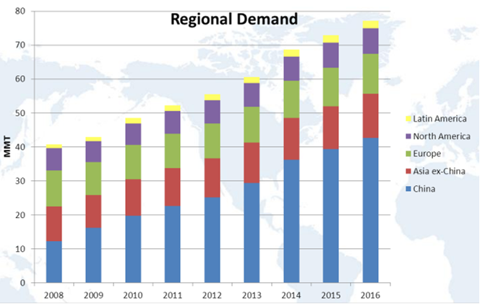 Source: www.petroleum-economist.com
Conclusion
With domestic crude oil and natural production growth, Valero is strengthening its refinery segment for using the cost advantages in the U.S. Gulf Coast. In line to meet the global demand of distillate diesel and methanol, the company plans to invest in its refinery and logistic segments. I expect that the company will see major growth in its U.S. refinery segment with its existing and new expansion plans.
Disclosure: I have no positions in any stocks mentioned, and no plans to initiate any positions within the next 72 hours. I wrote this article myself, and it expresses my own opinions. I am not receiving compensation for it (other than from Seeking Alpha). I have no business relationship with any company whose stock is mentioned in this article.