Heading into 2013, all I wanted from Celsion (NASDAQ:CLSN) was positive Phase III data from the company's HEAT trial in early January 2013. What I, and other shareholders at the time received, was the ole' lump of coal in the stocking: the company missed its primary endpoint badly, and reported the news on an ensuing conference call that sounded like starting off 2013 at a funeral.
Since then, the company has spent the better part of 2013 restructuring, playing defense, and trying to get its feet dug in for the coming year.
While the company has been digging through post-hoc data from the HEAT trial - some of which seemingly proving that increased RFA times on tumors could positively impact efficacy - Celsion's DIGNITY trial for ThermoDox in recurrent chest wall cancers had been carrying on in the background. I wrote an article earlier in December commenting on some recent results that Celsion had released with regards to its Phase I study. It was certainly a positive piece of news in an otherwise poor year for the biotech company.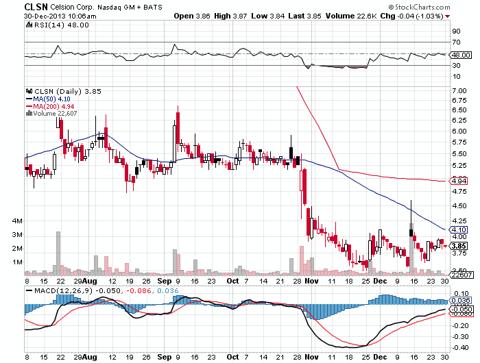 It had been an unceremonious year from Celsion, who ended 2013 with a reverse split and a stock that continues to seem anchored. The split adjusted 1 year chart looks anything but promising, making Celsion an easy target for biotech skeptics to take shots at. Celsion, however, fights on into the new year - and they still do have a couple of cards up their sleeve that they could pull. Here's 3 things that, as a supporter of the company, I want to see from Celsion in the coming year.
1. M&A News
Here's something I wrote almost a year ago:
VP of Corporate Strategy, Jeff Church, reaffirmed quickly that Celsion is working with Cantor Fitzgerald on acquisition candidates, and that they've identified about 10 potential targets already. He noted that these companies would have complimentary products and technologies that will help mitigate growth.
This has been a big disappointment for me. After the HEAT trial bombed to start off 2013, Celsion put into place cost reduction measures and informed shareholders that it was working with Cantor Fitzgerald to potentially acquire another company. My thought process on this was positive:
It could be positive to acquire a company with a pipeline, effectively giving Celsion more than "all of its eggs in one basket" - even though I still believe Celsion will find a use for its delivery method.
It could be positive to make a partial stock/cash acquisition of a company that is already profitable, helping Celsion continue forward and mitigate costs associated with continuing its trials and development of ThermoDox.
Instead, we've received nothing from the company. If they're no longer planning on this route, due to the fact that they have money in the bank and increased confidence in DIGNITY, just come out and say it. Don't leave shareholders and analysts guessing.
2. DIGNITY Developments
The use of ThermoDox for recurrent breast wall cancer has provided some promising looking results so far: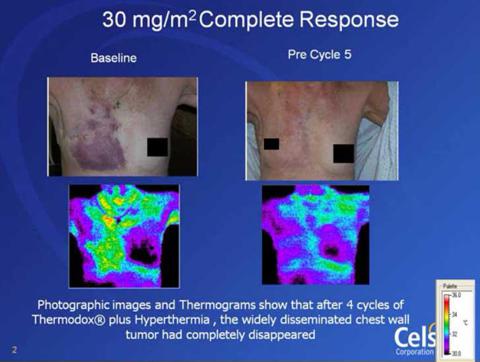 Celsion is moving forward with its DIGNITY study, into Phase 2, based on the results found from its initial Phase 1 study:
Of the 29 patients treated, 23 were eligible for evaluation of efficacy. A local response rate of over 60% was reported in 14 of the 23 evaluable patients with 5 complete responses and 9 partial responses. Based on the results from these two Phase I studies, Celsion is currently enrolling up to 20 patients in an open label Phase 2 study at 5 US clinical sites.
The importance of this treatment is similar to the importance of the HEAT study. The pool of patients that are subject to these types of tumors generally have little or no treatment options, with some of them already having prior exposure to doxorubicin - just not through Celsion's delivery method. More positive developments with DIGNITY could do well to validate Celsion's entire pipeline - that the efficacy comes from the delivery method.
A commenter on my last article was nice enough to point out a link for the original DIGNITY enrollment video.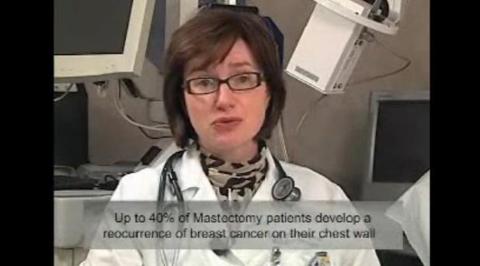 3. Movement Into China
Discussed at length during the company's last conference call was its involvement with Hisun Pharmaceuticals in China. Hisun is a company that fronted Celsion $5 million to be the company's exclusive Chinese partner before the HEAT trial results were released. Even in the midst of missing the Phase III endpoint, Hisun remains - according to the company - a strong parner of Celsion's.
As was reported on the company's last conference call:
Celsion will go to the FDA for further study and will also try and utilize their relationship with Hisun Pharmaceuticals to get expedited trials in China. Hisun continues to be interested in the company and in the upcoming studies. Celsion anticipates initiating a new trial in first half of 2014, pending FDA approval. This is a trial that could breathe some new air not only into Celsion, but its stock.
I'm expecting news on this as we head into the first half of 2014. If Celsion can get an expedited ThermoDox trial in China based on its increase in RFA times, they could potentially leverage their relationship with Hisun for what is the largest HCC market in the world.
Conclusion
The risk here lies in the efficacy of ThermoDox going forward. Celsion isn't likely to run out of money any time soon, but unless it can get some tangible news that's going to drive the fundamentals (i.e. news related to further trials or M&A), we're not going to see any long-term appreciation.
Having said that, 2014 could be a good year for Celsion. They have plenty of cash in the bank to do their business with, and they have a few potentially promising items on the horizon with DIGNITY, potential M&A, and a strong continued relationship with Hisun Pharmaceutical.
Disclosure: I have no positions in any stocks mentioned, and no plans to initiate any positions within the next 72 hours. I wrote this article myself, and it expresses my own opinions. I am not receiving compensation for it (other than from Seeking Alpha). I have no business relationship with any company whose stock is mentioned in this article.