While most of the U.S. mobile carriers have adopted aggressive customer acquisition strategies offering unlimited data plans, Verizon (NYSE:VZ) continues to execute a well-balanced strategy and usage-driven pricing along with LTE network expansion plans. Although it still leads in coverage with a presence in 500 markets, its nearest competitor, AT&T (NYSE:T), is not far behind with 488 markets and better 4G LTE speed in major U.S. markets. Verizon has tripled capacity through advanced wireless service, or AWS with users receiving speeds as high as 80 Mbps in major cities.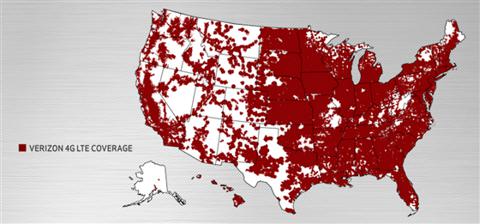 (Source: Verizon)
The company is expanding its LTE network through its investment in AWS. Verizon acquired wireless spectrum from Comcast, Time Warner Cable, and Bright House Networks for $3.9 billion in 2012, which helped the company offer such high speed to users. LTE-Advanced is a specification laid down by 3GPPP and includes features such as carrier aggregation and multiple antenna arrays, which raise network capacity and support more users. Carrier aggregation provides high data speed through increasing the transmission bandwidth by combining the carriers. However, not every Verizon user stands to gain from this as very few smartphones support AWS. Only 15% of Verizon devices, such as iPhone 5s and 5c, and the Galaxy S4, support LTE-A, which will enhance speed through this service.
Apart from limited LTE-A-supported phones, Verizon faces a few more challenges with LTE roll out. It has coverage across the U.S. but must expand its offering before claiming enhanced 4G speed. Verizon's average 4G speed has been suffering due to congestion on its LTE network. The company itself acknowledged that its 4G speed has been experiencing lower speeds in major cities due to rapidly growing traffic. Around two thirds of the mobile data traffic has migrated to Verizon's old LTE network, and 4G LTE users account for 64% of the carrier traffic. Although Verizon has spectrum to get through until 2015 or 2016, it has expressed interest in bidding for new spectrum to support rapidly growing LTE demand.
Verizon has been participating in AWS spectrum bids not only in government auctions but also from other mobile carriers to meet the growing traffic. Apart from expressing an interest in government H block spectrum, the company has agreed to exchange AWS and personal communications service, or PCS, spectrum with T-Mobile US (NASDAQ:TMUS). The deal is mutually beneficial and will help expand its LTE coverage and network reach. Both companies are exchanging spectrum licenses in 518 counties covering 133 cities and towns. As a part of the deal, Verizon has agreed to provide 10 MHz of AWS spectrum to T-Mobile in 16 counties and would get 10 to 20 MHz of AWS spectrum in 26 counties. This will aid Verizon in dealing with the data congestion problems, which are expected to increase as more users migrate to 4G LTE.
The competition within the wireless market is intense, as other mobile carriers are not far behind. Sprint (NYSE:S) is also gearing up for more market share with the launch of Spark, which supports advanced technology carrier aggregation and multiple input and multiple output, or MIMO. MIMO allows the use of multiple transmitters and receivers to improve network performance. This service has been rolled out initially in five cities with speeds as high as 50 to 60 Mbps. The company plans to expand coverage to 250 million people by mid-2014. Through offering speed beyond 50 Mbps, Sprint has no doubt gained a competitive edge over competitors, but LTE coverage and slow deployment will likely pose a headwind for the company.
Content driven acquisition
Verizon is not just restricted to being a telecom company and is also moving in content delivery, M2M solutions, and fiber-optic services. To strengthen its content delivery business, it is acquiring EdgeCast in a deal worth more than $350 million. The deal is approved by the boards of both the companies and is expected to close early next year. EdgeCast helps companies accelerate and deliver content to end users around the world. It does this by delivering servers, which offer speed, security, and scalability to websites. The company boasts 6,000 customers, which will allow Verizon to deliver rich, high-quality, and reliable content to customers. This acquisition will go a long way in making Verizon's quality content delivery through these ancillary services.
Content delivery through new medium, Internet and mobile are becoming more and more popular as content owners become comfortable with the new distribution method. The new medium also complements the old distribution through TV, as Verizon's fiber-optic service, FiOS, offers content on PC, TV, and phone through fast Internet connectivity. Verizon is uniquely positioned as a mobile carrier and Internet service provider partnering with content providers. As the amount of data continues to explode, it will be critical to deliver the right content to users, for instance, where Verizon will have an edge over its competition providing best services to end users along with a superior network. Verizon's goal is to offer wireline and wireless services together, which will deliver high-quality and relevant content to the customer. Although wireline contribution to total revenue is declining, I expect strong growth from FiOS and other areas to offset decline in other wireline businesses.
Bottom-line
Verizon's network quality is one factor that drives its leading subscriber growth and churn rates. As the U.S. wireless market rapidly shifts to data- centric mobile devices on the LTE network, Verizon's spectrum portfolio, especially AWS spectrum, will play a key role in maintaining the company's lead in wireless market share and revenue. The company is also creating ancillary services that will support bridging its wireless and wireline business. In terms of valuation, Verizon, with a P/E ratio of 64.02 times may seem overvalued compared to AT&T's P/E ratio of 31.6 times, but it is in line with the industry's 64.04. However, Verizon's forward P/E is only 14.01, much lower than any of its competitors mainly due to the strong wireless growth, which will provide Verizon more earnings and healthier returns to investors.
Disclosure: I have no positions in any stocks mentioned, and no plans to initiate any positions within the next 72 hours. I wrote this article myself, and it expresses my own opinions. I am not receiving compensation for it (other than from Seeking Alpha). I have no business relationship with any company whose stock is mentioned in this article.