As 2013 closes today we will be looking to position portfolios for 2014 in the early weeks of the New Year. We are still bullish of energy, however our focus is still upon the shale names with exposure to liquids and oil if we can choose. We do think that natural gas is the one commodity in the energy complex that investors need to be wary of because it is due a correction when Spring comes.
Chart of the Day:
After the huge run that natural gas has had, expect a pullback in the first half of 2014 as more production is brought online as producers see an opportunity to feed more production into the market.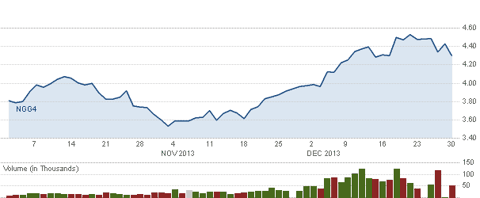 Source: CNBC
Commodity prices this morning are as follows:
Gold: $1,206.30/ounce, up by $2.50/ounce
Silver: $19.495/ounce, down by $0.12/ounce
Oil: $98.54/barrel, down by $0.75/barrel
RBOB Gas: $2.7856/gallon, down by $0.0021/gallon
Natural Gas: $4.299/MMbtu, down by $0.128/MMbtu
Copper: $3.396/pound, up by $0.0135/pound
Platinum: $1,368.40/ounce, up by $1.20/ounce
Berkshire Goes Shopping...
Warren Buffett's Berkshire Hathaway (NYSE:BRK.A) (NYSE:BRK.B) is buying a unit of Phillips 66 (NYSE:PSX) for $1.4 billion worth of shares (nearly 19 million shares) in Phillips 66 that Berkshire already owns. The unit, named Phillips Specialty Products, makes chemicals that help the flow of oil in pipelines. This is obviously not the elephant that many have been waiting for Mr. Buffett to buy, but with some $40 billion still on the balance sheet and at his disposal it appears he still has the fire power to do a large transaction.
Something else we would also point out is that this deal was done in a manner which was tax effective, shielding Berkshire from having to pay taxes on gains associated with its equity portfolio while also delivering a strong business asset. We wonder if more deals may be constructed like this in the future.
Another Train Wreck...
In a twist of irony, Berkshire Hathaway buys a unit that makes chemicals that help transport fluids via pipeline and in the same 24 hours has a train crash at its BNSF transportation unit that causes railcars carrying oil to catch fire. An entire North Dakota town has been evacuated and right now crews are still trying to get the fire put out in what is a dangerous situation.
Could bad news for the railroad names be good news for those with pipelines trying to get approval such TransCanada (NYSE:TRP)?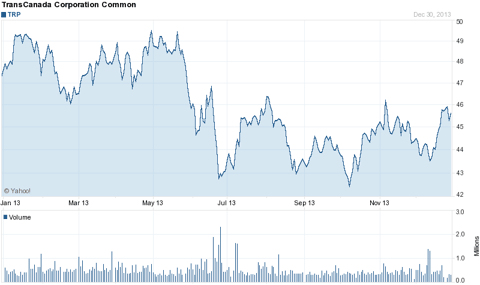 Source: Yahoo Finance
All of this is further evidence that America needs to start approving pipelines to transport our new found energy riches, particularly TransCanada's controversial Keystone project. The rails are getting clogged and quite dangerous with the traffic these days and it seems that every few months there is a spill or crash either in the US or Canada. Pipelines are safe, environmentally friendly and provide economic benefits in the areas where they are constructed.
Wrecks like these can have impacts upon production and transportation, both in the short-term and later down the road - especially if new regulations emerge as to how oil and energy are transported. This might have an impact on names such as Continental Resources (NYSE:CLR) and EOG Resources (NYSE:EOG), both which are big producers in North Dakota's Bakken.
Disclosure: I have no positions in any stocks mentioned, and no plans to initiate any positions within the next 72 hours. I wrote this article myself, and it expresses my own opinions. I am not receiving compensation for it (other than from Seeking Alpha). I have no business relationship with any company whose stock is mentioned in this article.