Online gaming and technologies are spreading like wildfire. After initial crackdowns in many jurisdictions, cash starved governments in need of revenues from online gaming are quickly rushing to legalize the activity in many areas. Numerous advocacy groups lobby on behalf of consumers demanding the right to play as well. While progress has been slow, things are moving in the proper direction. One prominent company is Zynga (NASDAQ:ZNGA). Most are familiar with this company that started off working with Facebook to develop social games. ZNGA is now at the forefront of the online gaming push, particularly in the UK. If it was in a better cash position, as potential takeout target might be MGT Capital Investments (NYSEMKT:MGT). Why would ZNGA be interested in MGT? And why should you consider investing on the recent weakness in this company? In this article I will discuss why the stock has been slammed recently and a few reasons why now is a great time to consider a speculative buy.
Here are a few reasons you should consider an investment in MGT. MGT is poised to become a leading player in Internet and mobile gaming and wagering. MGT and its subsidiaries are primarily in the business of acquiring, developing and monetizing assets in the online and mobile gaming space. The company and its seasoned management team have recognized that online gaming is the future. Its acquisition strategy is designed to obtain control of assets with a focus on risk mitigation coupled with large potential upside. Its initial acquisitions and primary assets include FanThrowdown.com which offers daily fantasy sports wagering, Hammercat Studios which provides mobile video games of skill, 088 Patent which offers video slot machine IP as well as monetization via legal enforcement. The company has a strong balance sheet and access to additional capital, MGT is well-positioned for further acquisitions and organic growth. But, shares have been crushed in the last 3 months, and hit hard in the last few sessions (figure 1). I will discuss the reasons for this action and why this weakness is a good buying opportunity for potential investors, and why a larger ZNGA like competitor may be interested in acquiring this company.
Figure 1. Share Price of MGT Capital Investments, Last Three Months.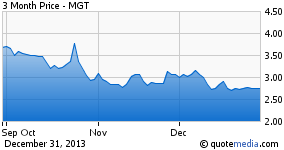 Why Shares Are Plummeting Today
We learned today that MGT entered into an At the Market Offering Agreement (links to a PDF file) with Ascendiant Capital Markets, LLC. According to the agreement, the company can now offer and sell shares of its common stock having an aggregate value of up to $8,500,000 from time to time. This is key. "From time to time" means that it is flexible. It can happen in large chunks, or can be spread out over time. This could pressure shares in the short term. Any shares sold will be issued pursuant to the Company's existing effective shelf Registration Statement on Form S-3 filed with the Securities and Exchange Commission. The Resale Shares may be sold by the Selling Shareholders to or through underwriters or dealers, directly to purchasers or through agents designated from time to time. For additional information on the methods of sale, you should refer to the section entitled "Plan of Distribution" in this prospectus. According to this deal, Ascendiant will act as the company's agent to sell the shares offered BUT is not required to sell any specific number or dollar amount of shares. Such instructions will include notice as to the maximum amount of shares to be sold at any time and the minimum price at which such shares may be sold, which shall not be less than $2.50 per share. That cutoff is interesting, because at the time of this writing, shares are trading at $2.51 which is a new 52 week low.
Robert Traversa, MGT's Chief Financial Officer, stated:
"[This agreement is] a tremendously valuable tool for growing companies. The advantages of this method of raising capital are control, flexibility, lower market impact, and much lower cost. Ending 2013 with approximately $4.8 million in cash and no debt, MGT can afford to be opportunistic and disciplined"
So, the company is raising cash, has no outstanding debt, and is on the forefront of a growing online gaming platform with exposure to gaming machines used in land based casinos.
Recent Deals Suggest Downside is Limited, Favorable Upside Potential
On September 4, MGT announced that its majority owned subsidiary, MGT Interactive, had acquired certain assets from Gioia Systems LLC, which is the pioneer and intellectual property holder of a revolutionary card shuffling technology for the online poker market. MGT acquired all of the assets related to the technology as well as the patents associated with the shuffling machine technology known as "Real Deal Poker". According to the technology's description the machine accurately mimics real life shuffling. No more "random assignment shuffling" which hackers have shown on numerous occasions have known and predictable patterns. Having this technology is huge as states push to allow online poker, under pressure from the 2 million member Poker Players Alliance. The potential market for online poker is huge. With the Real Deal Poker shuffling technology, a fair and completely random deal is assured. This should draw brick and mortar casino gamblers back to online poker. Online poker is huge in Canada and in the UK. Once the US is on board, the revenue streams to MGT cannot be understated.
Conclusion
MGT is at the forefront of the online gaming and poker revolution. It's a matter of "when" not "if" more and more states allow the technology. MGT is a great takeover target for a larger company, such as an established ZNGA or even an existing publicly traded gaming company (think MGM or Caesars etc). At $2.51 since a share, the stock is a bargain. It has some low risk, including some litigation issues and potential for dilution, and now a share reselling agreement that could pressure shares in the short-term. However, I think this is far outweighed by the potential upside in this stock as more and more states move to legalize online gaming. Further, the company's lack of debt and decent cash position, coupled with is smart acquisition strategy suggest the risk is definitely to the upside with this stock. I recommend it as a buy at current levels.
Last month on November 13, MGT announced it would acquire gaming studio Avcom. Avcom is based in New York and is engaged in operating a games development studio that specializes in producing mobile and social casino games. MGT's acquisition of Avcom will increase exposure to a multibillion dollar market that is seeing linear growth. According to a recent Seeking Alpha piece, analysts expect this market to triple by 2015. The acquisition includes the Avcom product development team, one of which is a former IGT artist known for designing some of the most popular real-world gaming machines. The deal will turn Avcom into MGT Studios once the deal complete and will make MGT a strong competitor in the social-mobile/casino style gaming space. MGT will acquire Avcom for an initial 491,000 shares with an additional 330,000 shares offered if milestones are hit over the next two years.
Disclosure: I have no positions in any stocks mentioned, but may initiate a long position in MGT over the next 72 hours. I wrote this article myself, and it expresses my own opinions. I am not receiving compensation for it (other than from Seeking Alpha). I have no business relationship with any company whose stock is mentioned in this article.