The rising minimum wage is front and center in the political debate. Not only are several States already increasing the minimum wage from January 2014 onwards, but there's the objective of taking the Federal minimum wage from $7.25 per hour all the way up to $10.10 by 2015.
This can have a visible impact on industries paying those wages or close to them. When thinking "low wages" most people quickly think Wal-Mart (NYSE:WMT). But is retail really the one place where wages are the lowest? According to the BLS, it isn't. There's an industry that's clearly worse (Source: BLS, red highlight is mine)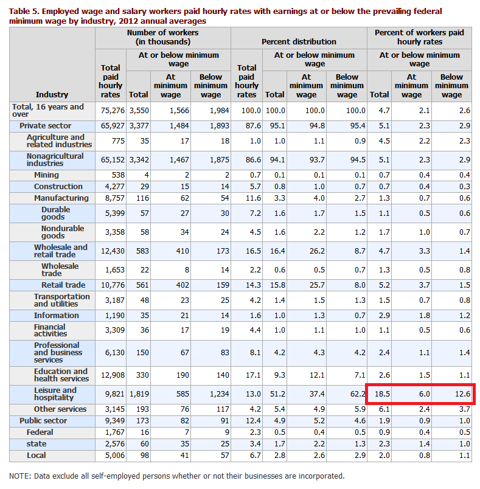 And within "Leisure and hospitality", we're talking mostly food preparation and serving (Source: Pew Research)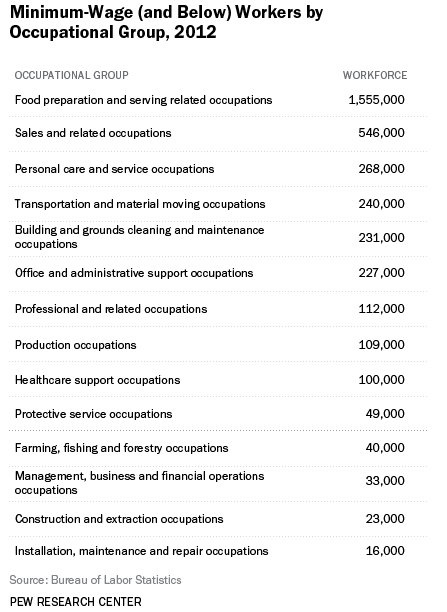 So where does this all bring us to? It brings us to the one company that's likely to be most affected: McDonald's (NYSE:MCD). While McDonald's franchises most of its restaurants, it still holds enough to have 440000 employees. This means that a trend towards significantly higher minimum wages is likely to hit both the franchises and its franchisees harder than most other companies.
As a sector, one would thus expect the larger impact to be on restaurants. There are two ETF proxies for this sector, the PowerShares Dynamic Food & Beverage Portfolio (NYSEARCA:PBJ) and the PowerShares Dynamic Leisure and Entertainment Portfolio (NYSEARCA:PEJ). Both are having tremendous performance over the last few years, as restaurants are seen as an economically-sensitive industry that's greatly favored by the economic recovery. However, if as we've seen the minimum wage is lifted substantially this sector should be disproportionately impacted by rising costs which in many instances it won't be able to pass through.
Conclusion
As significantly lifting the minimum wage takes center stage in the political fight, we seek to find who might be more impacted by the move. The exposure turns out to be higher in restaurants in general and perhaps for McDonald's in particular.
Disclosure: I have no positions in any stocks mentioned, and no plans to initiate any positions within the next 72 hours. I wrote this article myself, and it expresses my own opinions. I am not receiving compensation for it (other than from Seeking Alpha). I have no business relationship with any company whose stock is mentioned in this article.