During the great American gold rush, many fortunes were made. People were flocking to California, the wild, wild West, to try and cash in. Gold mines were being discovered, gold was being mined, wealth was being made. It led to new jobs, prosperity, and opportunity. We're seeing something similar happen in Texas and North Dakota with the new crude oil boom.
New technology has led to a resurgence in production of crude oil. This new technology -- called fracking -- involves drilling horizontally, allowing rigs to tap oil resources not previously accessible. This has also led to more discoveries of oil gluts, huge sources of additional oil. Suddenly, all of the fears of "peak oil" that have dominated the energy industry in the past decade have gone away. The next American boom is here. Smart investors are taking notice.
But don't take my word for it. Look at how the number of workers in oil and gas production has been steadily increasing.
Click to enlarge images.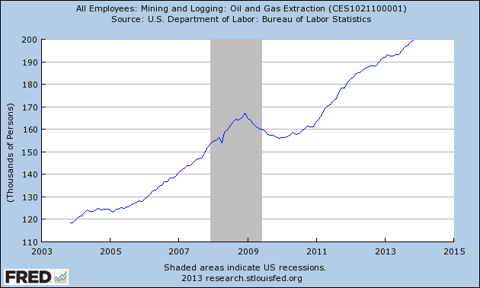 Source: research.stlouisfed.org.
This is a direct consequence of increased oil production. More production requires more workers. There are not any indications that this will slow anytime soon. Not only that, but look at the monthly oil production numbers for the U.S.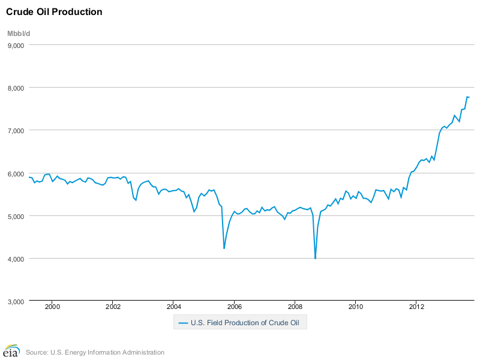 Source: eia.
You can see how it has steeply increased since the beginning of 2012, which was when successful fracking hit the scene. It's clear both to industry experts and outsiders that this oil boom will mean billions of dollars for many companies. We are even starting to see companies such as Exxon (NYSE:XOM) asking the president to remove export limitations.
The trend continues toward more oil production. How can the average investor profit from this? A little bit of history can help spurn our creative intuitions. Recall the gold rush again.
Who do you think made the most money during the gold rush? The answer might surprise you. The miners who found gold didn't make the most money. In fact, most of them were unsuccessful in their search. It was left to chance.
But a group of people didn't leave their wealth building to chance. It was the tool makers -- picks, axes, carts -- who made the most money from the gold rush. You see, the gold craze led to a new boom. A boom that wasn't talked about, but smart businessmen quietly took advantage of. The gold boom meant that there was a very high demand for gold mining tools and equipment.
It makes sense looking back now, doesn't it? So where is this opportunity today? Is there one like this? I'm happy to report that there is. In a stock that is flying under the radar -- for now. I'm talking about National Oilwell Varco (NYSE:NOV).
One look inside the annual report and we discover that this is just the stock we were looking for. In fact, they clearly state that "most of the company's revenue from Rig Technology resulted from major capital expenditures of ... oil companies on rig construction and refurbishment." Rig technology accounted for over 50% of their revenue in 2012. That's a great start. They mention something else important, too, that capital equipment demand generally lags oil production increases. That means the company hasn't fully profited yet from the oil production increase that we have already seen.
The good news doesn't stop there. The company is fairly undervalued compared to the market and its peers. While big brother Halliburton (NYSE:HAL) has been stealing all the attention and high valuations, NOV is quietly profiting while also being less levered than HAL. NOV has booked more profits than HAL while having almost $10 billion less in market cap.
The market is clearly ignoring NOV. That makes it a big opportunity for you. Not only that, but NOV boasts a very steady balance sheet. To see if the company truly reflects a safe opportunity, I analyzed the financials with my Value Trap Indicator. All numbers are based off the most recent annual report. The Value Trap Indicator is a strong buy below 125, strong sell above 800.
1. P/E Ratio = 13.49
Need to see solid earnings numbers, which we do here. Also reflects that the market is generally ignoring this stock in favor for bigger names.
2. P/B Ratio = 1.65
Not tremendously undervalued, but in respect to current market conditions you'd be hard pressed to find such a strong company trading at such low book valuations.
3. P/S Ratio = 1.68
Revenues are strong, consistent with earnings numbers.
4. P/C Ratio = 10.12
Just barely flirting with the 10 mark, which makes it fall out of some screens that I run. Luckily I loosened up this screen a bit and was able to find this stock. Cash flow looks fine.
5. Debt to Equity = 0.55
Reflection of the steady balance sheet. With such little debt, the company would be prepared to face even a worst-case scenario. Only thing troubling is that it rose from 0.44 to 0.55 in one year. Something to watch for the future.
6. Earnings Growth = 24.9% (three years)
Good growth average for the past three years. Nice, steady growth, and not too fast. Expect to see this continue especially with oil boom.
7. Dividend Yield and Payout Ratio = 0.6%, 0.08
Yield was higher if you bought earlier in the year. Payout is very conservative, which is great to see. Conservatism seems to be a trend with this company, calming any doubts.
Value Trap Indicator = 128.61 @ $78.68
Final Thoughts
This is very close to the strong buy mark for my Value Trap Indicator. Taking into account my forecast for future trends in revenue growth and increased demand, the stock is a buy. The company just got rid of their CEO, which led to a little bit of a pullback. I see this more as a good thing than bad, especially since the new guy isn't inheriting a bad situation. The stock has a promising future. The oil and gas industry is promising as well.
Disclosure: I have no positions in any stocks mentioned, but may initiate a long position in NOV over the next 72 hours. I wrote this article myself, and it expresses my own opinions. I am not receiving compensation for it (other than from Seeking Alpha). I have no business relationship with any company whose stock is mentioned in this article.