Pandora (NYSE:P) is a stock that I've followed throughout 2013, and with the inception of Apple's (NASDAQ:AAPL) iTunes Radio, I've often stated my bearish case on the company based on unconvincing audience metrics, an insane valuation, and newly found competition from Apple, the biggest company in the world with an unlimited pile of cash - and a stranglehold on all things music through iTunes.
Pandora is valued at $5.1 billion, didn't turn a profit last quarter, is competing with Apple and Spotify, and has a forward P/E of over 100.
So, naturally, being bearish makes me an idiot, right?
Right! And, in 2013, I've made a friend! Former SA contributor turned "too big for his britches" TheStreet.com contributor, Rocco Pendola, thinks I'm an idiot! Look, he says so in his article right here! Add him to the list of people that think I'm an idiot, now inclusive of all current Herbalife longs, Questcor longs, Adam Feuerstein and one Rocco Pendola. The entire world is turning on me, what a way to start off the new year!
In his article about Pandora - or me - well, one of the two; he calls me a "hack journalist" and Seeking Alpha a "once respected web site!" This leads me to one very important, journalistic integrity related question: why can't I start off my articles with more Tweets from Justin Bieber?
Alright, alright, keep your seats, I digress. I'm not here to make ad hominem attacks, I'm here to defend my bearish position on Pandora.
In all seriousness, in early December this year, Rocco penned an article not only questioning my journalistic integrity, but lashing out at Seeking Alpha - saying that, in the "good old days," the filth that I write would have never even made it past the editors. He even hilariously puts the word "contributor" in quotes, as if the words that I conjure up for an article are the result of telepathy, a ghost writer, or are a product of something other than me physically sitting down and typing them.
As sure as I'm writing these words right now, I'm contributing.
Rocco writes:
It's a shame to see Seeking Alpha, the site that provided me and so many of my friends and colleagues with an excellent platform to learn and grow from, devolve into a sweatshop for uninformed and poorly-researched "Short Ideas."

There's a "contributor" to Seeking Alpha who stands out among the handful who constantly publish bearish Pandora proclamations. This person only rises from the pack because his short theses do not stand up to even the lightest journalistic eyeball or most casual edit.

I presume Seeking Alpha has stopped using editors because the ones I worked with between 2011 and 2012 would have never let this sort of tripe get past them.

In "Quoth the Raven's" most recent Pandora piece, he tells us that ...

Clearly, the active listeners have started to hit some type of plateau ...

He makes this case void of any context whatsoever beyond what he can pull from his clearly uninformed and shamefully opportunistic perch.
"Clearly uninformed?"
"Shamefully opportunistic?"
These things hurt! Especially coming from the newly promoted "Director of Social Media" for TheStreet and a guy who describes himself as "Columnist" first and "Agitator" second.

Click to enlarge

Click to enlarge
I guess this is one way to get social media involved - taking shots at other contributors. But, all shots and job titles aside, Rocco is simply on the wrong side of the Pandora trade right now, in my opinion.
I will give him credit for being a bull up until this point, where Pandora has had significant gains over the last few years - 190% in the last year alone - but he's got it wrong becoming a "permabull," as he called some SIRI investors he was advising against the company right before they yielded an additional 200% on top of whatever they gained during the Karmazin years.
"Our fault, dear Brutus, lies not within our stars, but within ourselves."
Pandora was a great bullish call. But, it's not 2011 anymore.
Now, Pandora should be a "short at will."
Alright - so Rocco is upset with the lack of QA associated in my articles, and assumes that I don't understand the numbers behind the "common sense" short argument I've made. So, to indulge him and those of his kind, let's do a Freshman year finance major quantitative analysis of this company's valuation - to show that I understand the numbers.
1. The market cap has skyrocketed.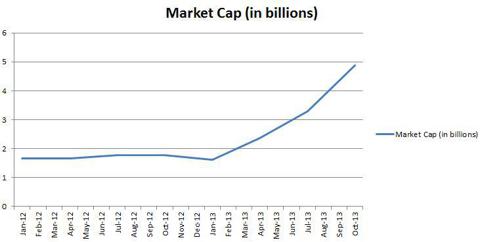 Click to enlarge
2. Despite the issuing of many new shares.

Click to enlarge
3. Revenue growth has slowed, despite the markets' aggressive valuation of the company.

Click to enlarge
4. EPS has improved, but is still below that coveted "zero" line.

Click to enlarge
How was that for QA in 30 seconds or less? You know my motto: company fundamentals in 30 seconds or less - or your pizza is free.
On a hunch from SA contributor Tom Shaughnessy, interested in helping with this article, I found a great write-up to start with. It's an apt Sirius vs. Pandora comparison, since Rocco has an interest in both. Stephen Faulkner, a contributor on the dastardly Seeking Alpha site, has provided us with a great article on what it costs to have Pandora in vehicles and using mobile data. He comments about the cost of streaming Pandora via mobile:
This is undeniable. Streaming music through mobile costs money at an average rate of $0.66 per hour ($240 per year / 365 days, assuming 1 hour per day). This is considering the free versions with advertisements. Add on $36 per year to remove those ads and your cost to stream turns into $0.76 per hour.

Obviously he's missing something, or he has not done his homework as to the actual costs involved with additional data required to stream music. A simple trip to Verizon's website and 30 seconds using their calculator will show an estimation of 1.8GB per month of data, or $20 worth of data, is used by streaming 1 hour of audio per day. If we take monthly costs of listening to Sirius XM in the car at the rate of $14.49 per month plus the $1.81 music royalty fee charged, for a total of $16.30 per month and compare this to a Pandora subscription, the difference in results are striking at just one hour of listening per day. While Sirius XM's cost is $16.30 the estimated cost for 1 hour per day of mobile Pandora One (ad free) usage is $23 per month.

That's 41% more to listen to Pandora.
He continues to go on and make comparisons between Sirius and Pandora and explores the higher costs associated with the more driving time used.
Furthermore, this ignores Apple's eventual coming foray into vehicles - all part of their continued "ecosystem" plan. One thing is for sure, Pandora costs a lot via mobile if used in anywhere, including a vehicle. They will have no shortage of competition, especially in vehicles. Read the article, it's worth a look - WiFi isn't everywhere just yet.
Of course, we could always go to the meat and potatoes of the argument and go to the numbers. Do we need to, again, look at the audience metrics that the company has provided us with? I almost can't wait for December's to throw in there, as well. I'm going to have to update this article in a month or so, just for fun.
| | | | |
| --- | --- | --- | --- |
| | September 2013 | October 2013 | November 2013 |
| Listener Hours | 1.36 billion | 1.47 billion | 1.49 billion |
| Share/USR | 7.77% | 8.06% | 8.44% |
| Act. Listeners | 72.7 million | 70.9 million | 72.4 million |
He takes exception to my statement that "Active Listeners" has hit a plateau. Just for fun, let's put these numbers on a line graph and see what we come up with, inclusive of Active Listeners back to April 2013:

Click to enlarge
And, from the Quoth the Raven Geological library, here's what an actual plateau looks like: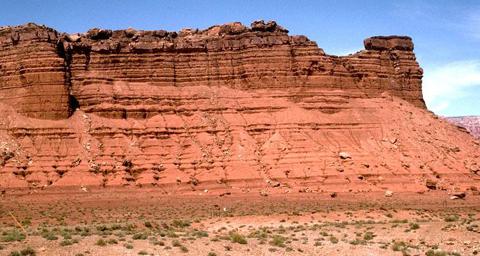 Click to enlarge
It's not looking like you can fault me for that one - regardless of whether or not I provided any context with it, Rocco. But, alas, I'll let my alert readers be the judge.
Why is this picture of a plateau important? Pandora makes its money from advertising. At its purest form, it makes money the same way companies like Google do - through ads. The amount of ad space created is tied directly to the amount of people who listen and sign up for Pandora service. If these channels don't increase, theoretical channels for ad space cannot increase. For a detailed explanation of this, take a look at Generator Research's last article on Pandora, where he does a great job at breaking down exactly what it costs to run an ad versus the cost associated with maintaining the medium to deliver it.
Additionally, Pandora isn't just competing with other companies that offer ad-based music. They're competing with all music services, everywhere. Pandora is going to need a major edge to keep all other music options at bay. It's an edge the company simply doesn't have.
Mashable does a good job of reminding us exactly what the competitive landscape looks like for Pandora, excluding XM and terrestrial radio: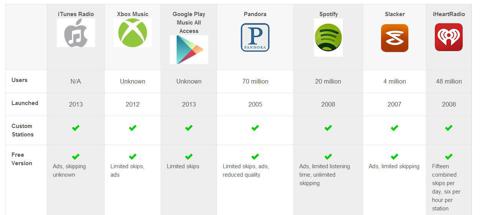 Click to enlarge
Doing stock offerings to keep them afloat has been the way Pandora has been able to grow, but as the competition grows too - Pandora is going to have to distance itself from competitors one way or another to maintain the businesses chances at long-term success. Otherwise, it's just a waiting game until the company dilutes further or burns through its cash. Although revenues were up in its latest quarter, it still posted a loss due to higher royalty fees.
But, don't trust me - I'm an idiot, remember? Do yourself a favor and Google "iTunes Radio vs. Pandora", and read any one of the number of comparisons that come up. Most of them look like this one, from Gadget Review.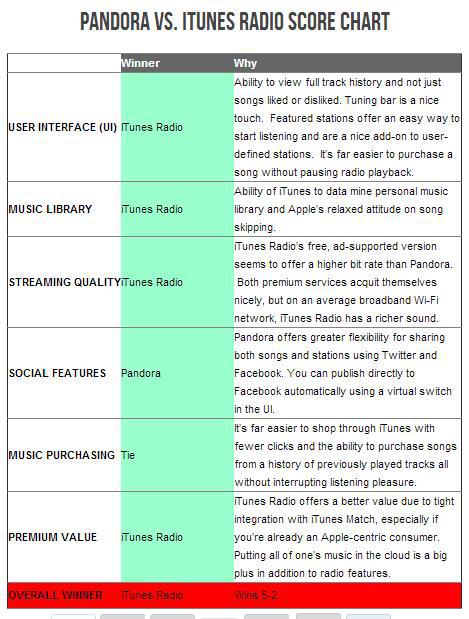 Anyway, since the time of Rocco's article, the stock has had what I am naming the "Rocco Pendola Effect," and it's down about 10%. This is the beginning of what I think is going to be a much larger correction for Pandora going forward. I could easily see Pandora as a sub $15 stock - which would still give it a "through the roof" market cap with its newly issued shares accounted for.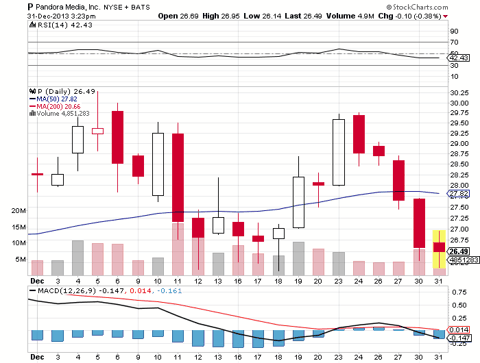 Click to enlarge
And, as I pointed out in my "8 Attractive Trades for 2014," Pandora is one of the companies that is most susceptible to macro market pullbacks, as it resides in the "inflated P/E social media stock without fundamentals" section. That means if Pandora doesn't dig its own grave, the major markets could still force a correction on a macro level pullback.
Additionally, the insider buying/selling record doesn't exactly boost confidence, with 1 insider buy versus 21 sells over the last 3 months. For insiders, Pandora stock has been nothing but a cash machine. This does anything to instill confidence in me about morale on the inside. That ratio is just about 1 buy per 6 sells during the last year, as well:

Click to enlarge
Put simply, there's just too much risk to be buying Pandora at these levels. The stock is overvalued, the competition is fierce, and the company's fundamentals are not in line.
I'm reaffirming my bearish position on Pandora for 2014.
And, Rocco, no hard feelings my brother. Happy new year, wishing you the best, and may the best analyst win.
Disclosure: I have no positions in any stocks mentioned, but may initiate a short position in P, over the next 72 hours. I wrote this article myself, and it expresses my own opinions. I am not receiving compensation for it (other than from Seeking Alpha). I have no business relationship with any company whose stock is mentioned in this article.