Why should anyone want to sell NetSuite (NYSE:N), you may well ask. Although it's up 50% this year, cloud stocks are still hot and the road behind is littered with broken short calls on the stock. Needless to say, they haven't worked out well except as the odd short-term trade.
But to paraphrase Rolle's theorem, every hill has a top. First let's review the reasons not to sell (or short) NetSuite:
- The company has grown revenues at roughly a 30% clip the last two years, and appears set to do the same in 2013. In a growth-starved world, many investors are willing to buy, or at least hold onto, any high-growth stock almost regardless of price. Management is projecting a similar growth rate for 2014. Over that period the stock price has risen about 155%.
- The company's product line appears to be competitive, and cloud software usage is growing. Management is optimistic on prospects for new bookings. Projections for compounded annual growth in the Enterprise Resource Planning (EFP) software space using SaaS (Software as a Service), where NetSuite's main product line is situated, are in the 10%-15% range, well above the projected growth rates of most industries (growth rates for Customer Relationship Management [CRM] software are in the same range).
- So long as the stock market continues to perform strongly, an important consideration is that it is unlikely that cloud stocks will be abandoned.
Now let's review some of the reasons that, however good the company may be, you will not want to own the stock much longer and should be looking to sell, or even short it:
- Number one is that the stock is priced at over 19 times sales. This kind of multiple is unsustainable for any but short periods.
- The stock's upside is largely capped by a $300 million convertible bond issue with a strike price of approximately $116.10 and about 8% of the outstanding float.
- At its current growth rate, it will be 2018 before its market cap of approximately $7.6 billion is at the sector multiple of approximately 4 times sales, and three more years before it's equal to the current multiple for the cloud software industry growth leader, Salesforce.com (which has a price-to-sales multiple of less than half NetSuite).
- The company's gross margins have declined from 2012 to 2013, and management indicated in its earnings call that it expects the trend to continue in 2014.
- Once the books close on 2013, the willingness of shareholders to hang on is going to be severely tested: the acceleration trend from November 2012 has already broken down. When price breaks the longer trend from October 2011 (about $87), its multiple will begin to contract more rapidly.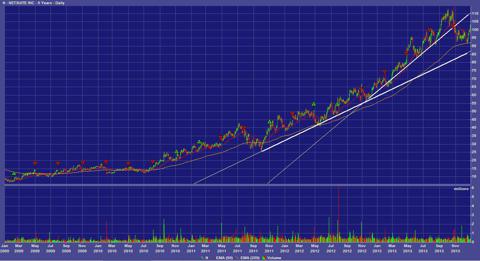 NetSuite is one of a group of "Nifty-Fifty"-style stocks whose prices I believe will be at significant risk in 2014. Not all of them at once, of course - historical form is that it's usually a scattered process, as true believers gradually migrate to a core set of "can't-miss" names. It represents the same mindset of the infamous Nifty Fifty of the early 1970s - stocks whose growth path was so deeply revered that the average holder could not imagine the need to sell. But they did.
I am starting with NetSuite for some of the reasons I listed above, including an important trend line being broken and the "no, this-time-isn't-different" impossibility of any stock sustaining a 19 times sales multiple for long, along with the convertible note's overhang on the stock price.
Timing is crucial with richly-valued momentum stocks. Traders and trading algorithms are constantly prowling for squeeze opportunities that come about from heavily-shorted names, and every successful short-squeeze only reinforces the cultist beliefs of the company's more devoted followers (which rarely include institutions, by the way). NetSuite's latest short interest is not significant, being only about 5% at mid-December and quite possibly having declined in the face of its 10% move up since then.
NetSuite's stock price and valuations caught my eye some time ago, and when its recent guidance for the fourth quarter suggested a lowering of its organic growth rate to 25%, I began digging in earnest. I also concluded, however, that the stock price was likely to derive some protection from the calendar, and that barring some kind of market accident, it ought to be relatively safe from harm through the end of the year, not to mention the end of this week if traders stay loyal to the "Santa Claus" rally concept (indeed, in the last hours of trading on the last day of the year, the stock tacked on another percent to its rebound from the 200-day moving average it touched two weeks ago).
There is the issue of earnings. The fact that the company hasn't reported any GAAP earnings yet, only losses, isn't reason enough to dump a stock, as Amazon (NASDAQ:AMZN) or Salesforce.com observers can attest. One is supposed to look at the non-GAAP earnings, which are always constructed to look better, and focus on pleasant things like deferred revenue growth, instead of naughty things like compensation expense.
I like to calculate what a company is earning in operating cash per share, excluding changes in working capital, non-cash stock expense, and after cap-ex and any dividends or cash "non-operating" expenses, like lease and software expenses, have been paid. With a company like NetSuite, I also include the important categories of deferred revenue amortization, billing, and deferred commissions, since these are really operational costs and benefits flowing through the company's bottom line and not part of what I consider to be working capital.
Here is a real signal that institutional holders shouldn't fail to notice: the company's cash earnings per share, including the above-mentioned adjustments to working capital and using their published SEC filings, went from $0.60/share in 2011 to $1.04/share in 2012. But with nine months gone in 2013, they project to be flat (my own estimate is for a decline from 2012). That assumes sales top the high end of guidance, though not wildly so - given the substantial insider selling in December, there is no reason to think that the company is massively sandbagging guidance. In fact, the trailing-twelve-months (NYSE:TTM) EPS using my measure has been flat since the fourth quarter of 2012, and was even down a few cents through the third quarter. That takes the multiple expansion from about 65-70 times at the beginning of the year to over 100 times at the end of the year (and the P/S ratio from 15 to almost 20).
Adjusted Cash EPS, Trailing Twelve Months
| | | | | | | |
| --- | --- | --- | --- | --- | --- | --- |
|   | Q4-13 | Q3-13 | Q2-13 | Q1-13 | Q4-12 | Q3-12 |
| CFO ex WC + def comm | $16,932 (NYSE:E) | 15,427 | 14,557 | 16,932 | 26,656 | 14,068 |
| per share | 0.23 | $ 0.21 | $ 0.20 | $ 0.23 | $ 0.37 | $ 0.20 |
| TTM | 0.86 | $ 1.01 | $ 1.00 | $ 1.03 | $ 1.04 | $ 0.89 |
The company has very little takeover potential, because Larry Ellison of Oracle (NASDAQ:ORCL) and his family own over 50% of the stock. Ellison may be a dominant figure, but even he couldn't sell NetSuite at 19 times sales to his board, not when he is the majority owner (the SEC might look askance too).
Now let's look at return on capital, or cash earned after capital expenditures. The trend for the numbers is flat-to-down:
Adjusted Cash EPS after cap-ex, TTM
| | | | | | | |
| --- | --- | --- | --- | --- | --- | --- |
|   | Q4-13 | Q3-13 | Q2-13 | Q1-13 | Q4-12 | Q3-12 |
| cap ex/share | 0.08 | 0.06 | 0.06 | 0.05 | 0.08 | 0.04 |
| CFO net of cap-ex | 10,716 | 10,684 | 9,784 | 13,298 | 20,856 | 11,045 |
| per share | 0.14 | 0.14 | 0.13 | 0.18 | 0.29 | 0.16 |
| TTM | 0.60 | 0.75 | 0.76 | 0.81 | 0.83 | 0.74 |
So is free cash flow (NYSE:FCF), defined as stated cash from operations less cap-ex and cap-ex software expense:
| | | | | | | |
| --- | --- | --- | --- | --- | --- | --- |
|   | Q4-13 | Q3-13 | Q2-13 | Q1-13 | Q4-12 | Q3-12 |
| TTM FCF | $ 0.34 | $ 0.37 | $ 0.36 | $ 0.39 | $ 0.41 | $ 0.43 |
This trend is also weak.
Return on equity and return on assets are both weak, and organic shareholder equity (excluding capital raises) is set to decline from 2012 to 2013, or at best stay flat. This is not something that has happened with companies such as Amazon or Salesforce.com.
Let me repeat that valuation isn't reason alone to short a stock, or even sell it if you're not a value investor. However, the strength of underlying operating fundamentals do provide a layer of protection when prices are called into question, and NetSuite's operational data suggest that its latest growth has become increasingly expensive to keep up.
As a stock, NetSuite is overbought on both a short-term and long-term basis. It isn't so screamingly overbought that it can't manage to keep up with the market the rest of the week, should the rally continue - in fact, a true red meat-eating short will be hoping for an additional bump of a few dollars by the close on Friday - it will make profiting from the trade that much simpler (and may not appreciate this article).
The entire mid-cap sector is also overbought. If you want a quick in-and out-trade, I would look for any increase in the first two days of the year (which conclude the Santa Claus rally) to get started.
If you have the stomach and the margin cash, there is an opportunity here for some serious coin. In the 2008 crash, NetSuite's stock price fell 85%. In the 2011 correction, it fell 40%. Some traders are hoping for a repeat of 1999, but I don't see the necessary hysteria in place that the dot.com IPO boom generated. There is excess in social media, make no mistake, but it is nowhere near as widespread as 1999. Here are two examples of what happens when tech stocks go to 20 times sales (note that this is different than when the IPO starts off with an insane multiple, as those can have more staying power: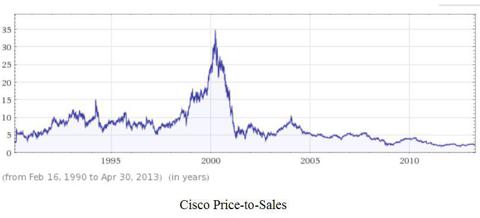 charts from Avondale Asset Management)
Yes, Cisco did go higher than 20 times sales. If you believe that the Nasdaq will tack on an additional 100% gain this year, then it would be consistent to wait (and possibly adjust your medication level).
So far as options are concerned, I would be against buying short-term (January) puts on this stock. They are thinly traded, the premia are not cheap, the decay rate is high and funny things can happen with the prices of highly-priced stocks, especially at expiration. It's too much of a lottery ticket. The only options I would consider buying at all (but won't) are the July puts - the longest-dated listed options available with the July 110 strike, carrying a break-even of about $95 at Tuesday's close. However, if the market stays irrationally strong, NetSuite could still be $100-110 in six months time - as a seller of the stock, you wouldn't really care, but as a put option holder it could be excruciating.
To sum up:
- NetSuite stock is short-term and long-term overbought, as is the sector.
- Calendar protection is nearly gone.
- The convertible note is an overhang on the price (conversion at $116.10), providing a buffer against upside risk.
- The price-to-sales multiple (about 19.7) is begging for correction.
- The organic growth rate appears to have slowed, and management expects continued pressure on gross margins.
- Management have been significant sellers and have bought no shares. As the old Street adage goes, there are hundreds of good reasons managers can have for selling company stock, and not a single one of them is the belief that the stock price is about to go higher.
- The company's market capitalization is many years ahead of its potential market size.
My short-term target is $98 (currently at $103, with a chance to go a little higher this week). My long-term target is 5 times 2014 sales for a market cap of $2.65 billion, or an implied price of $35. [Yes, I know. No one thought Cisco could go to $10, either].
If you're nervous, you can hedge a short-sale with the cloud stock ETF (NASDAQ:SKYY).
Disclosure: I have no positions in any stocks mentioned, and no plans to initiate any positions within the next 72 hours. I wrote this article myself, and it expresses my own opinions. I am not receiving compensation for it (other than from Seeking Alpha). I have no business relationship with any company whose stock is mentioned in this article.