Apple (NASDAQ:AAPL) pulled off a surprise when the company did not launch a cheap iPhone as was being rumored for a long time. Apple's market share in the smartphone market has been shrinking continuously, as Apple does not have a product to target the low and mid end segments of the smartphone industry. Instead the company came out with a slightly cheaper iPhone 5C which I think is a total dud. While the iPhone 5S has been selling huge volumes as expected, Google (NASDAQ:GOOG) has managed to increase its global smartphone marketshare to above 80% (the Indian marketshare has crossed an incredible 90%). While Apple bulls will cite that iPhone owns most of the premium end of the market, the fact is that most of the growth is coming from the emerging markets such as India and China, where iPhone is not affordable for a majority of the citizens. While Apple may get a boost from the China Mobile (NYSE:CHL) deal in China, the company's strategy is faltering in India which is the fastest growing market in the world. Apple made a huge effort to boost its sales through a variety of measures such as offering discounts, cashback, increasing distributors etc. However, after a temporary boost, Apple has seen its marketshare go down again along with the profits. The company does not have a strategy for India, given that it has no products for most segments. Overall I see limited upside for Apple at the current stock price, given that the company is losing marketshare, has no new game changer products and seems to be fighting more with activist investors than competitors.
Apple's Strategy Last Year
Apple put a massive amount of resources into boosting sales in the world's fastest growing smartphone market. The company improved its marketing and distribution and also improved affordability by offering cashback through exchange offers. The company appointed two large technology wholesalers (Redington India and Ingram Micro) to increase its reach in the Indian market. Distribution of products in India is not easy, given that the geographic area is large and volumes are low. One of the biggest reasons for the success of some MNCs in India has been their extensive wholesaler and retail dealer network. Apple also started a cashback scheme and discounts to increase penetration. This led to a sharp increase in unit sales to ~250,000 in Q412 which was a 150% increase from the prior year. However, the growth has slowed down as the affordability issue has again cropped up.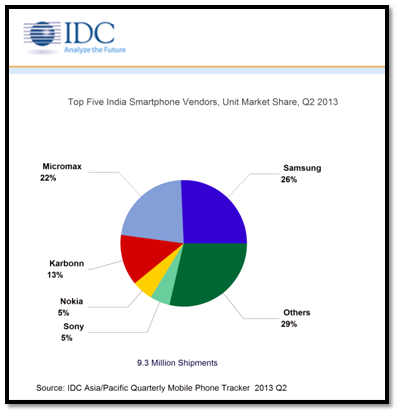 Apple is Losing Ground This Year
While Apple was firing on all guns last year, the company has lost out to competition this year. The company does not have the products to fight foreign and local competitors. The company's unit growth has fallen even as Micromax, Karbonn, Nokia (NYSE:NOK), Sony (NYSE:SNE) and Samsung (OTC:SSNLF) have taken the initiative. Apple's Indian profit margin has also declined quite a lot as the company is mostly selling lower priced iPhone 4 and iPhone 4S. The profit margin for Apple in India is much lower than its overall corporate margin. There were a lot of new ideas being tried out by Apple's Indian leadership team last year, but this year nothing new has been seen (except for carrier promotions and full page advertisements). Samsung the market leader continues to introduce new schemes and initiatives. The latest promotion is an 18 month installment scheme with easy upgrades to new Samsung products after 6 months. Despite being No.1 in India, Samsung has not been complacent.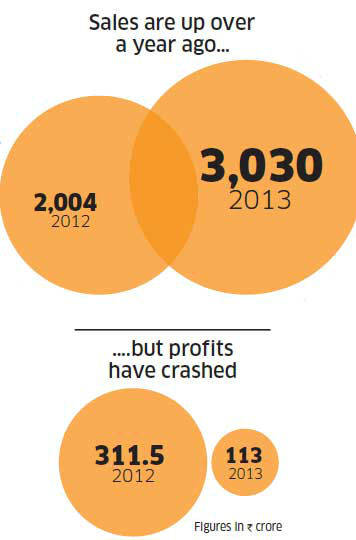 Source - Economic Times
The "Mercedes" Argument does not make sense
I have been bearish on Apple ever since the company announced the iPhone 5C at an atrocious price. People have commented that Apple does not need to target the lower income consumers in emerging markets, as they don't have purchasing power to buy digital goods. Apple is considered the Mercedes of the smartphone market, while Android is considered as a cheap mass market car brand. This argument is faulty in my view, given that there are top end Android smartphones (Galaxy Note 3, HTC One) that directly compete with iPhone 5S. In comparison a Hyundai car can never compete with a Mercedes car at all. It is not just a battle of smartphone hardware but a battle of ecosystems. As Android locks in more and more users, it will become difficult for Apple in the future. Currently, Apple enjoys a tremendous amount of brand power and goodwill, but it might not remain this way in the future. Also apps will be developed for the dominant operating system leaving others out in the cold. Apple has got the first mover advantage as it invented the whole concept of apps. But Android is fast catching up to iOS in the quality and quantity of apps. There is hardly a good app which is exclusive to iOS unlike two years ago. As Android is the dominant OS in the emerging markets, it might make sense for developers to create local apps for Android only. Some people think that Apple is being smart in not coming out with an affordable smartphone and keeping its margins high. The argument is that Apple will be able to capture marketshare when the per capita income of India grows in the future. I think that this line of thinking does not make sense, given that technology trends change rapidly in a very short frame of time. For Apple to wait for 10-20 years before India's per capita income inches up, is pretty daft.
Other Competitors - While BlackBerry is toast, Nokia is pushing hard
BlackBerry (NASDAQ:BBRY) had a strong position in India before it foolishly gave away the advantage to Android by launching only premium smartphones such as the Z10 and Q10. BBRY is no longer a major competitive factor in India right now, with BBRY stores lying mostly empty. Nokia, on the other hand, has made a strong comeback through its Lumia line of smartphones. They appeal to all price segments and Nokia 520 has clearly been a winner. Even the Nokia 1520 has been sold out. Microsoft (NASDAQ:MSFT) will continue to support Nokia as it tries to increase the marketshare of Windows in the mobile segment. MSFT will also push very hard to increase sales and unlike Nokia, MSFT has got extremely deep pockets. The company is even thinking of giving Windows Phone for free to other smartphone OEMs in order to break the Android stranglehold. Apple cannot afford to remain aloof from these developments in the 3rd largest smartphone market in the world, which is growing at a 100% CAGR.
Stock Performance
Apple has underperformed the broader market in the last one year, as investors started paying attention to Apples' shrinking marketshare. While Apple remains the world's most valued technology company, the prospects are not very good. The company is not undervalued anymore and it faces very strong competition in all of its major product segments. Steve Jobs' leadership is being badly missed as the company has almost stopped coming out with blockbuster products.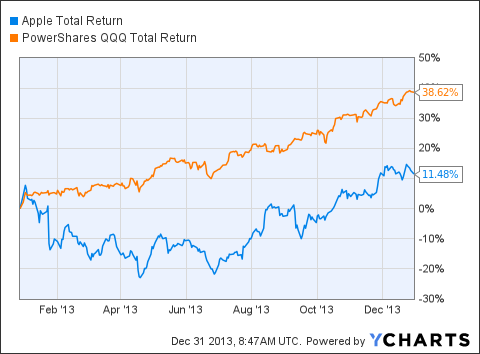 AAPL Total Return Price data by YCharts
Summary
I think Apple made a very big mistake by not launching a cheap iPhone and the results are clearly showing in India. The company cannot fight its competitors without a proper product arsenal. BlackBerry lost the smartphone market due to hubris and failed to see the bigger trend. BBM was a trendsetter but lost out to upstarts, as the company kept BBM exclusively for BlackBerry users. The company probably wanted to keep BBM for premium segment users only. It is only now with its back to the wall that BBRY has ported BBM to other operating systems. Apple seems to be doing something similar by keeping the iOS for premium customers. I think that Apple stock has limited upside as its marketshare shrinks, margin declines and the company releases only incremental product updates.
Disclosure: I have no positions in any stocks mentioned, and no plans to initiate any positions within the next 72 hours. I wrote this article myself, and it expresses my own opinions. I am not receiving compensation for it (other than from Seeking Alpha). I have no business relationship with any company whose stock is mentioned in this article.