In my household this holiday season, we cancelled Netflix (NASDAQ:NFLX) and purchased an Amazon Prime membership (NASDAQ:AMZN). Amazon Prime costs $79 per year while Netflix runs about $96 but this cost savings is not why I chose to cancel Netflix. The free 2-day shipping on orders in conjunction with 400,000+ free Kindle titles was the nail in the coffin for Netflix. I am probably an average viewer who enjoys watching movies with my wife and/or kids about 3 to 6 times per month. We are not hardcore TV series watchers and I don't really care which service has better original content. I just wanted free and useful perks with my streaming movie service and Amazon Prime was happy to oblige.
As I asked myself how many other U.S. households were turning to Amazon Prime and canceling Netflix, an investment thesis formed which I do not believe investors fully understand: Amazon's model of acquiring new subscribers is vastly superior to that of Netflix. On top of this, Netflix's valuation has ballooned to a trailing twelve month p/e ratio of 300+ while Amazon Prime has had a shockingly wonderful Christmas season securing new Prime memberships in the millions. In addition, last year Netflix was what some call an "anointed stock" meaning hedge funds and mutual funds of all shapes and sizes non-verbally agreed to punish any seller who dared dip a toe in short-selling waters. This unwritten Wall Street code is another factor in Netflix's unreasonable valuation. I believe Amazon Prime's ultimate success will make Netflix vulnerable on a valuation basis.
In 2014, look for one or more triggers (listed in the conclusion) and consider a short position in NFLX while Amazon Prime grows its subscriber base at an accelerated pace. Of course, any position is subject to overall portfolio risk mitigation techniques such as correct position sizing and placement of stop orders. I realize many have tried and failed to short NFLX stock in 2013. However, I feel Netflix's lead is finally beginning to shrink, thus valuation should take a hit as Amazon begins to outspend on content and applies continued subscriber pricing pressure. The graphic below summarizes my reasoning for shorting NFLX.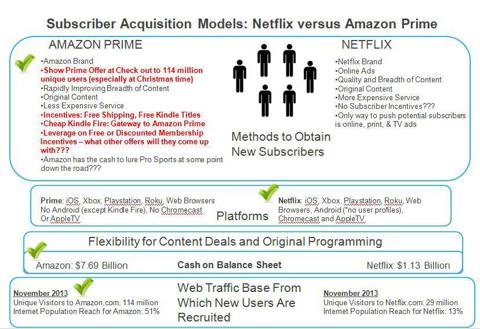 Web Traffic Base and Internet Population Reach
According to Comscore, unique visitors to Amazon.com in November of 2013 were 114 million while 29 million for Netflix.com. Those 114 million unique Amazon visitors are all potential Prime subscribers looking to save money on the various items for which they are shopping. On the other hand, the 29 million visitors to Netflix.com are a vast majority of existing subscribers. The only reason for them to be present on the Netflix.com domain is to stream content. Therefore, Amazon has a built-in supply of potential Prime subscribers who are presented with a Prime offer upon checkout. Netflix does not have this luxury. They have to rely on their brand name, promises of original content, and spend money on Internet, print and TV ads to drive potential subscribers to sign up. This constant ad spend and the overhead of producing content will eventually impact Netflix's margins.
Leverage on Subscriber Incentives
As I mentioned, Amazon's current incentives are free 2-day shipping and free Kindle titles. However, because Amazon is... well... Amazon, they have a big advantage in the ability to provide a continual stream of meaningful incentives to 114 million unique monthly visitors. For those who say, "I don't order enough from Amazon for the free 2-day shipping to have meaning", Amazon could offer discounted Kindle Fire tablets. They could offer $5 off each order up to 5 orders per year. Etc, etc, etc The point is that Amazon has a ton of leverage to find an array of incentives which will eventually propel an Amazon shopper to become a Prime member. In the 3rd quarter conference call Tom Szkutak alludes to eventually adding more benefits or incentives to the Prime offer:
...we have a customer base that's certainly staying with us longer, they are doing more cross shopping and you know they are getting benefits of prime that we're offering that we continue to, you know, add to
Although it did not happen in 2013, I believe Amazon's continued addition of Prime members will begin to encroach on Netflix's subscriber base. Once one becomes a Prime member, there is very little incentive to also become a Netflix member. To the average consumer, the two streaming video services are basically redundant.
Content Deals and Original Content
Although Netflix has a head start on Amazon Prime in securing content deals, I believe the company with the deepest pockets will be the ultimate winner. It is inevitable the two streaming services find themselves in bidding wars for content, and Amazon will win this battle hands down. Money talks to content creators. It is that simple. Amazon has $7.69 billion on its balance sheet while Netflix has $1.13 billion. This is a war Netflix cannot win as Amazon will take the strategy of outspending for content and keeping service prices below those of Netflix.
Platforms
There is one piece of the Amazon Prime puzzle that is hard to understand. That is, why would Jeff Bezos continue with the decision to not support Android devices for Prime? Android support is essentially the one platform support difference between Netflix and Amazon Prime (minus Chromecast and AppleTV). The Kindle Fire essentially runs a proprietary version of Android, so it is an obvious business decision not to support Android. The best explanation I have heard is that Amazon is following a traditional "walled-garden" theory where the purchase of a Kindle Fire would likely result in the purchase of an Amazon Prime membership and vice versa. But, the Kindle is generally a low margin item for Amazon, so I'm not sure why this thinking continues. There are essentially 75 million U.S. Android smartphones being excluded here and millions more tablets. Another explanation could simply be Amazon going after the higher spending iOS demographic first, before getting to the lower spending Android demographic.
Summing Up Amazon's Success
There is growing evidence Amazon Prime's subscriber acquisition model is very successful. Amazon won't divulge the exact number of Prime subscribers, but during the 3rd quarter conference call on 10/24/2013, there was this exchange between a Macquarie analyst and Amazon CFO Tom Szkutak:
Ben Schachter - Macquarie

Hey, Tom. On the press release it says that you have signed up millions of new Prime members and I believe if you read it says it if that happened in the last 90 days. I wonder if you ever commented on a time period like that before and is that a normal run rate to add millions of Prime users in 90 days or is there something special in this quarter that drove prime? Thanks.

Tom Szkutak

I don't recall if we have actually given a 90-day period before. I don't believe that we have in terms of beyond that it's not all par that I can add to that, but we are very excited Prime is growing very fast, very excited for the service that we offer customers both in terms of physical and digital goods. So it's exciting and that's how we put it in there today in the release.
Also, there are reports that Amazon Prime is growing at a breakneck pace, much faster than analysts had originally forecasted. As of September 2013:
...based on a survey of 300 Amazon customers who made a purchase in the three months preceding September 2013. It found that of those Amazon users surveyed, a full 33% were Prime members. Another 5% were Amazon Student members, and 4% were Amazon Mom members. All told, Amazon Prime has 16.7 million members when Amazon Student and Amazon Mom are included.
And the above numbers do not even include the one million which Amazon has signed up during the 3rd week of December:
More than one million customers became new Prime members in the third week of December. The pace of Prime subscriber additions appears to have increased, with "millions" of Prime members added in the September quarter and over a million added in the week prior to Christmas. The company acknowledges that there are "tens of millions" of Amazon Prime members worldwide, suggesting that the total is greater than 20 million.
Guru Support Dwindling?
Also note that investment guru Carl Icahn sold 52% of his NFLX stake on 10/22/2013. I have a speculative hunch that new SEC files will soon tell us Icahn has sold the remainder of his position. At the very least, I cannot imagine Icahn holding such an overvalued stock past January of 2014.
George Soros had a large position of 200,000 shares at the quarter ending 6/30/2012. That position was down to 10,000 shares as of the 9/30/2013 quarter end.
Potential Triggers for a NFLX Decline
In conclusion, in 2014, be on the lookout for any of the following events which may be the trigger for an extended NFLX price decline:
Carl Icahn sells remaining position
Announcement from Amazon for complete Android device support.
Rapid growth in Prime subscribers thus proving the "Amazon Prime Offer at Checkout" concept is working.
New and improved Amazon Prime incentives (benefits) to sign up.
Any large content deal for Amazon, especially involving a major U.S. pro sports league.
An announcement of Amazon outbidding Netflix for any content.
An article in a major publication questioning the valuation of Netflix due to Amazon Prime's success.
Finally, if the stock drops hard in the first week in January, it may be a sign managers have lost faith, but waited until the new year to take gains because of tax reasons.
I am currently short a few put options, but will be looking to add to my position if the above triggers become evident.
Disclosure: I am short NFLX. I wrote this article myself, and it expresses my own opinions. I am not receiving compensation for it (other than from Seeking Alpha). I have no business relationship with any company whose stock is mentioned in this article.
Additional disclosure: I am short NFLX via March put options with the intent to possibly add to this position.